<![CDATA[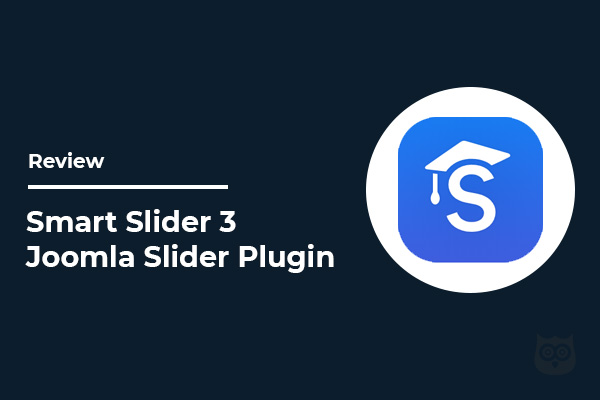 Sliding content makes your website appealing.
So looking for a Joomla slider plugin? Tired of testing different types of slider extensions?
I can understand your pain as there are lots of Joomla slider extensions available in the market and selecting the best one is really tricky work.
So today in this article, I am going to share Smart Slider 3's review. At the end of this article, we will know about its features, pricing, and why it is the best one in the industry.
Introducing Smart Slider 3 - The Best Joomla Slider Extensions
Smart Slider 3 is one of the best and powerful, easy-to-use Joomla slider extensions that lets you create highly responsive and creative sliders on your Joomla website. It is developed by the Nextend team from Hungary. The plugin is available for Joomla as well as for WordPress. So if you are looking for WordPress, you can also use it.
The plugin is available in the freemium version that means if you don't want to invest your money in the pro version, you can still use its free version and design the creative sliders on your website. It gives you way more features in the free version in comparison to other slider extensions in the market.
---
Why Should You Use the Smart Slider 3?
It's not like that I am telling you to use Smart Slider 3 and you should. It is because it gives you valid reasons why you should use Smart Slider 3 over other available slider plugins.
Easy to Use Drag and Drop Interface
Smart Slider 3 comes with an easy-to-use drag and drop interface. You don't need to be highly skilled to use or design a block, slider, or carousel with Smart Slider 3.
With the help of its drag and drop interface, you can create or customize the sliders easily just like you create pages or sections in page builders.
The best thing is that if you want to extensively customize the appearance of your slider, you can enable Expert mode. This will show up with advanced customization options.
Evergrowing Slider Template Library
Designing a slider from the scratch can be a tedious and time-consuming job. So why do you have to waste your time reinventing the wheel when you can invest that time in growing your business or doing anything else that is much more important.
And here the slider template library comes in the actions.
Smart Slider 3 gives you 180+ slider templates which include sliders, blocks, pages, and carousels. You can simply pick any of the templates from the ever-growing library as per your need and start using it after replacing the content.
You will be done with creating a highly responsive slider in minutes.
---
Different Kind of Animations & Effects
Animations and Effects make a design more appealing and creative. Users get attracted when they say flying and animated content.
The Smart Slider 3 comes with unique and creative In & Out animations and effects. You can set different animations on the different layers. Every layer animation appears on a visual timeline, where the delay and duration can be changed.
Layer Animation - You can apply any preset animation or customize it by yourself by adjusting speed, easing, direction, and so on.
Text Animations - You can animate any text or paragraph easily with the help of text animations.
Background Animation - It gives you 70+ background animations for the transitions between slides.
Ken Burn Effects - using the Ken Burn Effects, you can make your slides pop with zooming and panning effects.
Animated Shape Dividers - It gives you the ability to use moving curves, and diagonal shape dividers in order to enhance your website design.
Parallax Effects - You can add animated 3D Parallax effects on the background and layer on mouse hover or scroll.
Particles Effects - Add moving shapes and lines, dots, triangles, and polygons to your slider and enhance its design.
Built for Versatility
The Smart Slider is built for versatility. The slider plugin is not only useful for creating the sliders only, but you can also create anything from simple images to complex full-page slideshows, video, and even animated layer sliders.
So now you just have to think about what you have to create, and you will be able to design literally anything with this slider plugin and decorate that with cool effects and animations.
Create Completely Custom Layouts with Dynamic Data
Smart Slider 3 is the best slider plugin for Joomla and WordPress. It is the best one because of its features and capabilities.
It is not limited to the static text and images only, but you can use it to create completely custom layouts with dynamic data by loading content from different sources such as Joomla articles, eCommerce Products from VirtueMart, Eshop, MijoShop or HikaShop, Facebook, Twitter, RSS, Galleries, Event Calendars, and many others.
You can even load videos from YouTube as well.
24 Layers To Build Sliders
Like any page builder, there are widgets or addons or elements, same in the Smart Slider 3, they have layers.
They have 24 different layers and you can use those to build your sliders, blocks, and pages. Each layer offers advanced customizations so you can achieve your desired layout.
Optimized for Fast Loading
Speed is not only important for the user experience but it is also one of the search engine ranking signals. So it is important to have a fast-loading website but when you are using lots of images on the sliders, it can slow down your website speed.
But not in the case of Smart Slider 3.
The Joomla slider plugin gives you the ability to optimize your slider to boost your website loading speed. With its image optimization feature, you can Squeeze out every last unnecessary byte, no matter how big your background image.
It also offers you the lazy load feature as well which helps you to load only those images which are requested. This will reduce the requests on the network and ultimately other resources will get more bandwidth. As a result, your website will load faster.
Design Fully Responsive Sliders
Creating a responsive website is a must nowadays. More than 51% of users use smartphones to browse something online. So if your website is not mobile-ready, you are not giving a good user experience, as a result, they will leave your website.
To eliminate this issue, Smart Slider gives you full responsive controls. Smart Slider sites are responsive by default, so they display and perform beautifully on every device. It also offers you Custom breakpoints so you can add new breakpoints, to adapt your websites to specific devices.
You can even hide a specific layer, slider, or even the full slider from a specific device.
How to use Smart Slider 3
As I mentioned above, it is really very simple and easy to use a slider extension for Joomla as well as for WordPress. Apart from the installation part, it works the same for both of the CMS and you really don't need any hi-fi skills to use this.
Everything you can achieve by playing with the available options and drag and drop the layers.
So here is how it works
Once you have installed it on your Joomla website, navigate to the Smart Slider dashboard to create a new slider.
Once you will click on the New Project, you will get a popup that will ask you,
Create New Project - If you want to start from scratch and want to build something that you have imagined.
Start With Template - Use this option if you want to use any readymade template from the template library. Just select the template and customize it as per your requirements.
Once you have started, start creating or customizing the slides with visual drag and drop builder. Customize its appearance, size, color, and all other things as per your requirements.
Once you are done, publish it in the desired position.
Smart Slider 3 Support, Plan & Pricing
Smart Slider 3 has very extensive documentation for each and every feature including how-to guides. They release how to step for each slider template. They also have a YouTube channel where they cover all the Smart Slider related tutorials.
When it comes to customer support, they only provide ticket support. BTW, they also have a Facebook community. You can also take help from fellow community members as well.
Now, let's have a look at its pricing.
As shown in the above screenshot, they have 3 plans and all the plans come with a one-time payment. It means that you have to pay only once and you will get lifetime updates and support.
---
Final Words
Now, I will end this review with my final words.

All I will say that if you are looking for something extraordinary at the cheapest price, Smart Slider 3 is the best Joomla slider plugin, you can have.

Do let me know if you have used it before. Share your experience in the comment section.

]]>