How to Send Email in Joomla using the Gmail SMTP Server
by Editorial Staff
on Tutorials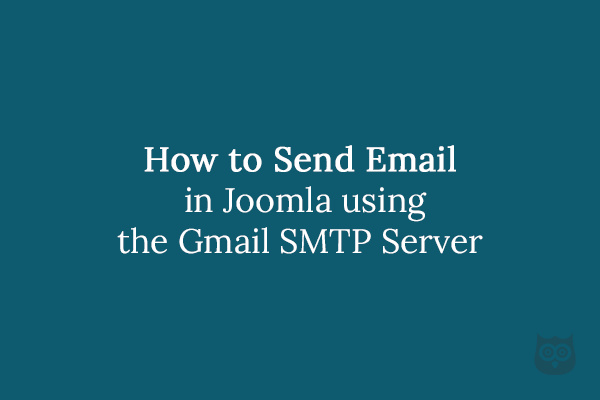 Sending any kind of email through your Joomla website is possible as long as you configure it to use an authenticated and reliable SMTP server. In this tutorial we will talk specifically on how to use the Gmail SMTP server to send all your Joomla e-mails.
Why and When You Need Gmail SMTP Server for Joomla Emails
ISPs around the world define if an email is spam or deliverable by the reputation of the server which sends it. Joomla has 3 ways to deliver your emails. The first one is using an SMTP server, the second is using PHP Mail and the third one is Sendmail. The last two can be considered more or less the same for the majority of the cases.
Regarding the reputation of the server which sends the emails, if you choose PHP Mail or Sendmail you are counting on your own server's reputation to send your emails. If your server is basically a shared hosting plan, chances are your email will end up in a Spam folder or won't be deliver at all. On the other hand, if you choose a trust SMTP server, like Gmail's, then your email is very unlikely to end up in a Spam folder.
How to Send Joomla Emails Using Gmail SMTP Server
First, log in to your administrator panel and navigate to System > Global Configuration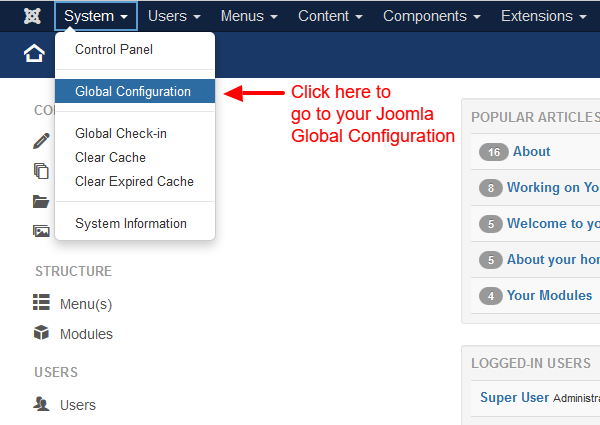 Then, click on the Server tab to reveal the Server related configurations. In there we will find the Mail Settings.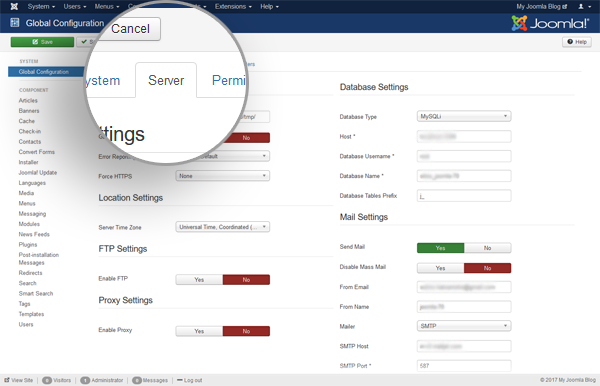 Now we can start setting up our Gmail SMTP. Let's see the relevant fields and their values.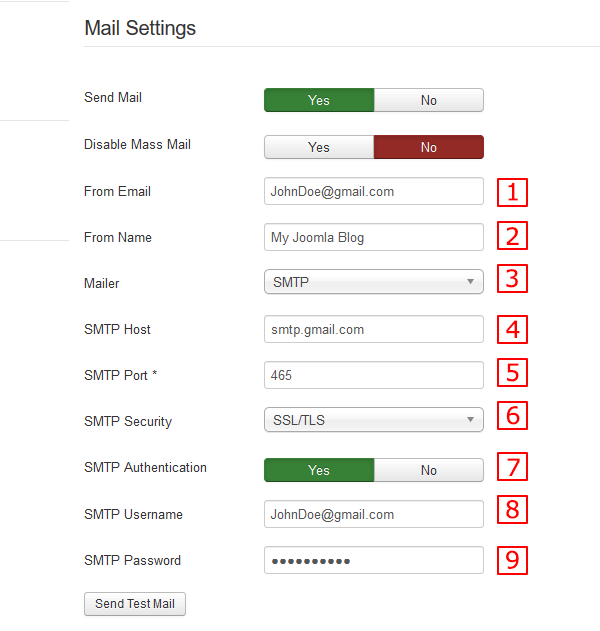 1. From Email
In this field you need to fill in the email from which your Joomla will seem to send emails from. We highly recommend that you use the Gmail one you will be using to authenticate the SMTP server later on.
2. From Name
In this field you should type your Joomla Site Name. Specifically, this is the name of the email Sender.
3. Mailer
For this selectbox you much choose the SMTP option for this tutorial.
4. SMTP Host
The SMTP Host for Gmail is smtp.gmail.com
5. SMTP Port
Gmail's SMTP Port is 465. If for some reason this port is blocked in your web server, use 587 instead.
6. SMTP Security
Gmail needs SSL/TLS for its security layer.
7. SMTP Authentication
This choice needs to be Yes. Gmail does not let you use its SMTP without authentication.
8. SMTP Username
The SMTP Username for Gmail is the email itself.
9. SMTP Password
The SMTP Password is the password you use to log in to that specific Gmail Account.
Now that you have filled in all the values click the green Save button and your Joomla is ready to send emails through Gmail reliably!
Useful info
If you are using Gmail with 2-step verification you need to add a new password in Settings > Accounts > Change accounts settings > Other Google Account settings > Security > 2-step verification > Manage your application specific passwords.
When the new Application Specific Password (ASP) is presented in groups of four characters separated by spaces, make sure that you do NOT enter the spaces into the SMTP password in the mail server settings in Joomla.
Also, if you are using WAMP on Windows the OpenSSL module is not enabled by default and you need to enable it.
For more information visit Joomla's Official Docs