5 Ideas For A Joomla Site With Popular Content
by Tassos Marinos
on Opinion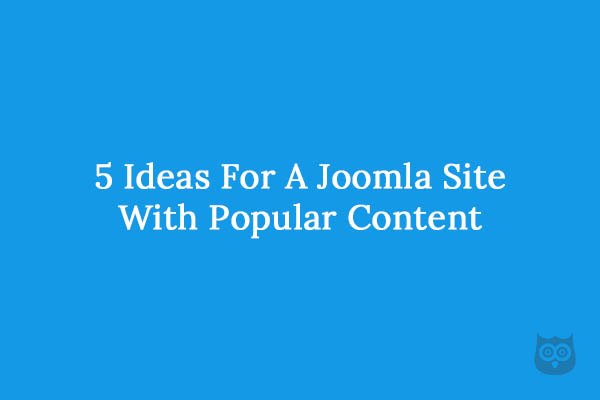 More and more people are creating their own websites these days, which is wonderful for a lot of reasons. However, it also makes things fairly competitive for people who really want to publish content that will be widely viewed, or which may even generate a profit. In other words, while there's a lot that can be done with Joomla and many reasons to use it, there still needs to be a good idea behind the content.
The old adage for writers and I might say by extension modern content creators, is to write what you know. So the suggestions below aren't meant to suggest you should simply venture into territory you're unfamiliar with. If you happen to know them though, or if you want to study them to the point that you feel knowledgable writing about them, these are some ideas for the type of site that might just generate regular readership in our current times.
1. Streaming Material
Streaming material - meaning films, TV shows, documentaries, miniseries, and the like - only seems to be getting more popular. While we may have passed the peak of so-called "prestige television", according to some, people are still looking to services like Amazon Prime, HBO, Netflix, Hulu, and more for a significant portion of their entertainment - and there's virtually no incentive for the streaming companies to slow down. They do regular, lucrative business; they win awards, with Netflix's Roma recently nominated for an Oscar; and they always have new material. This is where the idea of content creation comes into play. At this stage, there are actually surprisingly few review and opinion sites specifically aimed at streaming sites. Setting up a site to provide updates on streaming availability and review new material may just give you some regular readers.
2. Politics
I suspect plenty may roll their eyes at the idea of more politics in the world because it can seem at times like we're all getting saturated. The fact of the matter is though that thanks to social media, changing patterns in cable coverage, and a world that seems smaller and more connected, and which as a result puts more emphasis on politicians, people are consuming more and more news and opinions in this arena. To publish your own means to open yourself up to scrutiny and spark debate, but if it's something you're interested in, it does almost seem like there's no limit to the number of political sites, articles, and opinions that can attract attention.
3. Sports Betting
Sports betting is effectively a form of recreation that always seems to get more attention with each passing year. More people start betting, more areas legalize and allow it (with the entire United States likely on its way to doing so), and more platforms and game-like betting spinoffs are always emerging. Generally, it's recommended that people shop around for the best offers and check out different sites and listings before placing bets. But a lot of people who are interested in sports betting will spend just as much time looking for written analysis and opinions that can help them. You need to be careful publishing content in this area, in that you need to reveal you have no inside information and can't tell others what is or is not a wise bet. On a just-for-fun level though, you can always write your own analysis or even reveal and explain your own bets, and you may just gain a readership given sports betting's ever-on-the-rise popularity.
4. Virtual Reality
Somewhat amazingly, just a handful of virtual reality news and review sites have risen to the top of the heap as VR has trickled into consumer consciousness. Perhaps we don't need more than that, but right now the whole content side of this tech phenomenon feels dry and uninteresting. Reviews are technical and vague, and it's often difficult to get a true feel for whether a given VR headset or application is worth your time. If this is something that interests you, it might not be a bad idea to invest in your own VR materials and write and publish your own reviews and opinions. If you do a good job of it, you might just become valuable to a lot of VR users (or prospective VR users).
5. True Crime
"True crime" has become a recognized genre in both TV streaming and podcasting, when just a few years ago the phrase was relatively meaningless to most. People simply can't seem to get enough of material that digs into real-world crimes, examines criminal cases, and the like. Written true crime content isn't as popular, but it also isn't as widespread - and you don't have to do the investigating and research in order to generate something interesting. You can simply review existing true crime podcasts or shows, or even just give your thoughts on them. You might even be able to do just the lightest of research to find crimes that you'd like to summarize and suggest for others to dive into with full podcasts or documentaries. There's a lot to be said for the idea of a sort of Joomla blog covering all things true crime-related.