How to add Social Share button to Joomla
by Naveen Kumar
on Tutorials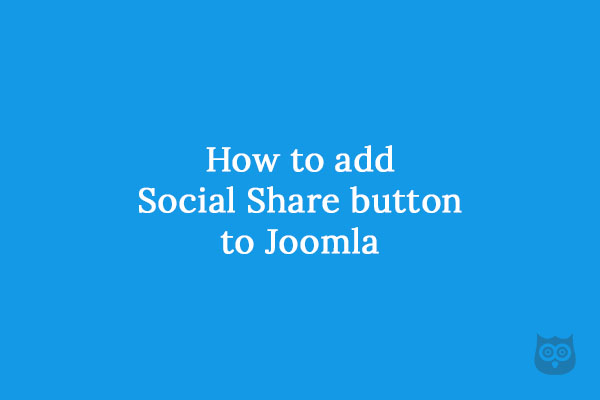 It is important for any business to maximize their potential in reaching more and more customers. It is the era of social media and making a well-known presence here definitely helps in scaling up your business. Starting up an online business is a cakewalk these days and you can build your website in no time using CMS like Joomla.
The next challenge comes in popularising your blog through social networks. Thankfully, there are numerous plugins like ampz, Coala Social Links and JD Social Share in the Joomla Extensions library which has a social share button on the website. Integrating these plugins in your Joomla website is also not a big deal.
Before starting the process you need to have a Joomla website first with a beautiful theme installed on it. You can select and buy from a number of themes from JoomDev depending on your requirement. Then comes the decision of choosing a social media share plugin. You have a number of many functional plugins in the Joomla Extensions library. JD Social Share button by JoomDev is a very effective plugin with multiple features and very easy to use interface.
How to install JD Social Share Plugin
The entire process of downloading the JD Social Share plugin to its installation are as follows:
1. Download the JD Social Plugin from JoomDev's Official Website.
2. Install the plugin with Joomla Installer.
The plugin is by default disabled and we have to enable it manually. After enabling it you can edit the properties by going to its administrator section. So to activate the plugin, you have to find JD Social Share under the plugin. Once you got the plugin simple enable it and voila it's done.
How To Configure JD Social Share?
Here is a list of features that we can configure to our needs. It is provided for you to make any necessary changes in its display or functions. After doing all the changes you can easily save it and make it live on your website.
1. Social Networking Channels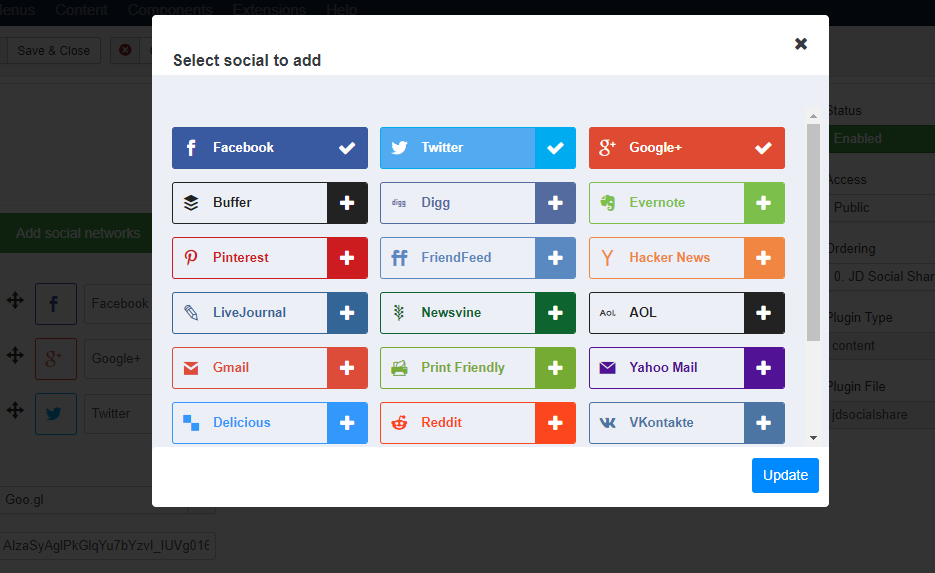 You have the option of selecting up to 24 social media networks like Facebook, Tumblr, Weebly and even Whatsapp.
Drag and drop to edit the placement of these networks on your web page.
Below is an option provided to select whether you just want to show the icons or both icons and text of the social media channels.
You can even decide where you want your channel to be shown, at the bottom of the content or at the top of the content.
2. Shortening the URL

You are given the option of shortening the URL in two ways:
First is the bit.ly form. In the bit.ly you just have to provide Username and AccessKey.
Second is the Goo.gl form. In this, you have to provide the API key given by Google.
3. Enabling Twitter handle
This is the feature in which you can include your Twitter handle on your tweet.
Whenever anyone will retweet your post with your handle, a notification will be sent to you.
4. Customizing Sharing button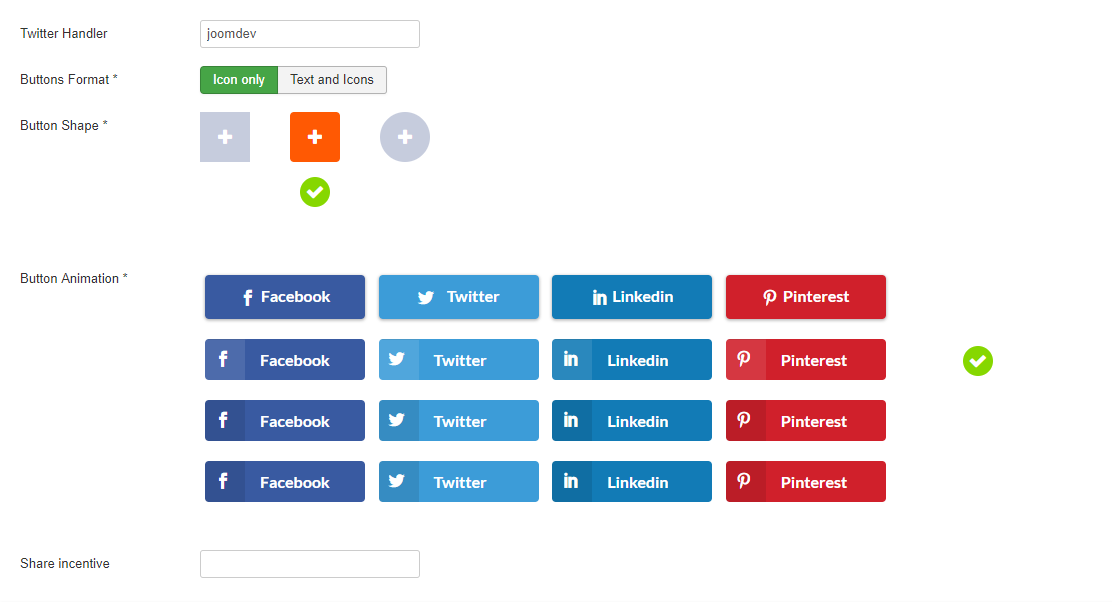 A number of editing options are given for customizing the sharing button.
There are 3 kinds of shapes available- Square-sharp edged, Square-smooth edged and Circle-shaped.
Also, there are 4 kinds of animation effects given in the button. You can choose any of them so whenever anyone hovers around the social sharing button, the particular effect will take place.
5. Share incentive
Share incentive allows you to encourage your audience to share your content on social media. You just have to write down a attractive message there and it will be display above the social icons when social share icons are set to display on bottom of the content.
6. Custom Sharing option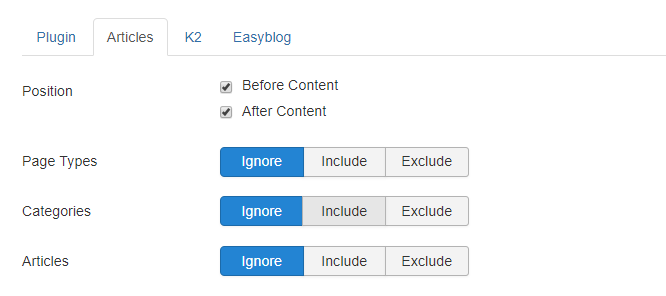 It gives you flexibility in giving the options regarding which article to share and on what web page.
It supports Joomla Articles, K2 and Easyblog so no matter which extension you are using, it will work smoothly.
You can show/hide the social share icons on a specific post, category or tag.
After undertaking all the above steps save the changes that you have made. After saving the changes the JD Social Share button goes live on your Joomla website. Now the visitors who are visiting your blog can share your blog post via those buttons on the web pages. The visitors will share your blog post on different channels like Quora, Facebook, and Tumblr.
Moreover, it has a very friendly user interface and whether you are a pro blogger or just a beginner, it is very easy to use.