How to Cloak Affiliate Links in Joomla?
by Naveen Kumar
on Tutorials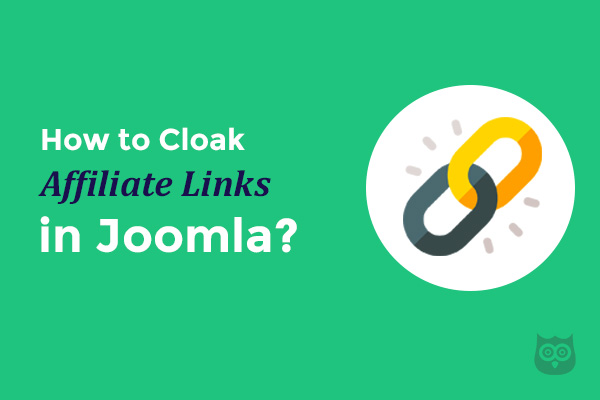 Affiliate marketing is one of the best ways to earn a good amount of passive income. All you have to recommend other's products or services to your audience, and when they will purchase from your links, you will get a commission.
Advertisers provide you a unique tracking URL by which they track the sales or clicks. These URLs are not so pretty and contain lots of strings and numbers, so it is tough to memorize it. 
To make the links user-friendly and pretty, we cloak the affiliate links. 
What Is Link Cloaking & Why you need to do it?
Long story short, Link Cloaking is a technique that makes long and ugly url short and branded. 
As I mentioned above that often, affiliate links are lengthy, hard to remember, includes your user name, userid, strings, and sometimes special characters, which makes it ugly. The URL looks like this: 
http://www.productsite.com/products/?product_id=123&affiliate=123
 And sometimes longer than this. 
But when you cloak the link, it makes these urls short and more branded with your domain. And it looks like this: 
https://www.yourdomain.com/ref/productname
Now you know the benefits of affiliate link cloaking. But still, let me highlight some of them here: 
Sometimes users avoid to click on the affiliate links intentionally, and they end up leaving your website. But if you are cloaking them, they will not be able to guess if it is an affiliate link or not.  
Let's assume you are using an affiliate link on more than one post or place. And tomorrow, the advertiser changes the tracking URL. Now you have to change in all the places. But if you are using a link Cloaker, you have to change on a single location, and rest will be handled automatically. 
There are many other benefits of cloaking your affiliate links. Just try the link cloaking and see the benefits. 
Now, I am moving to the next step and explain to you how you can cloak affiliate links in Joomla. 
How to Cloak Affiliate Links in Joomla?
Since Joomla is a powerful CMS out there and it comes with much-inbuilt core features, and the Link cloaking plugin is also one of the core features of Joomla. In other CMS, you need to install the third-party plugins, but in Joomla, you don't need to use the third party extension. You can use the core plugins for Joomla. 
Using Redirects Component
Redirects component is one of the core plugins which comes with Joomla installation. You don't need to install it separately, but you need to enable it from the backend. So make sure you have enabled it before starting to cloak the links. 
To cloak your affiliate links with Redirects plugin, navigate to Components > Redirects
Now, click on the New Button and you will be redirected to cloak a link.
Here, under the Expired URL, you have to add your branded url, and under the New URL, you have to enter your affiliate URL.
And this way, you can use Redirects plugin to redirect the affiliate links. In JoomlaBeginner.com, we are also using the Redirects plugin to cloak affiliate links in Joomla.
Let me know in the comment section what other ways you are using to cloak the links on your Joomla website.