5 Best Joomla eCommerce Extensions
by Clarence Ling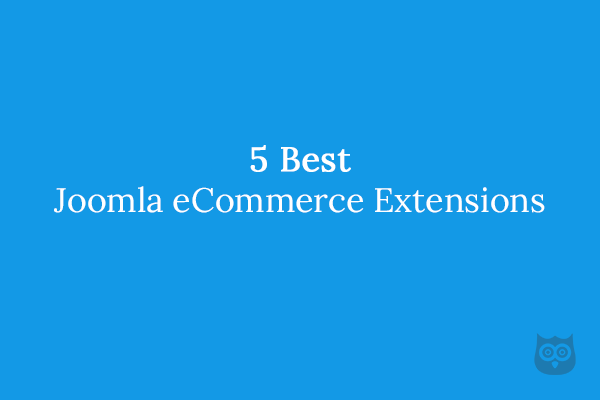 Joomla is very much suited for eCommerce, for reasons such as its MVC structure (Model-View-Controller - a software design pattern that is used to organize code in such a way that the business logic and data presentation are separate). Joomla is the middle ground between WordPress and Drupal. It isn't as complex as Drupal but it has the awesome ability to manage complex functionalities for an eCommerce website, besides offering must-have features for a website out-of-the-box.
Why choose Joomla for your eCommerce website?
Joomla has built-in secure layers that protect against security threats. With CSRF protection to preventing other known vulnerabilities, Joomla is secure. Security extensions like Admin Tools and backup extensions like Akeeba Backup make it even more secure. These extensions allow you to add an additional security barrier in the form of captchas, protection from SQL injections, XSS attacks and more. Your customers' data is safe with Joomla.
Joomla has excellent built-in features. The highly flexible Access Control helps you to manage various user (customer) groups easily. You can sell to a retailer and a wholesale merchant all on the same website without issue. Excellent content management with the built-in meta-management grants you better SEO functions. Less Joomla extensions are needed for your eCommerce website rather than WordPress, which requires a lot of plugins. This means Joomla is less bloated than WordPress.
Multi-lingual capability comes out of the box in Joomla. As a result of globalization, businesses are targeting customers worldwide, without borders. You can build a multi-lingual online store much easier than other CMS platforms. You can also host websites in many languages thanks to Joomla's international team. Joomla is truly borderless.
In sum, #joomla is a great CMS for eCommerce because of security, layered and detailed user control, and many out of the box functionality like multilingual support, giving you an effective and scaleable shop Click to Tweet
VirtueMart

VirtueMart is one of the older and more established eCommerce extensions for Joomla. The basic product is free to download and like the other established eCommerce extensions, it has numerous integrations. In fact, it is so established, you can migrate WooCommerce to Virtuemart via Cart2Cart. This is the most popular eCommerce solution in the Joomla community, with the extension being around even before Joomla in 2004.
| Pros | Cons |
| --- | --- |
| Free to download, has numerous integrations and accommodates unlimited products. | Developer skills required, Virtuemart is complex, limited features in the basic package, add-ons are often necessary |
Mijoshop

Mijoshop is another leading eCommerce extension for Joomla!, comes with a powerful shopping cart and eCommerce component that is feature rich with user-friendly architecture. MijoShop has been around since September 2012, it is a genuine shopping cart offering both content and store management capabilities. Mijoshop is very scalable and can be used for any type and size of business.
| Pros | Cons |
| --- | --- |
| User-friendly and scalable | No free version |
EShop

EShop is an eCommerce Joomla extension by Ossolution. I have personally used Ossolutions other products before and found their team to be responsive and quick. Their extensions are generally quite high quality, but I have had a very bad experience of purchasing an outdated template with no hope of a future upgrade. They have three templates you can choose from in Ossolution's website, which is nice to have, but limited. Nevertheless, it is a powerful & responsive Joomla Shopping Cart, eCommerce extension. It is built based on the standard Joomla MVC structure with many great features, user-friendly and easy to customize. You simply install, add products, enable built-in modules, payment plugins, shipping plugins and you are ready to start accepting orders.
| Pros | Cons |
| --- | --- |
| Responsive, quick support team. Powerful and responsive. | Limited templates on Ossolution website. |
Price: Free
J2Store

J2Store is an eCommerce extension which comes with a huge range of features. It provides greater access for any user, regardless of experience, to completely style around and change their website, without knowing much HTML or CSS. It presents a completely new and innovative approach for e-Commerce CMS, where others provide their own database with their own product pages, categories, etc.
J2store does not have a clumsy registration process. You can use Joomla articles as a product, create product variants, define zone based tax rules, add advanced pricing by customer groups/quantity and so much more. Everything you need in your online store can be set up with J2store.
| Pros | Cons |
| --- | --- |
| Easy to use. Moreover, J2Store has rare features such as subscriptions, payment deposits, and even bookings and reservations | No obvious downside |
Price: Free
Hikashop

We now arrive at Hikashop. Hikashop is a simple to use and powerful eCommerce extension. I am most familiar with this extension because I currently use it myself. Hikashop works in the following manner:
There is a basic paid version
There is an enterprise version of HikaShop
There are various other HikaShop extensions for different purposes, either paid or free
You choose the features you want by selecting your choice of HIkaShop extensions
I opted for HikaShop Business and HikaSerial Subscription. This enables me to host a powerful eCommerce website: https://shop.classdigital.com.au. The Hikari Software Team, creators of HikaShop are very enterprising and build new features from time to time, including HikaSerial Subscription, which is a recent development. One thing about using HikaShop is a variety of third-party Joomla templates. They come in many Joomla frameworks and if you look hard enough, it is not difficult to find template providers. Even Joomdev has a HikaShop template, over here.
HikaShop has many third-party integrations. There are even plugins to allow you to receive Bitcoin as payment! Whether its physical or digital, HikaShop will be able to accommodate your eCommerce shop's needs!
| Pros | Cons |
| --- | --- |
| Easy to use, robust functionality, much support from third-party developers | Sometimes you have to purchase or obtain other extensions to improve functionality |
Price: Free
Bottom Line
Joomla is a very good solution for eCommerce. Specialized solutions such as Shopify come with higher transaction fees and lack of functions a normal website would have. Joomla allows you to have everything these specialized CMS can do and more. There is no shortage of eCommerce extensions in Joomla and you will be sure to find something that fits your business easily.