GDPR Joomla Extensions - Make Your Website GDPR Compliant
by Naveen Kumar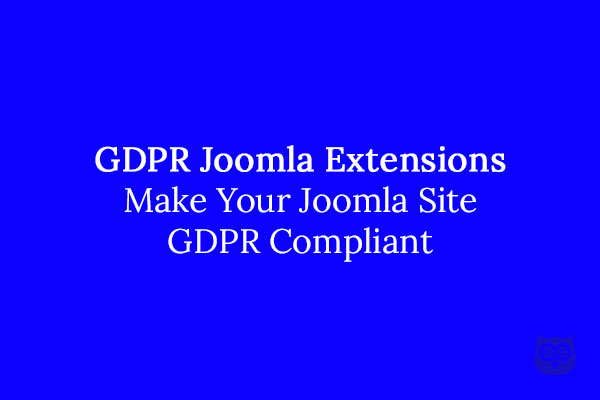 From the last few days, I am sure your inbox is flooded with lots of emails about changing their privacy policies and all. Everyone is updating their privacy policies and policies to handle the user data. 
But do you know, why everyone is updating it? It is because of EU Law about user data protection. 
It is called GDPR. Do you know what it is?
What is GDPR?
GDPR stands for General Data Protection Regulation. It is regulation EU Law on data protection and user privacy for everyone within the European Union (EU) and the European Economic Area (EEA). GDPR demands that user's data has to be collected for the specific and legitimate purpose. The data should be accurate and protected. If for any reason, there is any severe data breach, you must report it within 72 hours, or you should be fined heavily. 
Superseding the Data Protection Directive 95/46/EC, the regulation contains provisions and requirements about the processing of personally identifiable information of data subjects inside the European Union, and applies to all enterprises, regardless of location, that is doing business with the European Economic Area.  _ Wikipedia
How to make your Joomla Site Compliant With GDPR?
If you are collecting user information or storing your cookies on user's system, you need to make your Joomla site compatible with GDPR guidelines. But as you know, Joomla community is super awesome and to reduce your work, and they came up with GDPR Joomla extensions. These extension helps you to make your Joomla site compliant with GDPR guidelines. 
Let me share these with you.
JA Joomla GDPR Extension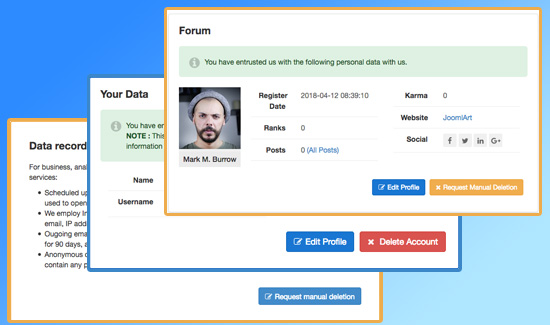 To be true, I came to know about GDPR when I got a newsletter from JoomlArt about JA Joomla GDPR Extension. Then I started searching for GDPR and found how much important it is to make our website GDPR compliant. 
This Joomla extension helps you to bring GDPR compliance into your Joomla! Site. It is simple and easy to use extension comes with lots of features and compatible with almost every third-party extensions like K2, JomSocial, EasyBlog, EasySocial, Guru etc. 
Features: 
With the help of this extension, you can list all the Joomla Core data and third-party User data on a single page.
It supports multi-languages.
The user can perform multiple actions, like a request for deletion, edit or delete extension specific data or delete a profile from an extension or request to remove all the information from your website.
It is easy to install and configure.
Admin can set custom emails and much more.
To explore more of its beauty, I will suggest checking its demo once. 
GDPR Bundle by Richey Web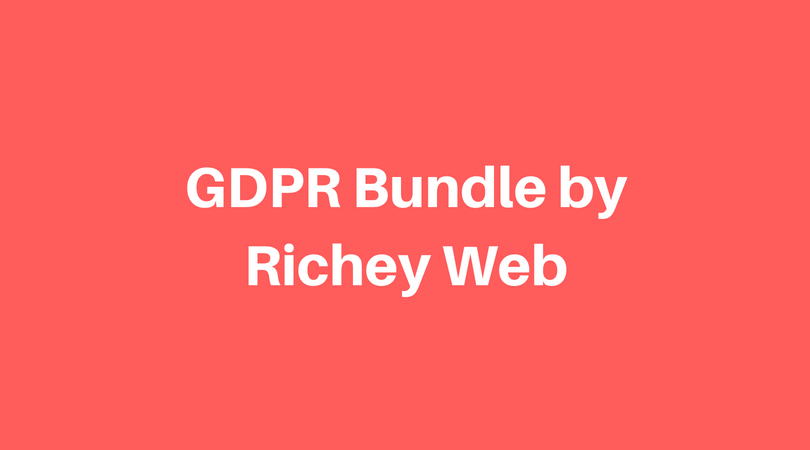 If you are looking for a free GDPR Joomla extension, this is not for you. But let me tell you if you want to get something perfect, you have to invest your time and money. 
This is not just an extension it is a bundle of 3 most important extensions that need to make your Joomla site compliant with new EU data protection law. 
Fields - Terms of Service
Profile History
System - Required Fields
Fields - Terms of Service 
The Fields - Terms of Service plugin adds a custom field type (tos) that allows you to add terms field(s) to your registration form. In case you missed that - you can add terms FIELDS (plural) to your registration forms. This plugin helps you to meet with consent tracking requirement of GDPR.
Profile History
According to GDPR, the user should be notified when there is any change in their profile. Profile History plugin helps you to fulfil GDPR requirement to inform users of profile field changes and make your Joomla site more GDPR compatible.  
System - Required Fields
Works with Fields - Terms of Service, to require users to consent to new terms. To explore more about these, I will suggest you check out its demo. 
GDPR Compliance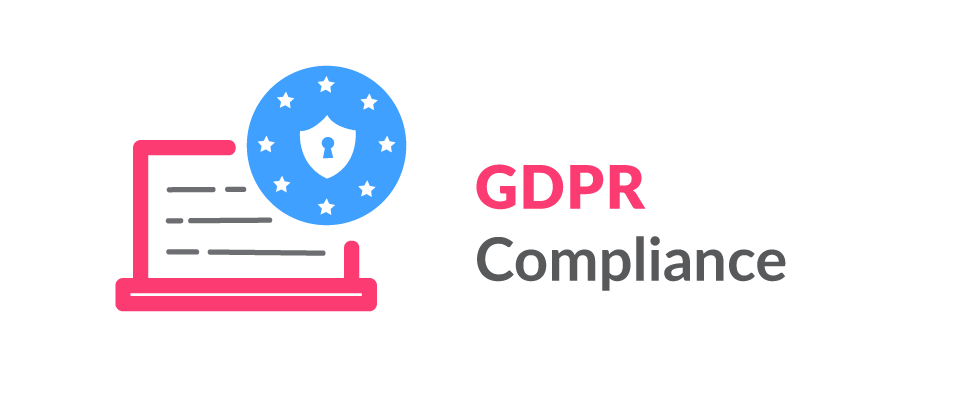 This extension is specific for the J2Store user. If you have an ecommerce website and using J2Store, you need to use this J2Store App to make your site compatible with latest Data protection law. 
Even if your store is located outside European Union, you will have to comply with the GDPR rules if you sell to any EU country or any customer from EU purchases a product from your website.
Features
GDPR Compliance app adds a GDPR Consent and Privacy Policy link at the checkout.
This extension allows a user to delete all the addresses stored on the website with just one click.
The user can request for the manual data deletion.
User and administrator will be notified when there will be any change in the profile. 
GDPR - Joomla extension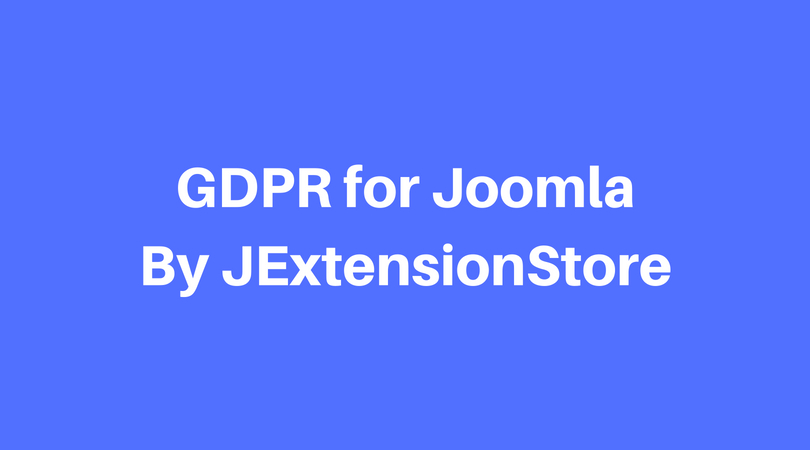 JExtension Store developers develop GDPR Joomla extension. It is not a free extension but comes with one week free trial period. It is essential Joomla tool to make your site compatible with latest EU data protection law. 
Key Features:
GDPR Cookie consent
Cookie classification
Different strictness levels
Logs of user changes
Profile deletion
Privacy policy checkbox
Profile export
Data breach notifications
Advanced integration system and much more.
Final Words
Making your Joomla website compliant with GDPR is essential. If your site is not following the  General Data Protection Regulation, your can be fined r €20 Million or  4% of annual global turnover for breaking GDPR law. 
Moreover, Joomla is also releasing its version which will be compatible with GDPR so half of your headache will be reduced. 
Don't forget to check: