10+ Best Free Multipurpose Joomla Templates of 2021
by Naveen Kumar
on Templates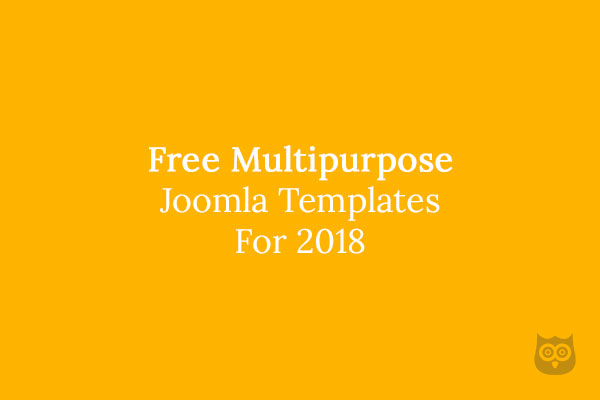 When it comes to the best secure CMS, I will rate Joomla! The best. As per the current Sucuri report, Joomla has less hacked websites than WordPress.
If you want to develop a website in any CMS, you will need a theme or template to do it quickly. In Joomla, there are thousands of free Joomla templates which can be used for the commercial or non-commercial purpose as well.
However, when you have lots of options, it is hard to choose the best one. You can also check how to choose a best free Joomla Template where industry experts shared their views. So in this post, I have created a list of Free multipurpose Joomla templates which can be used for any niche website. You can use these templates for a business website, a charity website or some templates can be used for e-commerce purpose as well. In our last post, we have shared a few outstanding Magazine Joomla templates.
Note: Some template providers allow you to remove footer credit and some don't allow. So you need to check out their policies before using the template. Also, it will be good if you can reward their work by giving a footer credit to them.
So now, let's have a look at the following FREE Joomla Templates.
JD Paris - Free School Joomla Template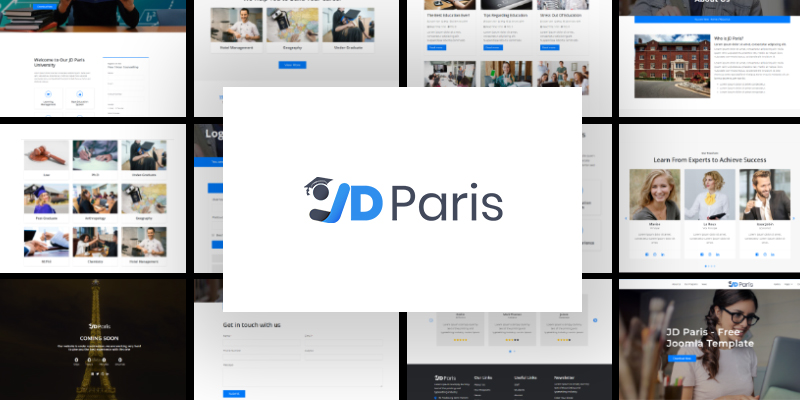 JD Paris is another fully responsive Joomla template best suitable for school, universities, colleges and other educational institutes. This Free Joomla Template is powered with the latest Joomla and Astroid framework which allow you to create and manage the complex layout of your website.
Key Features-
Fully Responsive Layout
Build an email list with ACYMailing
Built-in Login-Register Module
Showcase Your Teachers & Other Staff Members with JD profiler
Get online forms with the help of the JD Simple Contact Form.
Courses and Programs showcase
Build Trust with Testimonials
Works perfectly with TZ Portfolio+
Pre-designed Additional Pages
Astroid Joomla Template - Free Template and Framework
Astroid is not only a free Joomla template, but it is a template framework which comes with drag and drops layout builder. With the help of the Astroid template, you can create any kind of Joomla website as well as you can create a template that you can sell anywhere. Let's have a look at its core features:
Drag & drop interface
Mega menu builder
It is fully responsive and mobile friendly. 
Fully compatible with Fontawesome 5 and Bootstrap 4
Astroid is 100% Free as in free beer and Open Source Framework released under GNU GPL Version 2 or later.
Astroid is built on SASS, the most mature, stable, and powerful professional grade CSS extension language in the world.
Explore it to know the beauty of Astroid in depth. 
JD New York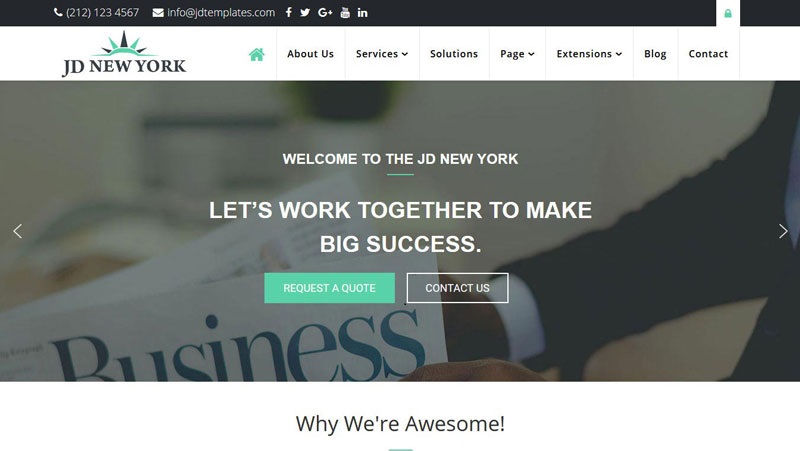 JD New York is a free multipurpose Joomla template developed by JoomDev. You can build a business website, an agency website, or an ecommerce website with the help of JD New York template. It is powered by powerful framework Helix 3 and drag and drag sliding content developer Smart Slider 3. JD New York comes with Kunena extension so you can even start a discussion forum with this template.
It comes with the inbuilt integration of the following extensions.
Hikashop
Virtuemart
Kunena
Jevents
K2
JD Atlanta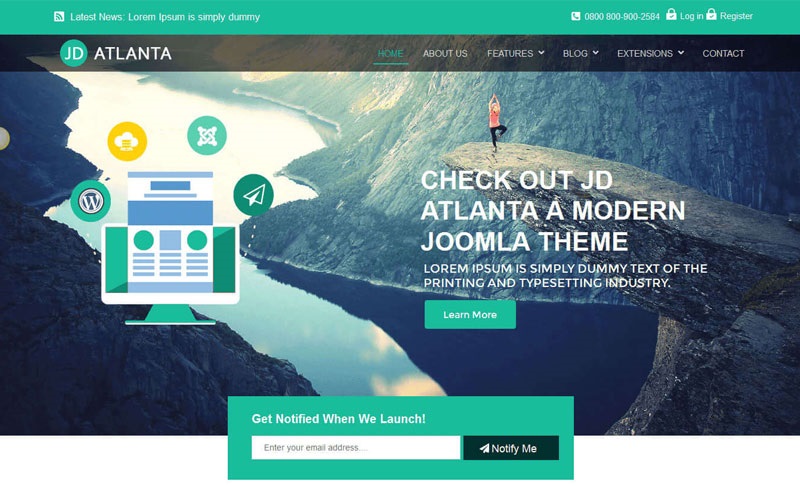 JD Atlanta is another Free Joomla template which can be used for the commercial or non-commercial purpose. It is a highly customizable Joomla template and can be used for the multipurpose website.
This template is powered by the Helix 3 framework which comes with a sturdy admin panel. You can find all the settings from basic logo settings to advanced compression settings at one place.
Also, you are free to remove the footer credits from the website.
Key Features:
Fully Responsive Layout
Cross browser compatible
Support third party extensions
Fully compatible with Virtuemart, Hikashop, Kunena, Jevents, K2
Attractive blog page layout and much more.
JD Boston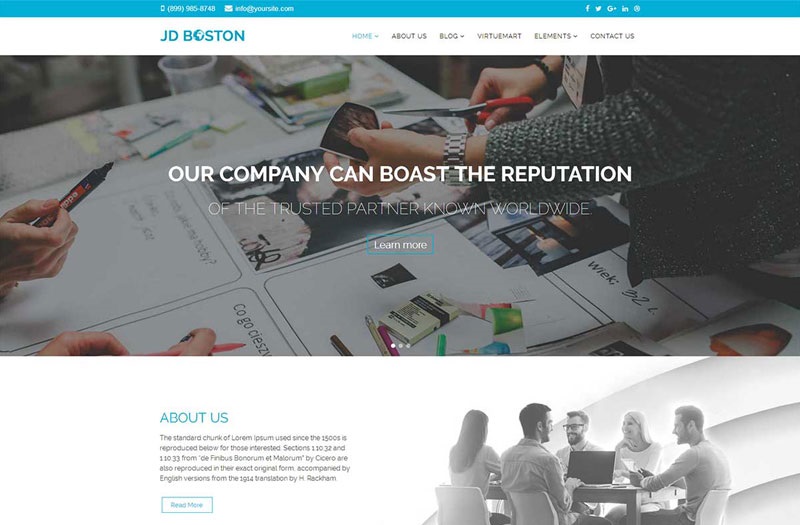 JD Boston is a modern and clean yet fully mobile friendly Joomla theme comes with inbuilt ecommerce, forum, event management, and blog functionality. So if you are starting a business where you need a website with an online store and discussion forum, I will suggest you go with the JD Boston template. You are free to use this template for commercial or non-commercial purpose without any restrictions.
Key Features:
Fully SEO friendly.
Compatible with third-party extensions
Powered  by powerful admin panel
Compatible with Latest Joomla 3
Fully compatible with Virtuemart, Hikashop, Kunena, Jevents, K2
Morph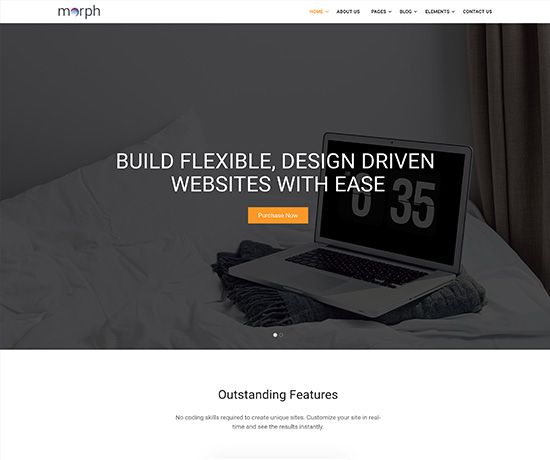 Morph is a free multipurpose Joomla template developed by ThemeXpert team. It comes with five unique design which enhances its usability. It is powered by the T3 framework where you can manage all the settings of your website.
Morph is built with drag and drop page builder, so it enables you to customize your website quickly even if you do not have any coding skills. You can edit any page by just dragging the elements.
Key features:
Fully responsive layout
Full control of typography.
Multiple niche specific layouts
Fully customized blog layout
Cross browser compatible.
RTL ready
Fully SEO friendly.
Helix Ultimate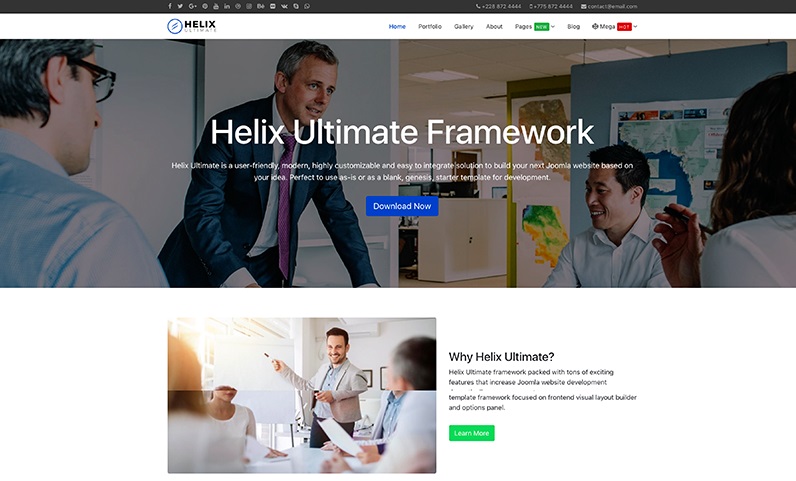 Helix Ultimate is the most popular Joomla template of 2018. Helix Ultimate is a framework in itself. It is most advanced, fully functional, and ready to use the template framework for Joomla. It comes with frontend editing and much more features like layout builder, JS, CSS compiler and others.
Key Features:
Neat and clean UI
Developed with Bootstrap 4
Drag and drop mega menu builder
Ultimate media Manager
Multiple Header variations
Multiple color preset options
One click CSS & Javascript Compression
Develop fully responsive websites
Fully SEO Friendly and much more
Et Hosto - Free Hosting Joomla Template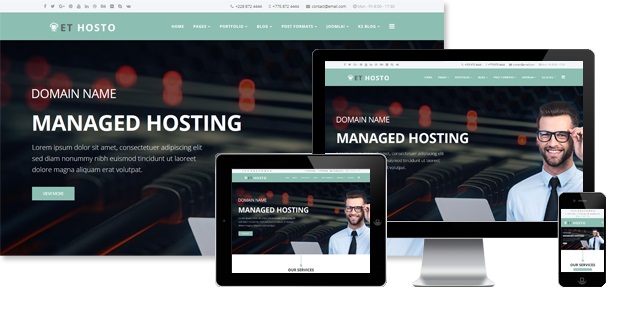 Et Hosto template is not something like a multipurpose template, but you can use this template for any niche website. It is specially designed for hosting service companies, but when I have looked into its design, I feel that it can be used for other business as well.
Its neat and clean design & content section placement make it unique in the crowd. You need to replace content and graphics with yours.
Key Features:
Fully mobile friendly layout
Powered by the Bootstrap framework
Clean and Minimal Style
Off-canvas and mega menu
Cross browser compatible
Full typography control
Better user experience and much more.
Mx_joomla164 - Free Business Joomla! Template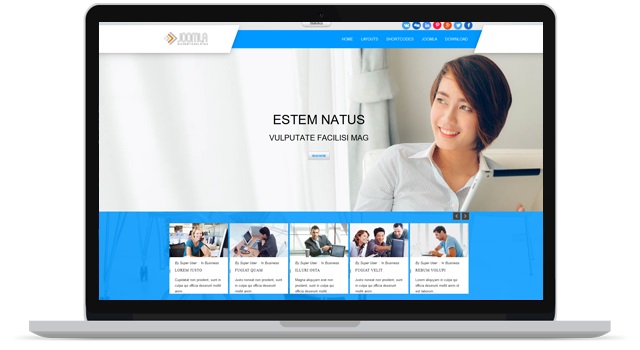 MX_Jooma  164 is an entirely free business Joomla template available to use for the commercial and non-commercial purpose. This template is powered with the Bootstrap framework which makes it responsive on all kind of devices where it is a small screen smartphone or an iMac with the large screen. This template comes with 68 module positions, and six color presets which makes this Joomla template more useful.
Key features:
RTL ready
Floating horizontal menus
Attractive animations
Multi-style content sections
Build the email list with newsletter module
Showcase your team
Browser compatible
One click JS & CSS compression and much more
Varianto
Varianto is a responsive free multipurpose theme comes with the mega menu, and multiple color presets. This template is best suitable for consulting, advertisement, finance, and management agencies. Its modern design combines a minimum of text, large imagery, and a contrast of blue, light, and dark backgrounds.
This powerful Joomla template is packed with dynamic UI elements like the progress bar, counter, etc.
Key Features:
Fully responsive layout
Built with cutting-edge technologies.
Valid semantic coding.
Sliced PSD
Fully documented
Cross browser compatible
Lazy load effects and much more.
JM Services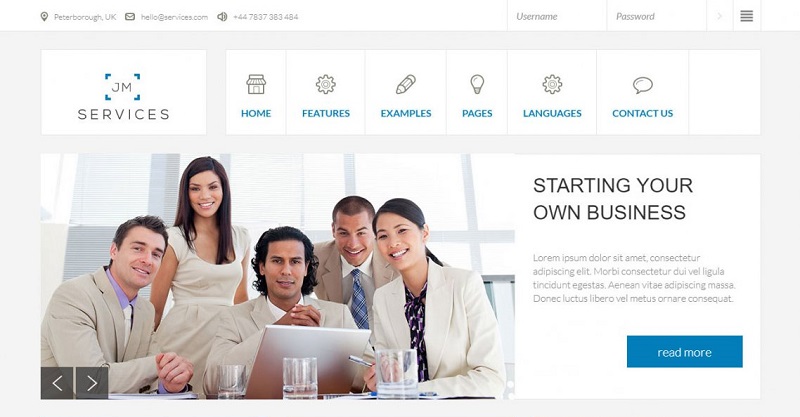 JM Services is a free Joomla template from Joomla Monster. This free template is powered with the EF4 Joomla template framework which is also developed by the JM team. This template comes with three different themes like Business, Culinary, and dental. All these themes are based on JM Services, but they are just modified from the theme customizer and template backend settings only.
Key Features:
Powered by EF4 framework
Theme Customizer
Unlimited color options
Unlimited Font Options
Layout Builder
Powered by bootstrap
One-Click install
Fully SEO optimized.
Purity III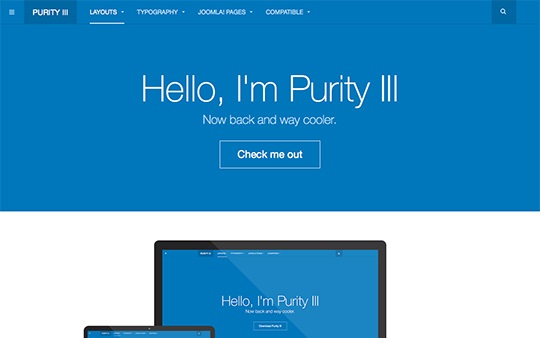 Purity III is the best free Joomla template from JoomlArt. You can develop a simple to complex Joomla project, simple blog to a big portal or anything you want to develop with the help of this theme.
This template is powered by JAT3 Framework which is a leading template framework for Joomla. So if you want to start a project, this is the best base template for any of your core Joomla project.
Key Features:
Fit for everything
Fully responsive layout
Support Bootstrap 3 (I am sure, will be ready for Bootstrap 4)
Customize it as any level
Compatible with 3rd party extensions
Full RTL support
Cross browser compatible and much more.
Final Words
Are you using any Free template from this list? If not, let us know which theme you are using. If you are running low on budget, Free themes are best to start a business.
However, in my personal opinion, I will suggest you choose a premium theme. Because Free themes come with limited functionality, fewer customization options, and poor support. You will find only a few developers out there who are offering great support for their free templates.