Best LMS Joomla Extensions for 2021
by Naveen Kumar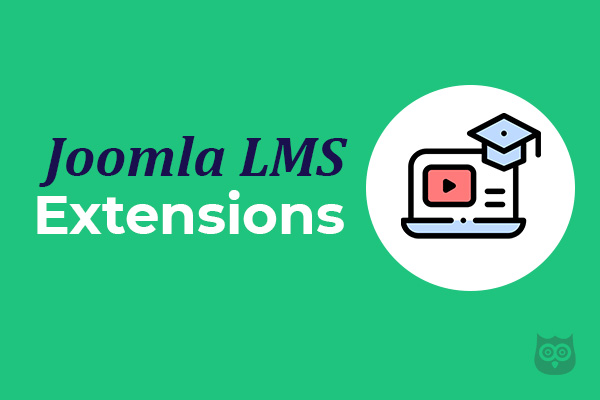 These days, online learning platforms are getting popular. Even, online education is a vast industry itself. And in case you too want to start an online learning platform and plan to use Joomla for the Job. Then you need to use an LMS Joomla Extension.
However, when it comes to the Joomla LMS Extensions, we have way too many options available for us. And choosing the best one among them is quite confusing. Hence, I have handpicked the best LMS Joomla Extensions for 2020.
Create online courses with best Joomla LMS extensions Click to Tweet
But before we proceed to check the best Learning Management Systems for Joomla, we should know why we need an LMS for setting an online learning portal.
Why you need an LMS?
It helps you to store your content in one place so the user can find it easily.
You can give access to the content as per their memberships. 
Easy to track the learning process and learners development
It provides much mobility to attend the lectures
It allows your users to access courses 24*7
LMSs are a cost-effective approach to learning.
So now, let's just go ahead and have a look at them:
Best LMS Joomla Extensions for 2020
Shika Joomla LMS
First of all, I have the Shika. Shika is a Marathi word that stands for learning. And it is a learning management system for Joomla. It comes with lots of power-packed features that help you to create your e-learning platform in no time.
It offers you some of the advanced admin features. Like you get an option for MailChimp and ACY mailing integration. So you can experience a smoother mailing experience. Also, the LMS makes sure that there is a systematic cleanup of the associated data after deletion. So no orphans will be created after deleting a course.
Also, you have options to review the answers sheets. You can change the completion status of any attempt of any lesson/quiz and the score of any attempt of the quiz.
Along with that, it packs a bunch of other features too. As far as the pricing of Sika is concerned, it is available as a subscription plan of 6 months and 12 months. And they cost you $469.99 and $699.99 respectively.
Guru LMS for Joomla
Guru is one of the best LMS Joomla extension that you can try out. With the help of this one, you can create an online course or course for university or school. It allows you to create unlimited online courses with modules and lessons.
Also, it has a flexible media library that supports different files. As a result, you can add video, audio, texts, file, and more.
Along with that, it comes with an easy to use interface. The front is entirely responsive and mobile-ready. So your users will not face any issues while browsing the platform from any device. Also, it is backed by an excellent student interface that allows students to view their courses, their quizzes and test scores, and their certificates.
Even the best part is that it allows you to offer your students certification. If your students get to know that they will be getting a resume, there is a high chance that they will sign up for your course as it will help your students to expand their resume.
Talking about the pricing, it is available in three different plans. The first plan is Light, which is free to download. The second is Pro, which costs you $297, and finally, there is the Ultimate Developer plan that costs you $299.
OSCampus Joomla LMS
OSCampus is also one of the great ways to create an online training website with Joomla. The best part of this extension is that it is pretty robust and flexible. And with this, you will be able to publish online classes, create classes with multiple lessons and quizzes.
Also, these lessons can be anything from presentations, videos, text to PDFS. Even your lessons can be YouTube or Vimeo videos. Also, there is an option to reward your users. 
Even when your users complete a class, you can offer your students a PDF certificate. You can also customize the design and choose the font for the text.
Moreover, getting started with OSCampus is pretty straightforward. It is 100% integrated with Joomla. So there is no need to follow a complex integration feature. Furthermore, you will also be able to analyze detailed statics of your classes, lessons, and students. 
As far as the pricing is concerned, it costs you $69 for a 12months subscription.
SP LMS For Joomla
SP LMS is a multi-purpose LMS extension for Joomla, and you can use it for various education concepts. Along with that, you will get the most straightforward platform for managing the experience of students. Moreover, it is backed by features for schools, universities, companies, and other education areas requirements.
Even, you can use the extension for developing online courses and create learning content on any subject.
Also, you will get a bunch of features with the Joomla extension. Like you can create a free and pair course for your students. You can enable or disable course reviews and ratings as well as it supports different payment methods like Paypal, Bank Transfer, and Direct. And it supports over 20 popular currencies.
You can also offer your customers certificates when they complete a course. Plus, there is the LMS Dashboard that offers basic statistics.
Talking about the pricing, the SP LMS (Full Package) has three different pricing plans, which are the Personal, Professional, and Developer. And they cost you $47, $79 and $239 respectively.
WizIQ virtual classroom extension
For my next pick, I have the WizIQ virtual classroom extension, and it comes with lots of amazing features. This one allows you to stream live during your online classes. Also, it integrates with your existing website, and it does not require you to transfer your eLearning content to another platform.
Moreover, using the WizIQ Joomla! A virtual classroom extension is as simple as installing a basic application. There are no complicated steps that you will need to follow. And it offers you a smooth integration experience with your existing Joomla website.
Plus, you will get access to some of the advanced features like Live chatting, instant messaging, and the option to comment on discussion forums to help glean the opinions of your learners.
Along with that, it also has the cheapest pricing compared to all the other LMS Joomla extensions. And it comes with a 30days trial period too. So you can test the extension, and if you do not like it, you can ask for a refund.
LMS King Professional
In the end, I have the LMS King Professional. This one is a fully-featured learning management system that you can use to build an effective eLearning system.
Along with that, it comes with all the extensions which are required to run a fully-featured eLearning platform. For example, for reporting, it contains a user statistics plugin.
Even with this extension, you are capable of creating 18 types of questions. Also, the extension developers are working to create more extensions.
Also, it packs some of the other features, too, like messaging, so you communicate with your students as well as it packs a bunch of other components too like feedback, forum, profile, translator, file share, and so on.
It supports various payment methods, too, such as Authorize.net SIM, 2Checkout, Paypal, Paypal Pro US, and a bunch of other ones.
As far as the pricing is concerned, it costs you $ 39.99 only.
Final Words:
So those were some of the Best LMS Joomla Extensions for 2020. Now go ahead and check these Joomla LMS extensions out and see which one is working the best for you. Also, if you have to ask anything, comment below.