Joomla Content Versioning - How to Enable it?
by Naveen Kumar
on Tutorials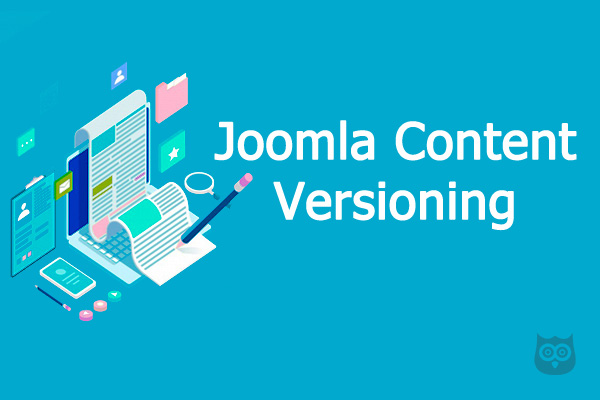 Joomla is a powerful CMS and packed with many features that you need to set up your Joomla website easily. There are so many features and to use them within other CMSs, you need to install third-party plugins, but within Joomla, you don't have to install any of the extension.
And today, we are going to discuss a crucial feature of Joomla, and it is Content Versioning.
What is Joomla Content Versioning?
In layman terms, the Content version is a simple process that creates a copy of the content every time you hit the Save button.
In Joomla also, if you have enabled the content versioning, it creates a copy of your article whenever you save it. Joomla content versioning was incorporated into Joomla core since the release of Joomla 3.2
With content versioning you can save your resource modification in various versions to keep track of the changes that you and other users perform. Click to Tweet
So with the help of Joomla Content Versioning, you can:
Restore the content if you have accidently deleted and saved.
Restore the HTML formatting if it is accidently deleted an editor or Joomla's text filtering in global config.
Compare the changes, edit and delete the modified file.
Have a backup each time you hit the save button.
So now, let's learn how to enable Content version in Joomla 3. The process for content version in Joomla 4 is also the same. The only difference is of UI.
How to Enable Joomla Content Versioning?
Joomla is easy to use CMS and comes with advanced management options. And to enable Content versioning in Joomla is damn easy. Follow the steps.
Navigate to Content > Articles > Click on Options buttons.
Under the Edit Layout Tab, Find Enable Versions options. Select Yes.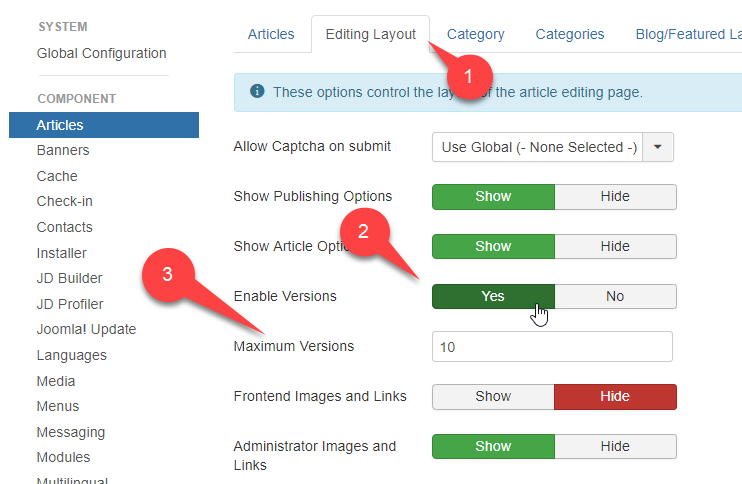 Once you enable the Content Version if you ask you to set the Maximum Versions, you can set any number of versions.
At last, click the Save and Close button and move to the next step.
How to Use Content Versioning?
When you will create a new article or modify the existing one, you will see a new field on the right side of your panel. It will be Version Note. You can specify a note for the edits or enter version like 1.0 or similar like this.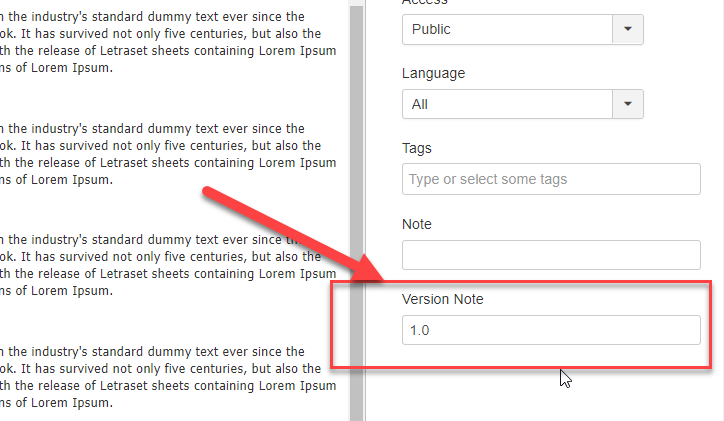 Once, you saved the article with Version not, and you will see a Version button in the Article interface toolbar.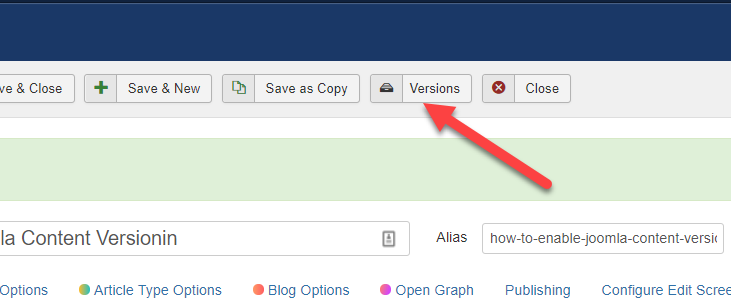 This store the history of your content modifications. When you click on the Version button, you will find all the version of the article.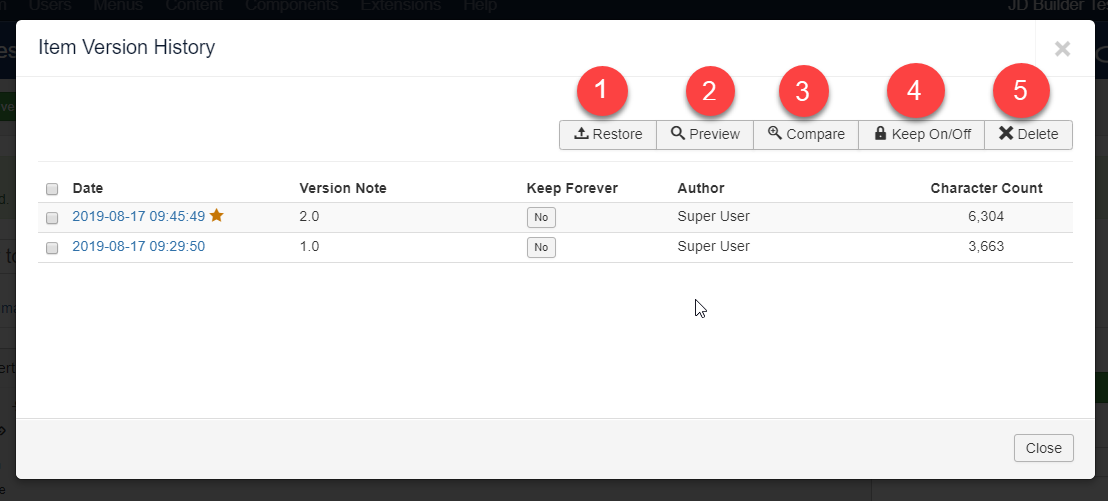 Restore: Button lets you restore and go back to the selected version of your choice.
Preview: Let's you preview the selected version.
Compare: You can select two different versions and compare them against each other.
Keep On/Off: This button lets you permanently keep a version since the limit is ten versions per article, you can use this button to mark the versions that will not be deleted even after you have made more than 10 different modifications to the article.
Delete: This is in case you want to do some cleanup and delete any particular version.
How To Compare Two Different Content Versions?
Compare feature allows you to track the changes or modifications between two different versions. So to compare two different content versions, select the two version you want to compare and click on Compare button.
Once you click Compare, a popup window will open, and it will tell you what you have removed in the new version and what you have added.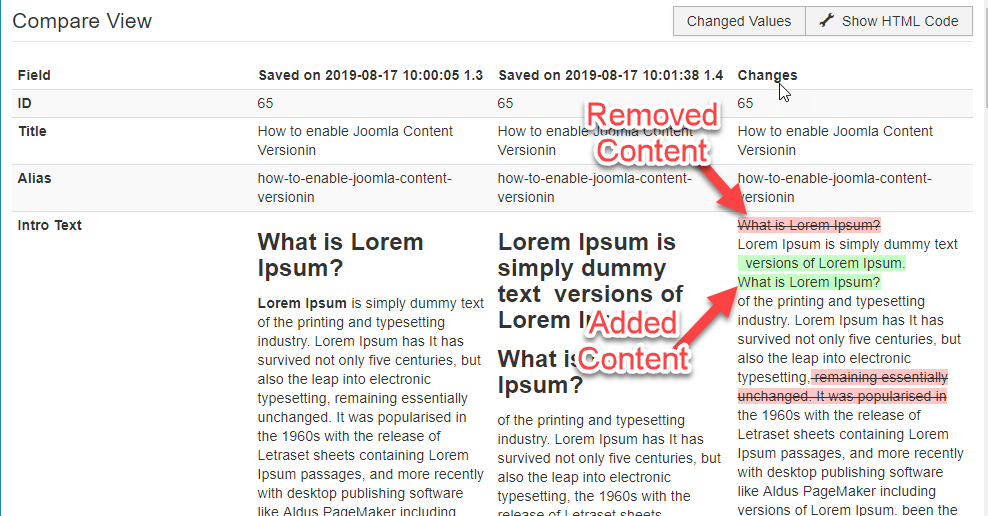 This is how you can compare two content versions within Joomla articles.
How to Restore the previous version of Joomla Article?
Let's assume you have made 8 versions. And you think that the 7th one is perfect. Don't worry, and you can restore to 7th version quickly.
To restore select the version you want to go with and click on Restore option.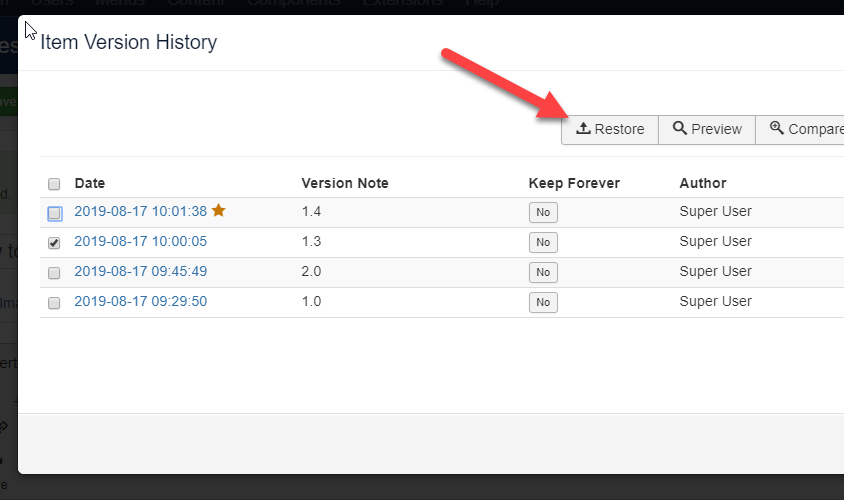 And you are done with restoring your Joomla article to the desired version.
How to keep a version forever?
This is a cool feature. As there is a limit for version storing so as soon as the stack is full, it will start deleting the oldest versions. So if you want to keep a version safe, you can easily keep it forever.
Select the version you want to keep forever and click on Keep On/Off button in the toolbar.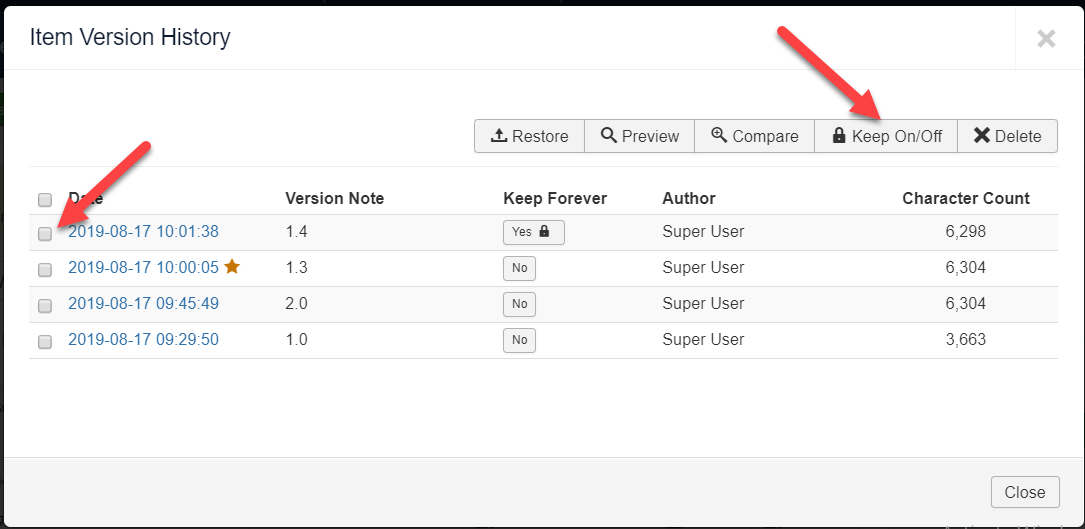 Once, it is safe, and it will not be deleted.
Final Words
So this is how you can enable content version in either Joomla 3 or Joomla 4. And I will suggest you always to use this feature to save your modification so you can use it if anytime you deleted something accidently.
Also, let me know in the comments which Joomla tutorial or resource I should post in the future.