How to Enable Accessibility Feature on Joomla 4 Website?
by Naveen Kumar
on Tutorials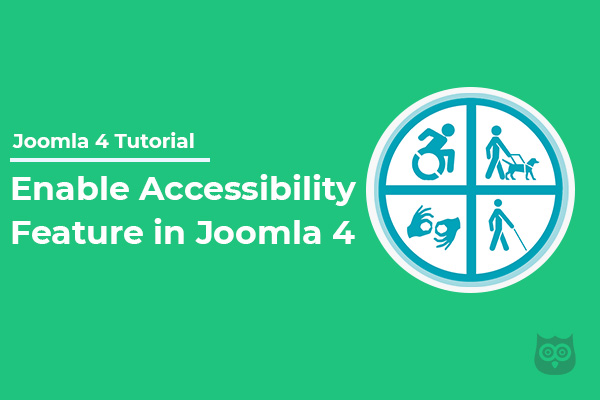 Joomla 4 beta 2 is out and with Joomla 4  stable update we are going to experience the most robust and powerful CMS with improved UI and brand new features. 
Unlike other CMS, Joomla offers you many features in its core so you don't need to use any third-party extension. Accessibility is such a feature that requires third party extension in most of the CMSs.
And now Joomla 4 is the only CMS that offers you built-in accessibility for both frontend and backend templates.
So, if you want to make your website compatible with WCAG guidelines and fully accessible for physically challenged users, Joomla is the best CMS for you.
What is Accessibility 
Accessibility in the sense considered here refers to the design of products, devices, services, or environments so as to be usable by people with disabilities. The concept of accessible design and practice of accessible development ensures both "direct access" (i.e. unassisted) and "indirect access" meaning compatibility with a person's assistive technology (for example, computer screen readers). Read more on Wikipedia.
In short, if we will say, you need to make your website for everyone. You can't exclude anyone if the user is physically challenged or visually impaired.
All this is now possible with Joomla 4 without investing in any third party extension or plugin. 
How to enable Accessibility Feature on Joomla website?
To enable accessibility features on your Joomla site, you need to have Joomla 4 installed on your website as this is a core feature of Joomla 4. So let's have a look at the steps:
Enable accessibility Plugin
Accessibility is a System plugin. So navigate to Plugins > Search for Accessibility. You will get the plugin.

By default, the plugin will be disabled. You need to enable it.
Add Accessibility for Backend & Frontend
You can choose where you want to enable the Accessibility toolbar. You can enable it only for the Administrator (Backend) or Site (Frontend) and for Both as well.

This is how you can add the accessibility toolbar on your Joomla site.
Feel free to add your feedback about this feature in the comment section.