Joomla Page Builders - Design Your Joomla Sites in Minutes
by Naveen Kumar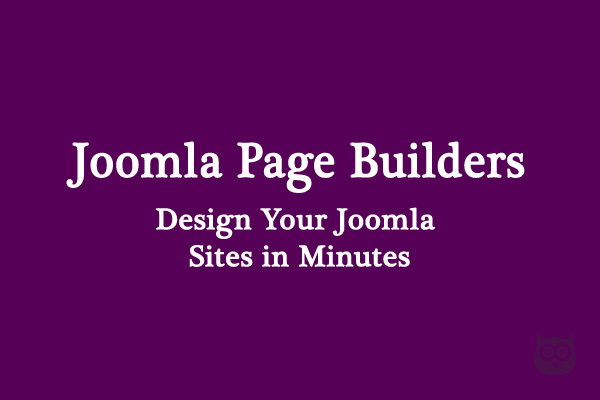 Joomla page builders are the greatest tools to design your Joomla web pages quickly. Basically, a Joomla page builder is an extension which allows you to develop your website with just drag and drop the elements. Before the page builders, it was not that easy to develop a website in Joomla. Either you have to use readymade modules and components to fulfill your requirements or hire a Joomla developer to develop your site. 
But the Joomla page builders totally changed the way. You just have to purchase a single extension and you can easily add any element with drag and drop interface. Today, in this post we will discuss some of the leading page builders. Let's dive into it. 
Best Joomla Page Builder You Should Try
SP Page Builder - #1 Drag & Drop Joomla Page Builder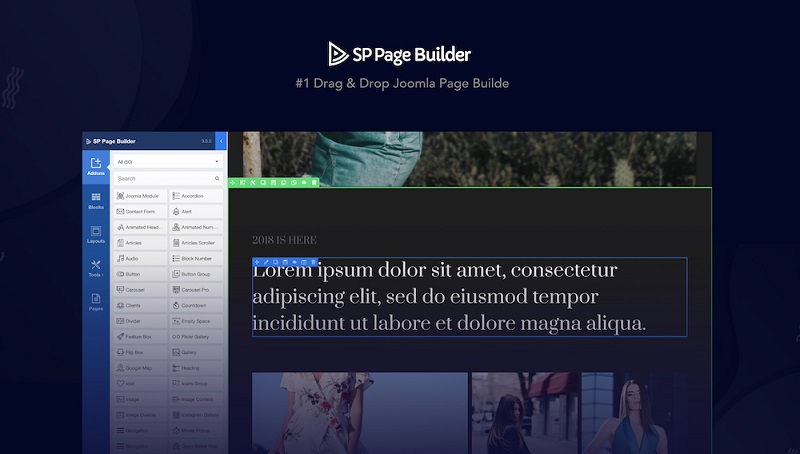 SP Page Builder, developed by JoomShaper is a powerful drag & drop Joomla page building tool. It's one of the most popular page builders across the CMS world. Whether you're a beginner or a professional, you can build a site independently with it. Not just you, SP Page Builder is trusted by 400,000+ people worldwide. With 50+ add-ons and plenty of functionalities, SP Page Builder is not merely a page composer but also a robust design tool.
Here's a quick glance at SP Page Builder.
Completely drag and drop frontend page building system
See the changes live as they happen
Inline text content editing capability
Ready-to-use blocks and layout bundles
50+ add-ons to create page elements
Advanced slider maker to build appealing slides
Library system to save custom designs and reuse later
Build complex row-column structures with unlimited nested rows
Create, style, and publish professional articles
Utilize blend mode to get more stunning graphics
Undo-redo changes, export-import pages, configure SEO
RTL, JCE, J2Store, and multilingual support
Visual live page builder
SP Page Builder lets you build everything visually. You can edit the text contents inline, change the images and other page contents on the frontend. The component also enables you to duplicate anything in one click, undo/redo actions, control column horizontal spacing (gutter), export and import pages and enable/disable page elements such as rows, columns, and add-ons.
100% responsive pages
Whatever you create with this Joomla page builder becomes fully responsive and mobile-friendly. You can also control the responsiveness specifying devices. It uses Bootstrap 4 to power up responsive controls smoothly.
It covers everything you need
Apart from all necessary page building options, there are some extraordinary features that make SP Page Builder even more advanced. With this tool, you can add custom CSS, edit articles on the frontend, save addons as presets in the library, set gradient background for buttons, rows, columns & add-ons etc. More interestingly, SP Page Builder empowers you to design with blend-mode, use production mode, create beautiful slideshows, utilize smart search and much more.
Build pages in minutes
Alongside its drag and drop system, there are 135+ ready-to-use section designs, plenty of built-in shapes, and 90+ complete page layouts to launch any site in a few clicks without having to write any code. Additionally, you can save a created design to its library and reuse repeatedly on different pages.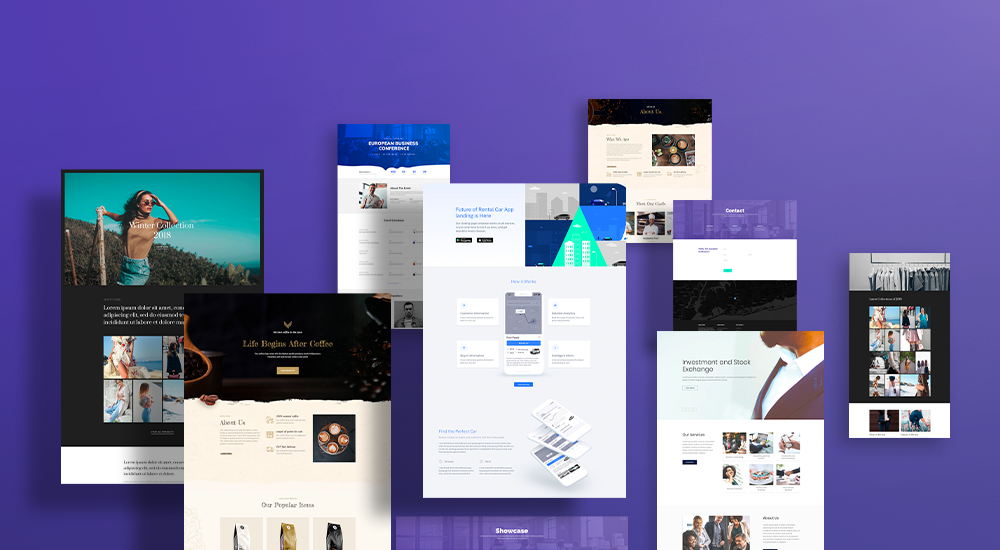 Layout bundles make your life even easier
You can headstart your website building with the available layout bundles inside SP Page Builder. Currently, there are 45 layout bundles that meet most categories of your website needs. Choose a layout bundle and edit the pages with your contents.
SP Page Builder is already the best page building tool in Joomla, yet it's continuously evolving. With every update, it gets more functionalities. New layout bundles, ready-made blocks, presets, addons, and features are being added regularly. It's the only page building tool you would ever need.
---
JA Joomla Page Builder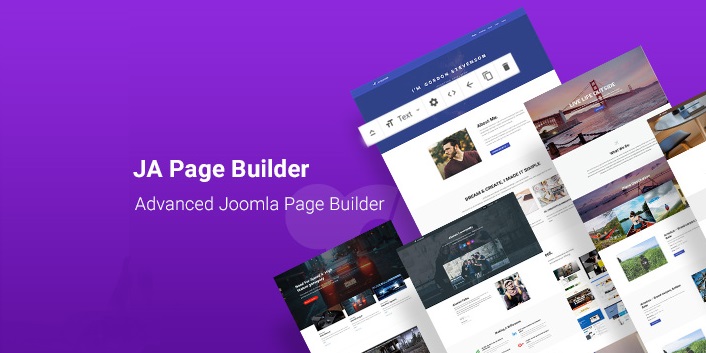 JA Joomla Page builder is one the best page builder extension for Joomla. The powerful Joomla page builder comes with 120+ Content Blocks and 40+ pre-built pages that help to make Joomla site within minutes. JA Page Builder works with all Joomla Template frameworks and full support Joomla extensions. If you are looking for free Joomla page builder, JA builder is the best choice to create a page builder based Joomla site.
Real-time page editing :
Free JA Joomla page builder has a variety of option to add new content and edit them in real-time, its user-friendly interface makes the builder more easy to configure page. If you are a beginner this is perfect webpage tool for you.
Fully Responsive and optimized :
Responsive JA Joomla page builder is fully responsive and adapts all screen size with its powerful grid system. The mobile-friendly Joomla page builder loads much faster in small devices.
40+ ready to use pages :
JA Joomla page builder comes with pre-built page library for every kind of website like business, portfolio, E-commerce, News, blog etc. 40+ readymade pages helps you to build site in few minutes.
100+ Content blocks:
JA Joomla page builder offers content blocks that include Gallery, Accordion, content, Countdown, contacts, Pricing table, Timeline and many more pre-built blocks to adapt any website theme. More content block types, theme, layouts and style will be updated regularly.
The blocks full support customization, thanks to JA Page Builder editor to give user-friendly customization options.
Versatile Animations :
Each block element in responsive page builder has the option to set the animation.  Applying different animation on live editing view makes it easy for every user to create an eye-catching website.
Undo/Redo changes :
Undo redo option play an important role in page builders, JA Page builder has the capability to allow users Undo/Redo changes and it saves each saved entry of the page, In case you want to revert the changes after save you can see revision history and go back to the previous version.
SEO ready: 
Every site must be Search Engine friendly to create a good SEO score on Google. JA Page builder is SEO friendly and has the option to add Meta information for each new page. It also offers customization in Heading Tag, Image alt tag etc with its cool editor options.
Custom CSS :
Every user has its own taste for page builder customizations. JA Joomla page builder support custom style option that allows you to define new css rule for page style customization. You can also request JA Tech Experts for limited customization support.
Export and Import Pages :
Creating a new website and want to use same pages that you already created using JA page builder? Its very simple with built-in export and import options. You can export a page with its layouts and all styles and import it any site that has JA page builder installed.
Joomla Extensions Compatibility:
JA Builder supports popular Joomla extensions Virtuemart, Kunena, EasyDiscuss, EasySocial, and EasyBlog etc. JA Page Builder works well with all Joomla templates frameworks ie; Astroid, T3 Framework, Gantry, Helix etc.
JA Builder core is FREE and offers free content blocks and page library.
The commercial versions: PRO and Premium will have more advanced functions like premium content blocks, page library, limited customization support from JoomlArt support team.
You can download the free version or Buy premium builder.
Quix Page Builder for Joomla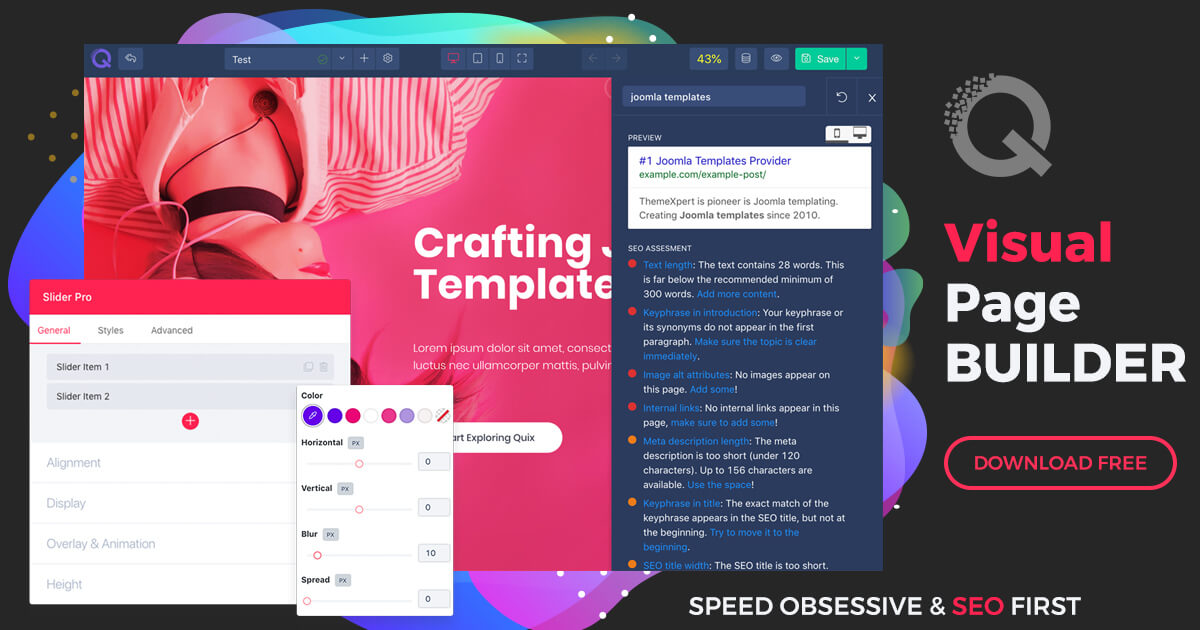 If you value for money, you won't go for fancy words. Quix Joomla page builder shows only what is real and therefore they insist you to try first before buying. This page is builder has all the functionalities like other page builders, but it comes with some specialties that other page builders don't have.  
A mass number of people are using Quix page builder worldwide, they are not using only for the name. But because they find out it better than other page builders.
Let's see what Quix page builder offers
Drag & drop Visual Page Builder
Quix Rank (Manage & Optimize SEO of your site by yourself, to boost search engine rank and traffic)
Quix Boost (Optimize the site performance without using any third-party plugins)
100+ Premium Layout Blocks (Instantly complete your site with the readymade layout)
Develop Complex Structures with Nested Rows/Columns
Visual Form Builder That Allows You to Create Form Visually.
Copy + Paste Everything
Unsplash Integration
Joomla Articles + 3rd Party Extension Integration
Advanced Library to Save your custom designs, elements and use at a later time.
And All Other Features That Other Page Builder Offers.
Drag & Drop Visual Page Builder
Build what you see. You can build everything you see with Quix Page builder. Just drag the element and start modifying in the way you want. There are time-saving settings and features like copy-paste, duplicate, undo-redo, global settings, and more comes with this page builder. Which saves your valuable time along with your money.
Quix Rank
You don't need to be an SEO expert or either hire one to boost SEO of your site. Even you don't need to buy any third party extensions, Quix alone is enough to optimize the SEO. Quix Rank checks the SEO of your site with 30+ assessment checks and instantly gives a result with a solution.
Then you just optimize the SEO by yourself and become an SEO guru.
Quix Boost
Many people think that page builders slow downs the site actually this is not true at least for Quix. The other page builders in the market slowdowns the site and clients in mind that all page builders are same and slow. Quix comes with the boost feature that uplifts the speed of your entire site by optimizing images, CSS, JS, and any other scripts along with settings. You won't have to worry about the speed of your site anymore.
Instantly Complete Your Site With Readymade Blocks & Templates
For clients who are in a hurry, Quix offers 100+ readymade templates and blocks. All you have to do is insert one template then modify a little bit, you don't need to write a line of code or build anything with elements. If you like to reuse your custom made element, layout or whole page, you can save it in the library and reuse at a later time.
Other Features
Quix includes all the common features that page builders consists and all of them cannot be described in words. Go the ThemeXpert and it's best to try Quix first and judge all by yourself.
JD Builder - Drag & Drop Joomla Page Builder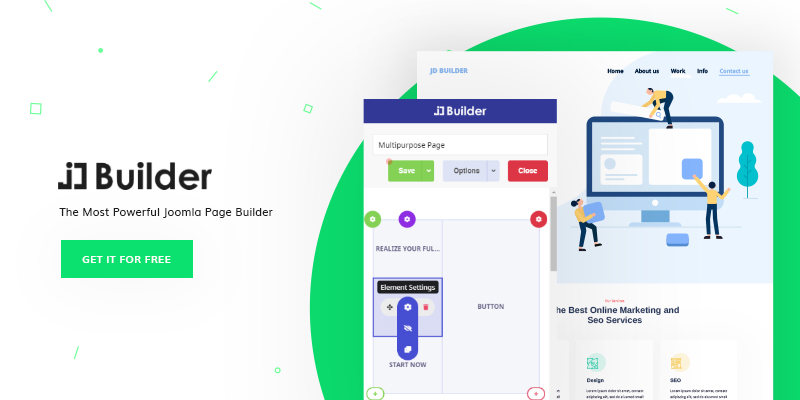 When it comes to Joomla page builders, JD Builder is a well-known name in the market. Since it was released, Joomla fan started loving it. And if you haven't tried it yet, try it now. I am damn sure that you will fall in love with its features and easy to use interface.
So let me introduce JD Builder to you. JD Builder is developed by team JoomDev who are also behind the powerful Astroid Framework. 
JD Builder allows you to create any simple to complex design easily by just drag and drop the elements. Forget about to write any line of code, everything is possible with available options. Simply choose the appropriate options and you are done with creating an awesome and fully responsive page or section for your Joomla website. 
JD Builder comes with 30+ (growing rapidly) free and pro builder elements so you can easily achieve any design requirement. Apart from the elements, JD Builder offers you ready to use sections and template library. You can add any section or page template with just one click & get your page done in minutes without doing any hard work. 
Here are some quick features of JD Builder
Drag and drop layout builder
Finder - It helps you to find and navigate to any Joomla menu without leaving the current page. 
Custom Background positioning
Shape Divider
Global & Page-Level Typography
Pixabay Integration - Access over 1 million images direct from your Joomla admin panel. 
Undo/Redo & Revision history
Shortcut Keys
Real-time preview
Responsive controls everywhere where needed. 
200+ Predesigned Sections
Ready to use Website templates.
FAQ Schema Integration
Before & After Slider
Nested Columns - Add row under the column to achieve the complex design.
Save & Reuse Section Design
Navigator to get a bird's eye view. 
There are lots of features that JD Builder offers to you. So I will suggest you give it a try. If you don't want to go with pro version first, you can try their free version and later decide if you need a pro version or not. 
JSN Joomla Page Builder
This is another powerful Joomla page builder extension which allows you to create Joomla web page easily with drag and drop interface. This page builder is developed by JoomlaShine team. They are serving the Joomla community for a long time and developed high-quality products.
The powerful visual composer extension helps to build complex web content easily without worry.
The JSN page builder comes with unique features like visual editing, rich content elements, front end editing, Convenient Media Selector, Flexible Module Positions, On-page Optimization, and Revolutionary UX etc.
You can use this visual editor anywhere on your website. This can be displayed as an article editing of TinyMCE, and the article can be edited directly on front-end.
---
The article will be updated with more details shortly...