Stay Home & Stay Safe - Discount and Offers for Joomla Community During COVID-19
by Naveen Kumar
on Joomla News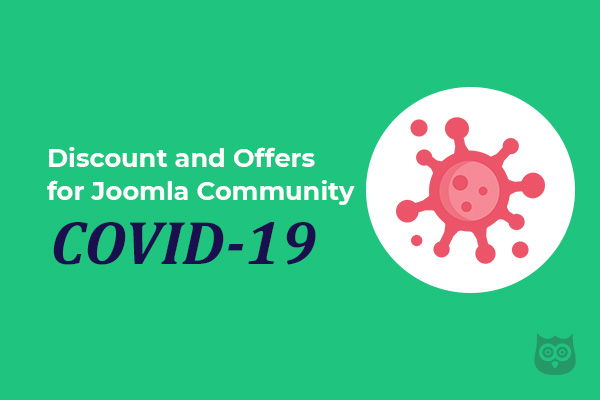 As we all know that CoronaVirus is hitting everyone across the world and no one is safe from it. Almost every country is locked down. The economy is crashing and people are losing their jobs.
So in the pandemic, it's hard to survive for small businesses or freelancers. To help them, most of the Joomla product developers come together and offer heavy discounts on their products so you can keep developing awesome Joomla websites.
I have collected offers from different Joomla developers and prepared this roundup post. In this post, you will find the discount coupons with all the other necessary details.
The Best Offers to Support Joomla Developers
JoomDev - 40% Flat Discount
JoomDev had reduced all its Joomla Products prices by 40% until the impact of this pandemic is controlled. For the moment the discount will be available until April 30, 2020, and after that, they will decide according to the situation. The discount will be applicable to all the Joomla templates, Joomla extensions, and club memberships.
Apart from the discount, they also made all their medical templates available for FREE as a token of respect who are fighting with COVID-19 at the front line.
Coupon code: COVID19
Valid Till: 30th April 2020
---
Tassos.gr - 20% Flat Discount
Tassos.gr is developing professional and high-quality premium and free Joomla extensions for all businesses. Home ofEngageBox, the most popular popup extension in the Joomla market,Convert Forms, a user-friendly form builder and other top-rated extensions such as google Structured DataandAdvanced Custom Fields. He is offering a flat 20% discount on all his extensions.
Coupon Code: COVIDRELIEF
---
JoomlArt - 30% Off on All Subscriptions
Being the Top Joomla companies since 2005 with 100+ professional and modern Joomla templates, Joomla page builder, and robust T4 framework, they are offering a flat 30% discount on all their subscriptions.
Coupon code: JA_CARING
---
NorrNext - 40% OFF on all products
NorrNext is a passionate team of developers providing extensions for Joomla. The leading product is NorrCompetition - a voting contest extension for Joomla.
Coupon Code: STOPCOVID19
---
Joomla Monster - 25% on all products
Joomla-Monster creates professional and high-quality premium and free Joomla! templates for many thematic categories. Our Joomla! 3 templates are built on powerful, modern and useful EF4 or EF3 Frameworks.
Coupon Code: FCOVID19
---
DJ-Extensions - 25% on all products
DJ-Extensions is a well-known developer of high-quality Joomla! extensions. We believe that simplicity and user-friendliness make good extensions. Most popular extensions are DJ-Classifieds, DJ-Catalog2, DJ-MediaTools, DJ-ImageSlider, DJ-Tabs, DJ-MegaMenu.
Coupon Code:FCOVID19
---
ExtensionCoder - 20% OFF on all products
ExtensionCoder develops Joomla 3 and Joomla 4 compatible, bug-free, up to date, perfectly working extensions. Our extensions are powered with excellent support and user guides.
Coupon Code: LetsBeatTogether
---
TechJoomla - up to 40% Off.
Techjoomla focuses on innovative, top-notch solutions for the Joomla Community in the Ecommerce, Advertising, Event Ticketing, Non-Profits, Crowdfunding, and ELearning & Education domains. They are offering discounts of up to 40%.
Coupon Code: N/A
---
Akeeba Backup - 20% OFF all PRO Products
AkeebaBackup.com is a provider of premium software for Joomla! and WordPress: Akeeba Backup, Admin Tools, UNITE and more
Coupon Code: COVIDRELIEF
---
corePHP - 30% OFF
We empower people with great technology to achieve greatness for humanity. 'corePHP' is a group of talented Joomla, WordPress, and Drupal Extension Developers
Coupon Code: FLATTENTHECURVE
---
Rochen Joomla Hosting - 30% off of the first invoice
Rochen is a leading hosting provider, for Joomla based websites, offering performance-driven hosting and top-notch support at affordable rates. Know more about the Rochen Hosting.
Coupon Code: staysafe
---
SiteGround Hosting - StartUp plan for $0.99
SiteGround has offered high-quality hosting services which now power more than 2 million domains since 2004. Read a detailed review.
Coupon Code: N/A
---
RS Joomla - Up to 40% OFF
Today, we have 45 products: 13 premium Joomla! extensions, 7 free Joomla! extensions, 22 premium Joomla! templates, 2 free Joomla! templates and 1 WordPress plugin. We believe in open source and aim to revolutionize software performance through constant improvement because "good enough" is not in our vocabulary.
Coupon Code: N/A
---
Joomlashack -33% on all products
Joomlashack was founded on September 2nd, 2005, the day after the Joomla project was officially launched. Since that day, Joomlashack has been a reliable and leading provider of free and commercial Joomla templates, extensions and Joomla training.
Coupon Code: STAYSAFE33
---
JoomlaShine - 25% off for all templates and extensions
JoomlaShine (JSN) is a top-rated provider of Joomla! templates and extensions. Have provided over 600.000 users in the world with templates & extensions since 2007.
Coupon Code: JSNSTAYHOME25
---
SmartAddons -30% Discount on All Products & Subscription Plans
SmartAddons specializes in providing high-quality and flexible Joomla templates and Joomla extensions with 300k+ Happy users.
Coupon Code: WFH2020
---
TemPlaza - 30% OFF on Jollyany Package
15+ professional, creative and modern Joomla templates for business, portfolio, agency, eCommerce, Communication, Personal and Charity/NGO.
Coupon Code: N/A
---
TZ Portfolio -UP TO 60% OFF on All Subscriptions.
All you need for a Portfolio here. TZ Portfolio+ is an open-source advanced portfolio extension for Joomla! It provides a perfect solution for your portfolio project.
Coupon Code:COVID19
---
Extly -25% off All Extensions & Club
Empower your website with our solutions. Creators of Joocial, XT Search for Algolia, XTDir for SobiPro, and more!
Coupon Code: STAYATHOME
---
VirtueMart -20% OFF All extensions of iStraxx and others
The Istraxx Company was founded by the VirtueMart core team members, developing VirtueMart plugins for more than 10 years. The shop extensions.virtuemart.net is a multivendor platform offering extensions of different VirtueMart developers. iStraxx and others offer a 20% discount for all extensions.
Coupon Code: N/A
---
JExtensions Store - 20% OFF
JExtensions Store offers professional development Joomla! extensions. With a long experience from the birth of the Mambo project, our goal is developing web solutions based on the Joomla platform! Today we deliver award-winning extensions to the community such as JSitemap, GDPR, Responsivizer and many more.
Coupon Code: jomxda2vl
---
If you want to submit list your offer here, please contact us through the contact us page.
PS: Stay at home and stay safe. You are the only one who can break the virus chain..