Best Joomla Template Frameworks To Develop Joomla Based Websites
by Naveen Kumar
on Templates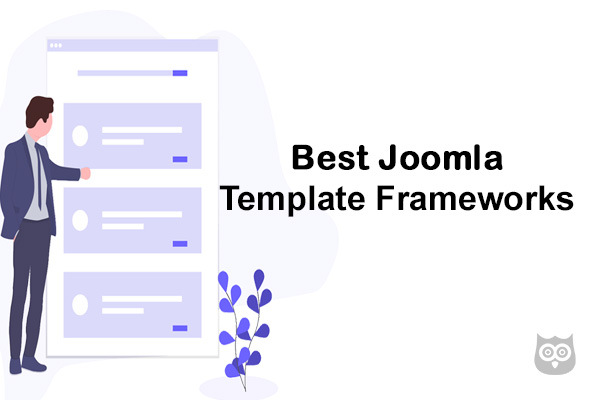 There is no doubt that Joomla is one of the best free and open source CMS available to the users. From the time of its launch in 2005, Joomla is loved by everyone and have a market share of around 7.1 percent which makes it the second most popular CMS just behind WordPress.
It is effortless to create an eCommerce site, business site or any other type of website with the Joomla CMS and also there are lots of Joomla Framework which make the work easier. Here are some of the best Joomla Framework which you can opt for your next project.
Astroid Joomla Framework

Designed and developed by JoomDev, Astroid is one of the best and the latest Joomla Framework in the market. Known for its flexibility, it is one among the most powerful framework for designers and developers to create responsive, fast & robust Joomla based websites and templates.
Talking about the features, Astroid got all the features like responsive layout, bootstrap 4 compatible, drag and drop layout builder, visual mega menu builder, header variations,  SEO optimized and open source license, which enables you to make any website without any restrictions.
Astroid Framework is compatible with the latest version of Joomla Version and features like Headers Variations makes it stand out. In Astroid Framework, you can customize the menu as the way you like with the inbuilt two header styles, i.e., Horizontal Mode and Stacked Mode.
Gantry Framework
Gantry is another powerful framework for making Joomla based websites and template. It is developed by RocketTheme, a well-known company in the field of Joomla Development. The new version of Gantry, i.e., Gantry 5 consist of features like all new and refined features which are not there in its previous version.
Same as Astroid framework, Gantry framework also provides you with all the flexibility to play around with the framework. It includes an all new and powerful menu editor that makes menu management, particle, and module injection, and visual enhancements very easy.
Don't forget to check: How to add Google Analytics in different Joomla template frameworks
You can efficiently use the Gantry Framework with simple to use YAML Syntax. You also get a Visual Menu Editor which will help you in configuring and structuring the menu hierarchy of the website or template you are working on.
Features like unlimited items per row, unlimited rows per section, powerful particle system, easy widget position placement, resize items with simple sliders enables you to customize the layout of the page even more.
Helix Ultimate
Helix Ultimate is the star product of Joomshaper.com. It is also one of the popular Joomla Framework which is used by many of the template and website developers. It contains all the feature like responsive layout, cross-browser compatible, SEO optimized and user-friendly interface which is must have in a good framework.
Other then this, Helix Ultimate Framework is Multilingual Ready, i.e., you can now build websites and templates in any language you want. The Framework is integrated with the SP Page Builder that comes with pre-built layouts and customizable add-ons to develop sites and can minimize the efforts you have to put in your development phase.
It's a fully responsive and mobile-first Joomla template framework having a frontend visual layout builder along with easily accessible options panel. Helix Ultimate also provide your website with the features to rate post, blogs, products using the Ajax Ratings. There are many more things to explore, follow the link below to know more.
T3 Framework
The all-new, modern and flexible T3 framework by Joomlart is also in the race of the best Joomla Framework. Built on the top of the latest technologies like HTML5. CSS, CSS3, and PHP provide this framework with a solid base to work on. In addition to these, the framework is fully SEO optimized and have 100% responsive design, i.e., it does not only look good on all browsers and devices but also works perfectly on all of them.
T3 Framework comes with two base template: T3 Blank template and T3 BS3 Blank template. T3 Blank template integrates Bootstrap 2 while T3 BS3 Blank template integrates Bootstrap 3. You can use these default templates or choose a new one if you don't like these, there are no restrictions on that.
The T3 framework also makes it very easy for the user to customize the chosen template over this template without changing any line of code. You can easily do that with the powerful admin panel that is included in the framework and gives you the full control over your website or template.
JSN Sun Framework
Why spend lots of hours in writing long and complex codes for your next websites or templates when you can just set up a complete website from zero in just a couple of minutes. Yes, you heard it right "IN MINUTES." Joomla CMS Frameworks like JSN SunFramework by JoomlaShine are capable of doing this.
It comes with many inbuilt features like versatile mega menu builder; unlimited undo and redo, google fonts, SEO optimized, RTL compatible, backup & restoration, etc. which saves you from coding for all of these features from scratch. Moreover, also advanced tools such as icon picker, font selector, margin & padding box can speed up your development work.
If you are worried about the core of JSN Sun Framework, then need not to worry as this framework was built with the powerful SUN framework at its core. Beside this, there is an unlimited styling & customizing option, and the elegant user interface makes it stand out.
One thing the user always worried about that how their site is going to look when there is content on the site. With JSN SunFramework you can precheck that, just with one single click you can install sample data and get the "demo" look for your website.
Wright Framework
We know choosing a Joomla framework is not an easy task, especially when there are many options out there but this is why we are writing this article; to shortlist some of the best Joomla Framework and Wright Framework also deserved to be in this list.  Developed by JoomlaShack, Wright Framework is packed with all the essential features like responsive design, search engine optimized, the third party compatible, etc.
Templates and Websites designed by this template are fully responsive and SEO optimized plus they are fully compatible with any third party extensions. Wright can also cache and compress the CSS into one big file to help reduce loads and HTTP requests, and help you in better SERPs.
Vertex Framework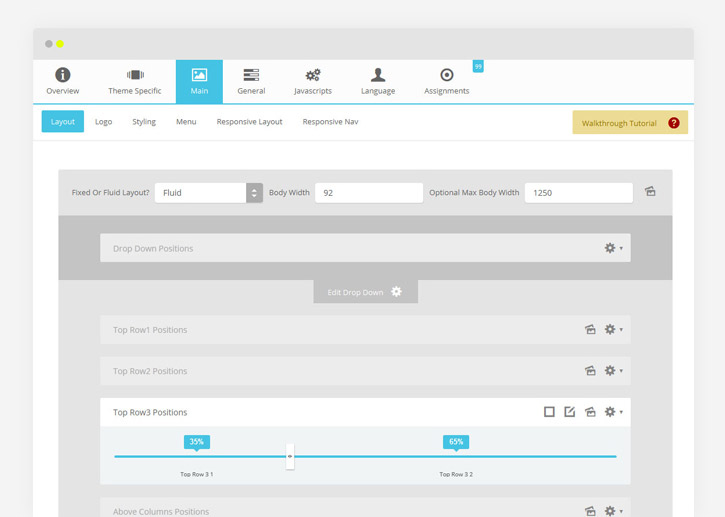 Last but not the least, vertex framework is one of the most flexible and powerful frameworks in the market. This framework reduces your website development time drastically with the help of all the impressive features it contains like s5 flex menu, column widths, page width, multi-box popups, tooltips, info slides, google fonts, file compression, responsive options, mobile navigation, color pickers, and many more.
The best thing about this framework is the level of flexibility it provides to the user. There are so many module positions available in this, and the number of layouts you can create with this is also limitless. Also, the integrated Flex Menu provides functionality to have a Menu in Joomla Website.
So, Guys these are some of the Best Joomla Template Framework which you can use to make excellent websites and templates very quickly and in very less time. If you have any doubt related to any of these, feel free to use the comment section. We will try to respond as soon as possible.