How to Fix Broken Links in Joomla 3.X or Upcoming Joomla 4?
by Naveen Kumar
on Tutorials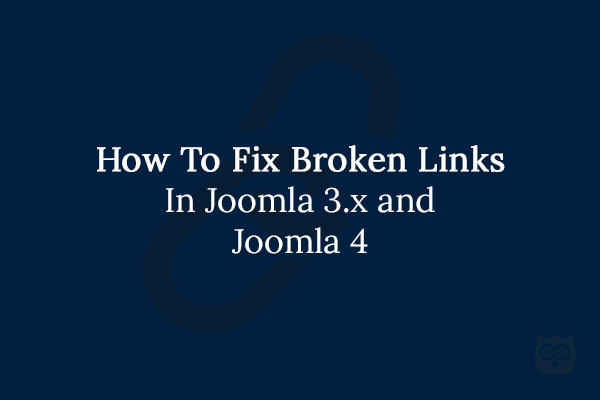 Find and fix broken links on Joomla site before it starts to hurt your website or business. Click to Tweet
Broken links also known as dead links are the links which no longer exists. If clicked, such links will bring you on a page which is either deleted or never exists. Broken links are not only harmful to user experience but it also affects your search engine ranking.
Broken links on a web page are same as broken glass on the well-decorated window. Doesn't matter how well furnished it is, if the glass is broken, it will create a bad impact on the viewer as well as it allows dust to come in the room.
Basically, almost every website has broken links and most of the time webmasters avoid these to fix because they thought these don't hurt their SEO value.
But let me tell you that these broken links not only hurt your search engine ranking but also hurt your business or conversion rate on your website.
So before finding a solution to fix broken links in Joomla 3.x or Joomla 4, you need to know what are the primary reasons for dead links.
The common reason to occur broken link errors
The web page is deleted
The webpage URL is changed
Change in the URL structure
The website is no longer exist
Link is misspelt
Link not hyperlinked properly like linking without including HTTP://
The user has software or is behind a firewall that blocks access to the destination website.
These are the some of the major reason for broken link errors on a Joomla website.
Now the question is how to find the broken link on a Joomla website? Because if you don't know which link is broken or dead then you can fix it. So let check out how to find the dead link on a website.
How to Find Broken Links in Joomla 3 or Joomla 4?
Thanks to the online community who have developed such awesome tools to simplify the hard task. There are a lot of online tools available to check dead links on a website. Almost all the tools are available free of cost.
So here in this article, I am going to share 5 best tools to find broken links on a Joomla website.
Broken links checker is a free online tool available to check all the broken links on your Joomla site. You just need to put the URL of the page and it will scan your website. After finishing the scan it will pull a list of all the dead links on your website.
Aha, it's not only a Broken link checker tool but it also helps you to find out the errors in links, anchors and referenced objects in a Web page, CSS style sheet, or recursively on a whole Web site. So if you want to validate your code along with the links, this tool is best for you.
If you are SEO or know something about SEO tools, I am sure, you are aware of this awesome website scanning and dead link checker tool.
It is offline software to check the broken links. To start with SEO spider, you need to download Screaming Frog SEO spider and install it on your local computer. Once installed, follow the steps.
Open screaming Frog SEO spider to check the dead links.
Enter the website url and hit the start button. If you have a big site, it may take few minutes to scan the whole website.
Once the scan is completed, it will pull out all the internal links with HTTP response code. But as you know broken links generates the 404 error so you will be interested in only 404 status code. So now the easy way to find is to sort the Status Code column.
Now you will have all the broken links, but you don't know which post contains this corrupted link. So now simply click on the Inlinks column at the bottom. It will pull all the pages where this dead link is linked. And now you can fix this broken link easy by just going on that page.
If you are not willing to choose an offline tool, Dead Link Checker is awesome tool build only for you. It helps you to find out all the dead links on a website or a specific web page. It has an option to scan the whole website or single web page of that site.
Google Webmaster Tool is one of the best free SEO tools and is the medium of communication between Google and a webmaster. It helps you to analyze a website for incoming and outgoing backlinks, search stats, website errors, broken links and much more.
I will not go into details that what you can do with Google Webmaster Tool. I will just tell you how you can find the broken links on your website with GWT.
If your website is not verified with GWT, you have to verify your Joomla website with Google Webmaster Tool.
Once you have successfully added your Joomla site to webmaster tool, follow the steps.
Check out the crawl errors under Crawl tab.  

As you know broken links generate 404 errors so you have to check the not found error in GWT. So simply click on the Not found tab and there will be a list of not found URLs. 

 
Now you have to check on which webpage, this broken link is linked. So click on the url and Error details page will open, where you can find all the page where this url is linked to the Linked from the page.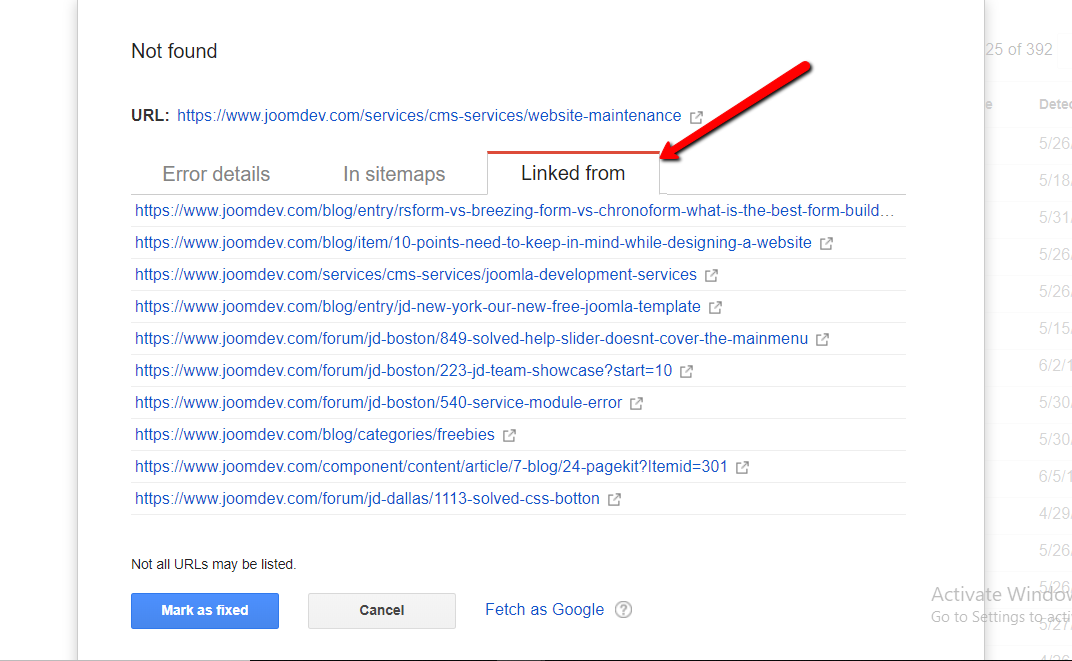 This way you can find broken links in Joomla site with Google webmaster tool without investing a single coin.
You have the list of all broken links in your hand. Now, you have to fix these broken links to give a better user experience to your audience.
Also read:
How To Fix Broken Links on Joomla Site
Joomla is an amazing CMS and it comes with almost every solution to each problem. Joomla 3.x, as well as Joomla 4, has a plugin which helps you to fix the dead links. It is named as Redirect.
Redirect Manager is a component available in the core Joomla and was introduced in Joomla 1.6 and also coming in Joomla 4. The main function of Redirect manager is to help webmaster/website owner to redirect a link to another link.
How to use Redirect manager to fix dead links?
First of all, you have to enable the Redirect -system plugin from your Joomla administrator panel. To enable the extensions, follow this path. Extensions > Plugins> System - Redirect
Now back to Redirect manager and add click on the New option. Here you can add the expired link and new link so when someone will land on the expired link, it will be redirected to new link automatically. 

Joomla 3 Screenshot


Joomla 4 Screenshot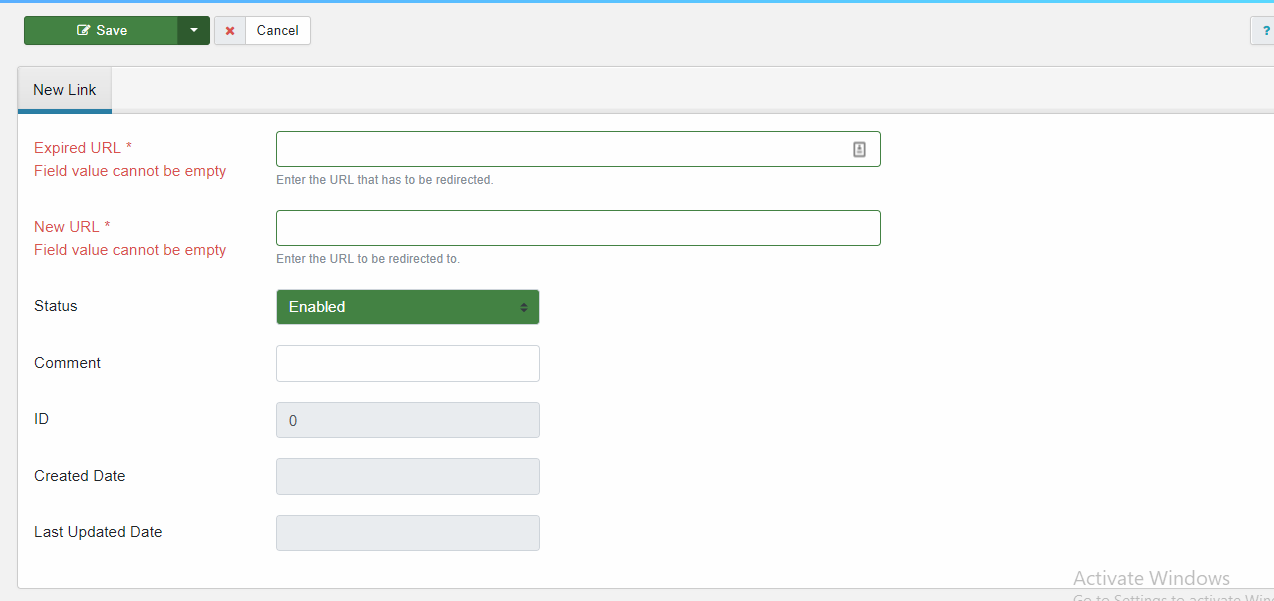 With this simple way, you can fix and manage all the broken links from a single place.
Alternatively, you can edit the links by editing each article which is a very hectic task.
Don't forget to Mark as Fixed in GWT
Once, you have fixed all the links, the last task is to tell the Google that you have fixed the broken links and please crawl the new web pages.
So now simply, go to the specific error detail and hit Mark as Fixed button.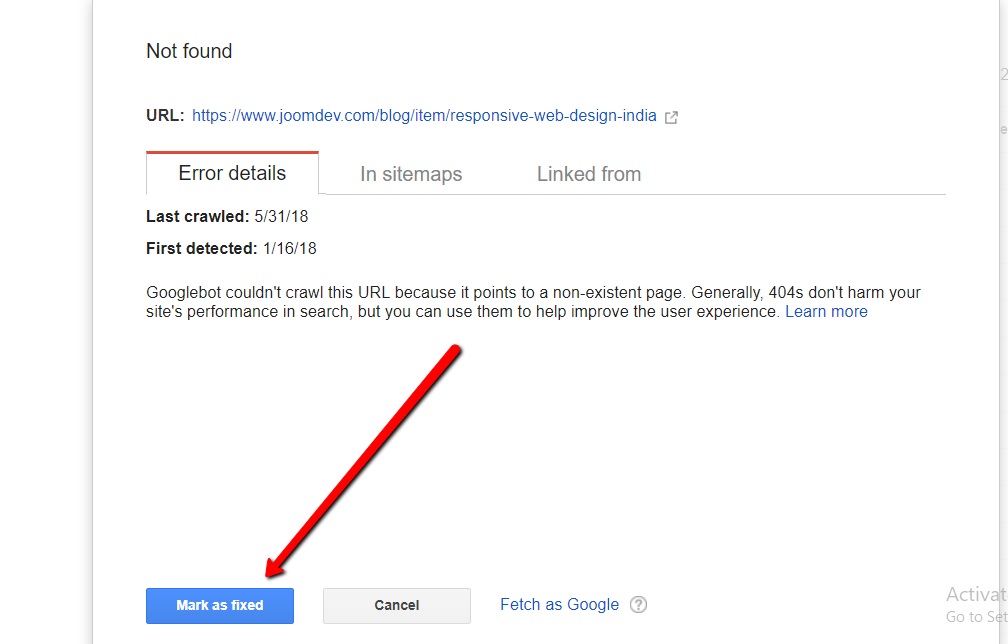 Once, you marked as fixed, the error will be removed from the report.
Final Words
So basically, broken links or 404 errors are not harmful to search engine ranking directly but it can hurt your user experience. And User experience is the key ranking signal.
In short, if you don't fix the expired links, you are hurting your user experience directly and losing search engine ranking indirectly.