How to Create Interactive Click to Tweet Fancy Boxes in Joomla?
by Naveen Kumar
on Tutorials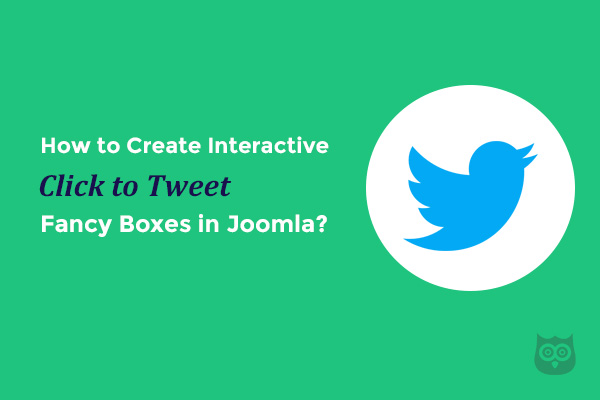 If you have read my previous post on this blog, you would see that I have used some Click to Tweet boxes within the content.
Have you wondered how I have added those?
Would you like to encourage your visitors to tweet your content? If yes, then you need to give them,
A reason to tweet your content.
An easy to tweet approach.
And once you give all these, your reader will not feel lazy to tweet your content because they will be able to do this with a single click.
To know more about how to make your readers share your content on their social media, I had published a blog post back in 2018. Just read that.
Today, in this article, we will learn how to create interactive tweetable links and boxes quickly and easily.
How to Create Tweetable Links & Fancy Boxes
For a beginner, Joomla can be a little complex, but thanks to the Joomla extensions that makes everything smooth and easy. And to create tweetable links, we will also use an extension so it can be an easy job for us.
Introducing TweetMe Joomla Extension
TweetMe is a Joomla extension that allows you to add tweetable quotes within your content. In short, you can add your important statements as tweets. And someone can tweet that statement with just a single click.
It comes with a simple configuration, multiple tweet templates, and many more features.
Let's have a look at its features.
Responsive Layouts
Tweet with the single click
Link Shortening
20+ Fancy templates
Clear Call to action
Fast and lightweight
Cross-browser compatible
You can download TweetMe Joomla Extension from its official website and use it on your Joomla website.
How to Use TweetMe With Joomla Content?
It doesn't matter what you are using to publish content, and this Joomla extension will work like a charm.
So if you haven't downloaded the extension, download it right now and install it on your Joomla site.
Once you have installed the TweetMe extension successfully, you will be able to use the extension with the help of Shortcodes.
Now, navigate to the content where you want to add a tweetable quote and use the below-given syntax.
The syntax can be used wherever an HTML output is generated.
You can use multiple params within the syntax to add more info with tweetable text.
So here are the components that TweetMe offers.
TweetMe Components
URL
This parameter helps you to pass a URL to be shared with the tweet. If enabled, and no URL is passed, the current active page URL will be passed.
How to use


	
		


			

 url="http://www.joomlabeginner.com}Your text goes here..		
		
			


				Click to Tweet			


		
	

Via
This parameter helps you to pass a Twitter username along with the tweet. The username will be appended at the end of the tweet.
How to use


	
		


			

 via=joomlabeginner}Your text goes here..		
		
			


				Click to Tweet			


		
	

Hashtags
This parameter allows you to pass hashtags with the tweet. You can add multiple hashtags, separating them with commas.
How to use


	
		


			

 hashtags=value1,value2}Your text goes here..		
		
			


				Click to Tweet			


		
	

Theme
This is an important parameter which helps you to decorate your tweet box. TweetMe extension comes with more than 20 fancy-looking themes, and you can use any of them for your tweet. To check the themes, check out its demo.
How to use


	
		


			

 theme=t3_blue}Your text goes here..		
		
			


				Click to Tweet			


		
	

Font
If you want to change the font of the Tweetable text, you can use the font parameter. This parameter works only with the box mode themes.
How to use


	
		


			 font=Open Sans}Your text goes here..		


		
			


				Click to Tweet			


		
	

buttontext
By default, the button text will be Click to Tweet. But if you want to change it to something else, you can use the Button Text parameter.
How to use


	
		


			

 buttontext=Please Share!}Your text goes here..		
		
			


				Click to Tweet			


		
	

Pro Tips to Increase Tweets from your Content
Want People to share your content? Give them a solid reason and easy to use approach. Click to Tweet
Create valuable content.
Give a reason to tweet your content.
The content should be helpful and engaging.
Ask your audience to take action through your content.
Your content should be out of the box.
Use famous and exciting quotes in your content
I hope this article is helpful to you. Let us know your thoughts in the comment section. Also, let me know what you would like to read next on JoomlaBeginner.