How to Add FAQ Schema on Your Joomla Site?
by Naveen Kumar
on Tutorials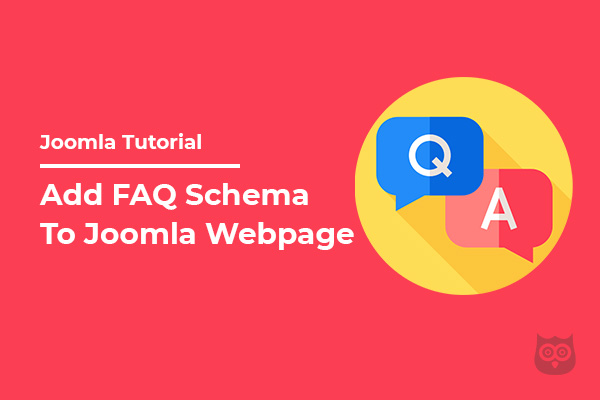 Do you want to add FAQ Schema on your Joomla web pages? If yes, this article is going to help and you need to pay attention to this article.
So before moving further, let's understand what is FAQ and why you should have an FAQ on your website? 
FAQ Stands for Frequently asked questions. It is a series of questions that are listed on your web page. These questions can be related to your product or services. And if you write proper FAQs, it can help you to cut down the burden from your support team.
And once you mark those questions with FAQ Schema, you have high chances to get Rich Snipped results on the search engine which will help you to increase the CTR and traffic on your website.
What is FAQ Schema?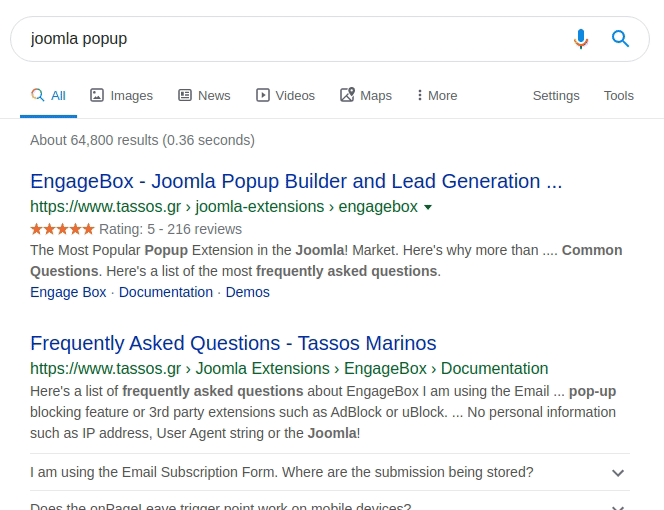 If you have noticed, Google shows FAQ in its search results. Let me tell you that these are achieved with the help of FAQ schema. 
It allows you to show FAQs under your search results. It looks like the 'People also ask' section of Google SERPs.
FAQ Schema is a new type of Schema Markup that helps you to markup your questions to have Rich snippets on the Search engine.
How to add FAQ Schema in your Joomla Website?
Now that you know why is it important to have an FAQ Schema, the question is how do you do it? Adding the schema is very easy depending on how you have created the website and its content. Through the article, I will tell you about 3 different products namely Google Structure Data, JD Accordion & JD Builder using which you can easily enable the FAQ Schemas.
Let's begin with the first one:
Using Google Structured Data Plugin
Google Structured Data Plugin for Joomla is used to enhance the appearance of your website in Google Search results. It is one of the best-structured markup extensions in Joomla that will help in improving your site's SEO and save a lot of time. It includes different types of schemas ranging from articles to video to reviews and many more.
This plugin is fully compatible with some of the most common Joomla extensions and even includes some popular integrations like Hikashop, Easyblog, K2 Blog, and others.
Get Google Structure Data Plugin
Using one of its schema types, the Article, we'll see how you can add the FAQ Schema to your Joomla website. The main requirement for this would be to have an article that contains questions and answers type of content only.
Create a question & answer type Joomla Article
The first step is to create an article that holds your FAQ questions & answers. Now for the extension to recognize each question and answer and add the FAQ Schema automatically on the page you must add specific CSS Classes in the HTML markup.
In our case, we will be using question and answer CSS classes for each question and answer parts respectively, as shown.
Add the FAQ Schema to your Joomla Article
Now after creating the article we will add the structured data that will automatically pull the Questions & Answers from the page and generate the schema accordingly.
Before adding this make sure you have the Joomla Content Integration enabled in the Configuration.
Now go to Components > Google Structured Data > Item > Create a new Item.
Configure the data item by adding the Title, choose content type as FAQ and Integration as Joomla Content, and save it.
Map the FAQ Schema Settings
After saving your data item from the last step, you will then be able to see the FAQ & Publishing options.
In the FAQ section, we'll see if we want to pull the schema automatically from the page's HTML or create a new list from scratch. In our case, we already have the FAQ article created in Step 1.
Then we will define which all elements in the page's HTML are Question and Answer in order to pull the correct data. So we will map the elements to the CSS classes used in Step 1.
Set the Publishing Rules
After configuring, we will add the pages in which we want to use the FAQ schema, which in our case is only the Joomla article created in Step 1. Save & close these settings and your FAQ structured data item is created.
This way you can add the schema using the Google Structured Data plugin for a frequently asked questions article.
Using JD Accordion Module
Next, we have the JD Accordion module by Joomdev. It's specially designed for adding FAQ schema to your Joomla website with some easy steps even for users with no knowledge of the codes. It's a very simple and precise module in which you can create unlimited accordions or even import some demo content with just a click. A premium Joomla module that lets you create SEO optimized FAQs.
Simply download and install this module on your Joomla website and then follow the steps:
Create a JD Accordion Module
Once you have installed the module go to Extensions > Modules > Create a JD Accordion module.
Add the accordion items manually or choose your demo content from the Demo data tab, set the module's position, and save it.
Enable the FAQ Schema
After saving the module with the content, now go to Global Settings and Style tab, there you will see the option to enable/disable the FAQ Schema.
Once enabled this structured data will automatically pull the content from all the pages wherever this module is published.
Style the Module
After this, you can now style the module as required under the same Global Settings and Style tab.
Using JD Builder
An amazing drag and drop page builder by Joomdev again, that comes with the inbuilt FAQ Schema option. Using the Accordion element on your page, you can very easily enable the FAQ Schema there. It's a powerful page builder that not only provides Schema integration but also many other ways in which you can improve your site's SEO. It has 30+ ready to use elements and a number of predesigned sections that are compatible with almost all the templates. Fully responsive and browser friendly page builder with a number of other integrations. Available in two versions JD Builder free version & JD Builder pro version of which the schema is a pro feature.
The Accordion is a free element of JD Builder but to add the FAQ Schema you need to buy its Pro version. For that, you can check out their website and choose the plan you wish to buy.
The steps to add FAQ Schema using JD Builder is as follows:
Create a JD Builder page
Once you have installed JD Builder pro, it's now time to create a page using it. Go to JD Builder > Pages > Create a New Page.
Once you have created a new page, you can either add a pre-designed page template or add an FAQ section or just create a new one with the Accordion element.
Enable FAQ Settings
After creating and saving the page, make sure you have added the Accordion element somewhere on it.
Open the Accordion element settings, General > Basic > Enable FAQ Schema, Save it and you are done.
Once enabled your FAQ Schema will start working on this page.
How to Test the FAQ Schema
The work is not yet completed, after knowing the different methods of adding the FAQ Schema using the different tools, it's time to check that the content added is valid and has no errors. Which we can check using the online Rich Results Test tool, which will help in analyzing and validating our markup easily.
Open Rich Results Test, add your page link that contains the FAQ Schema, and then simply Test the URL. After analyzing, if the content is valid this is how the result would look like.
In the end, I will conclude by saying that FAQ Schema is important for your website as it will optimize the SEO and its ranking within Google Search and will make you aware of the unwanted content on your site. Though the FAQs don't completely solve users' problems but at least with this it will help in providing good and valid content.