8 Things You Should do During Updating Joomla
by Naveen Kumar
on Tutorials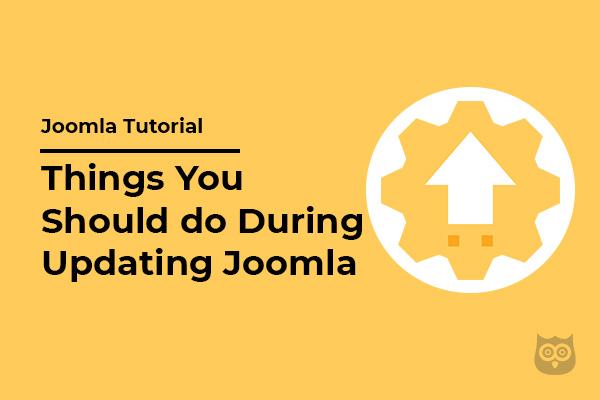 Working on Joomla is as easy as pie, once you get the grip of it. Just like any software needs maintenance so does your Joomla. Some users usually face issues when they update the software so they don't recommend updating it. But this won't be the case if you keep in mind these 8 important factors during updating your Joomla.
Joomla updates are simple but important to keep your website safe and up-to-date with the new fixes and security updates. Currently, we have Joomla 3 version running, so given below is a list of things that you should keep in mind before installing the update:
Technical Requirements for Joomla 3.x
To set up a Joomla version 3 based website you should adhere to the below-mentioned technical requirements. Failing which you might face certain installation issues with your setup, so to avoid that make sure you consider these:-
Minimum PHP version should be 5.3, recommend are 5.6 or 7+
Minimum memory limit be 64M, recommended is 128M+
Minimum upload_max_filesize is 20M
Minimum post_max_size is 20M
Recommended max_execution_time should be 300 or more
To check your current setup information, go to Control Panel > System > System Information where you can confirm if the setup meets the above requirements or not.
Template Compatibility with new Joomla
Now you must be using some template on which you have built your website, so it is important that your template must be compatible with the latest versions of Joomla. If this is not the case then your site might break or the styles won't work after the upgrade.
The solution for this could be:
Confirm with your template provider about the new Joomla compatibility
Keep your templates updated if there is any update by the provider
Use templates that are compatible with new versions of Joomla
Therefore it is advisable to use templates that are always up to date with the latest versions of Joomla.
Extensions Compatibility with new Joomla
Not only the template compatibility is important but along with it the extensions you use for the website are equally important. The extensions should also be compatible with the latest Joomla versions if not then remove them or find an alternative that is compatible.
Before you upgrade to the new Joomla version check and confirm the compatibility of the extensions used. Remove the unnecessary extensions to keep your site clean.
Take full site backup before update
Another very important step before you update to a new Joomla version is to take a full site backup. Nor does Joomla or your template provider are held responsible if your site breaks after an update.
Therefore it is a good practice to take a full site backup before you perform any major update. To take site backups you can use various extensions like the Akeeba Backup. Apart from the extensions, you can take full backup without using any extension.
Also, it is not recommended to perform the update on a live site because the chances of breakouts increase which is obviously not good, so you should take such risks always on a test backup site.
Use Joomla auto-update
Like I said updating Joomla is a piece of cake if you are on a similar version. This means if you are updating from Joomla 3.x to Joomla 3.x then all you need to do is just click on the Update Now button in the control panel.
But if you are updating from Joomla 1.5 to Joomla 3.x or Joomla 2.5 to Joomla 3.x then here you are migrating your website. A detailed description of how to migrate from one version to the other is given in the links below:
Error on updating Joomla
This can happen when you don't follow the technical requirements before upgrading your Joomla. Error while updating to a new Joomla could be because of either the difference in the files and folder permissions so you need to confirm that. Or it could sometimes be because of some disturbance in the internet connection.
So it is always recommended that whenever you try to update the Joomla or any extension or template, enable the error reporting and debug so you can easily find the issue.
Clear the Cache
You update your Joomla, new features are added but you don't get to see it, or either they don't work because of the cache that is stored. Joomla comes with an inbuilt option of clearing the cache. Once you update your Joomla it is important that you clear all the Joomla cache and the browser cache to keep your website clean.
The Joomla clear cache option can be found under System > Clear cache, this clears all the Joomla cache which includes all the template and extensions cache installed.
Check all the functionality
After you have followed all the above-mentioned steps before upgrading to a new Joomla version it is now important to check each and every functionality once the update is made.
After updating, check if the frontend is working properly, all the extensions are working, all the articles, modules, and other backend options are working correctly or not.
Sometimes there can be issues with the database for which again Joomla provides inbuilt options to fix them.
Thus I would now conclude and recommend you to follow these 8 key points for a smoother update process to a new Joomla version. And it is always advisable to keep everything up-to-date from templates to extensions to Joomla versions for a clean, secure, and good-looking website.