How to Track Form Events with Google Analytics?
by Naveen Kumar
on Tutorials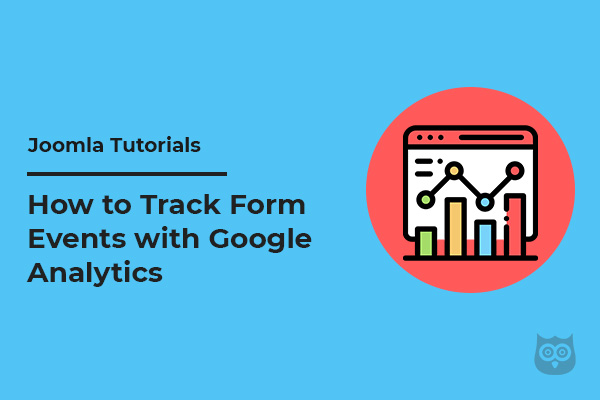 Google Analytics is the biggest and most trusted tool when it comes to measuring the performance and tracking events on your website.
The tool is available for free to everyone and this is the biggest reason behind its popularity.
So, if you want to track Joomla form events (we will discuss Convert Forms) with Google Analytics, it is pretty easy. But we move further in the details, first, we need to know why you need to track the form events? Here is why:
It helps you to evaluate the performance of your website.
It helps you to learn about the behavior of your users.
It helps you to learn how much time a user is spending on your website.
Where do your users come from on the web?
What action they perform on your website and many more other details.
Now, in this article, we will learn how to enable Google Analytics Events tracking in Convert Forms and capture the additional data.
This tutorial is totally based on Convert Forms and this feature is available in its premium version. So if you don't have the Convert Forms Pro installed on your website, get the pro version from the official website, install it and come back here to get more details.
What Form Events Can be Tracked?
The Convert Forms allows you to track the custom events as well. But below are the GA Events that are currently supported and as per the information on the official website, more events will be supported in the future.
Conversion: Fires when a form has been submitted successfully.
Load: Fires when a form is found on the page during page load regardless if the form hasn't been seen yet by the user.
Error: Fires when an error like a field validation error occurs.
How to Setup Google Analytic Event Tracking?
Follow the below-given steps in order to enable Google Analytics Event tracking and sending events to Google Analytics when someone successfully submits the form or load a form on the page or any error occurs on the form.
Find your Google Analytics ID
If you don't have a Google Analytics account, create one and install Google Analytics on your Joomla website where you have Convert Forms installed.
Now, once you have installed successfully, click on Admin (left sidebar) > Select an account from the menu in the Account column > Select a property from the menu in the Property column > Tracking Info > Tracking Code. 
Here you will find your tracking ID.
Integrate with Google Analytics Tracker Plugin
As mentioned above, this plugin is available only in the Pro version so make sure you have installed the pro version on your website. Now, navigate to Extensions > Plugins > and search for the Convert Forms - Google Analytics Tracker plugin and click to edit it.
Paste the Google Analytics Tracking ID in the respective field as shown in the image. Enable the plugin and save it.
Now, let's move to the final step.
Enable Form Events Tracking from Convert Forms
You are almost done and now you have to enable the form events. To do so, navigate to Convert Forms -> Forms and click to edit the form you'd like to track form events. Under the Behavior tab, a new panel is now available called Google Analytics Tracking where you can enable or disable the tracking of form events.
This is how you can track form events with Google Analytics and make data-backed decisions. To know more about this, head over to the official documentation.