Wegy Joomla Template - Best Multipurpose Joomla Template
by Naveen Kumar
on Opinion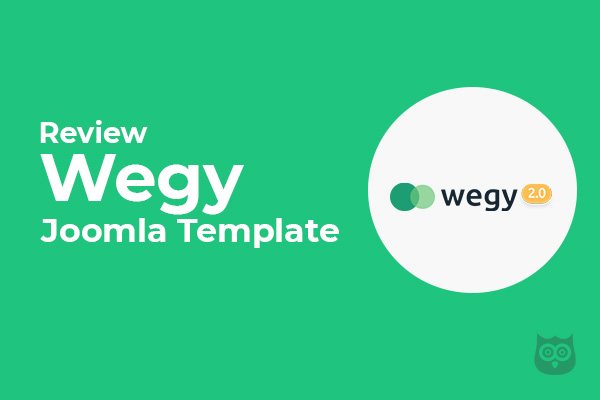 Are you planning to create a business website using Joomla? Then having a multipurpose Joomla template would be a great idea. A multipurpose template helps you to get done with a lot of things and helps you to meet all your business requirements.
However, when it comes to the best business multipurpose templates, you have way too many options available for you. But choosing the right one among them is always a tough choice. However, to make it a bit easy for you, I am going to review the Wegy Joomla Template.
In case if you are hearing the name for the first time, then don't worry. I will be discussing the template as we go further in the review.
So here we go:
What is the Wegy Joomla Template?
Wegy Joomla Template is a multipurpose Joomla template, and it is packed with some of the great features.
The Joomla template is based on the Bootstrap 4 framework. As a result, the template is capable of offering great support for all types of devices, including mobile. The template is also SEO friendly and comes with features which will help you to rank your website in a better way in search engines.
Moreover, the Wegy Joomla Template is also built by keeping all the latest web trends in mind. As a result, you will get to notice a modern design and newer functionalities that other templates lack.
Moreover, the template also offers you lots of pre-designed eCommerce pages, and it comes with a blog too. Along with that, you will get a few other features too, like a gallery, social options, newsletters, and many more.
Also, as it is a multipurpose business theme. As a result, it comes with a wide range of pre-developed pages. This helps you to set up your website in no time. And you will not have to spend your time designing web pages from scratch.
Even, you will get pre-designed online store designs. So in case if you are interested in running an online store, Wegy Joomla Template will help you out.
Customizing the template also requires no specialized knowledge. Plus, you will not even need to spend your money on developers. It comes with well-documented documentation. So you can go through it and start customizing your website in no time.
---
Explore its features Check out its Live Demo
Wegy Joomla Template: eCommerce-ready Joomla Theme
Wegy Joomla Template also comes with lots of eCommerce ready features. With the help of this template, you will easily be able to create separate product pages, sort your products with catalog, and so on.
You can also create pages to inform your customers to tell your shipping and delivery. Moreover, if your company is offering any kind of pricing plan or subscription pages, then you can easily showcase them with this template.
---
Explore its features Check out its Live Demo
What's more? The template supports customization. As a result, you are allowed to edit the theme the way you wish to. So you can create unique websites. Also, for any kind of help, you are getting access to an easy to read documentation to help you.
Even the customer support of the template is also pretty high, and they are always there to help you out. In case if you face any kind of issues, they will help you out.
Wegy Joomla Template Features:
UI Elements:
This Joomla template offers you UI elements support. As a result, you can easily add any type of content to your website in the most natural way. Like, you will get access to UI elements like lists, tabs, counters, blockquotes, pricing tables, and so on. These UI elements will help you to showcase your content in the best way possible.
Additional Pages:
This Joomla business template comes with lots of additional pages. As a result, it becomes straightforward for you to create the pages that you will need. Simply select a page and start editing. And this will surely help you out save a lot of your time.
With this template, you will get access to additional pages like blog, forum, gallery, portfolio, history, pricing, our team, career, and so on.
Theme color switcher:
You will also get access to a theme color switcher. This would help you to color your website with your brand color. You can easily change the palette of your site interface with just one click. Also, getting started with this color switcher is extremely easy.
Slider:
A slider is the best way to showcase products, company information, and other details. And the Wegy Joomla Template comes with a slider option, and you can easily place it on your website. You can use the slider to promote new products, give offers, showcase your products or any information that you want to highlight.
Social Login Support:
With the Wegy Joomla Template, you will also get social login support. By using the social login option, you will be able to let your customers log in to your website using their Facebook or Google account. This will help your users to bypass the signup process, and it is an essential feature for the eCommerce websites.
Cross-Browser compatibility:
The best part of the template is that it comes with cross-browser compatibility. As a result, you will not need to test everything in different browsers versions and platforms manually.
You can customize your website in any of the browsers you like, and you can be sure that the same performance and look will be shown to all the browsers and devices. Also, the template is highly responsive. As a result, it will look good across different devices.
Plan and Pricings
The Wegy Joomla template is best suitable for you if you are looking for a multipurpose Joomla template. It comes with a great plan and pricing.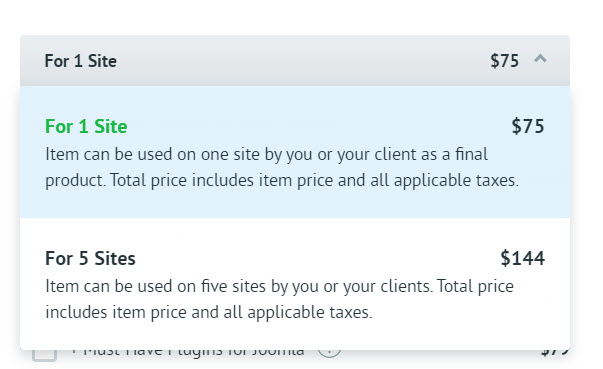 ---
Explore its features Check out its Live Demo
Final Words:
Overall, Wegy Joomla Template is one of the best multipurpose business templates that you can use. It comes with lots of features like Google maps, Google fonts, Megamenu, and so on as well as it comes with affordable pricing too.
So go ahead and check the template out and see how it is working for you. Also, if you have any questions to ask, do feel free to comment below.