JD KidZone Review - Kindergarten Joomla Template for Play School Websites With Page Builder
by Naveen Kumar
on Templates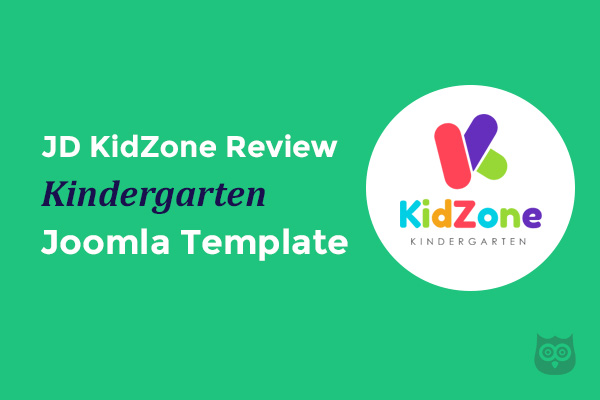 Having a website for a school is as important as a teacher.
Because if you are a parent and want to get admission for your kid, you will first check nearby schools on the internet and then check their information on their websites, and then you will make an appointment to check the school.
And if the school doesn't have the website, you will not notice that school. It means they lost a customer, and this way, they will lose many.
In today's time, designing a website is not a big thing. If you know how to operate a computer, you can design a website. There are lots of drag and drop visual website page builders, which allows you to create websites by just dragging the elements.
There are so many niche-specific templates, you can use them and replace the dummy content with your content, and you are done by creating a fully functional website.
In this article, we are going to review a Joomla kindergarten website template that is best suitable for a pre-school or a playschool website. So let's start.
Introducing JD KidZone - The Kindergarten Joomla Template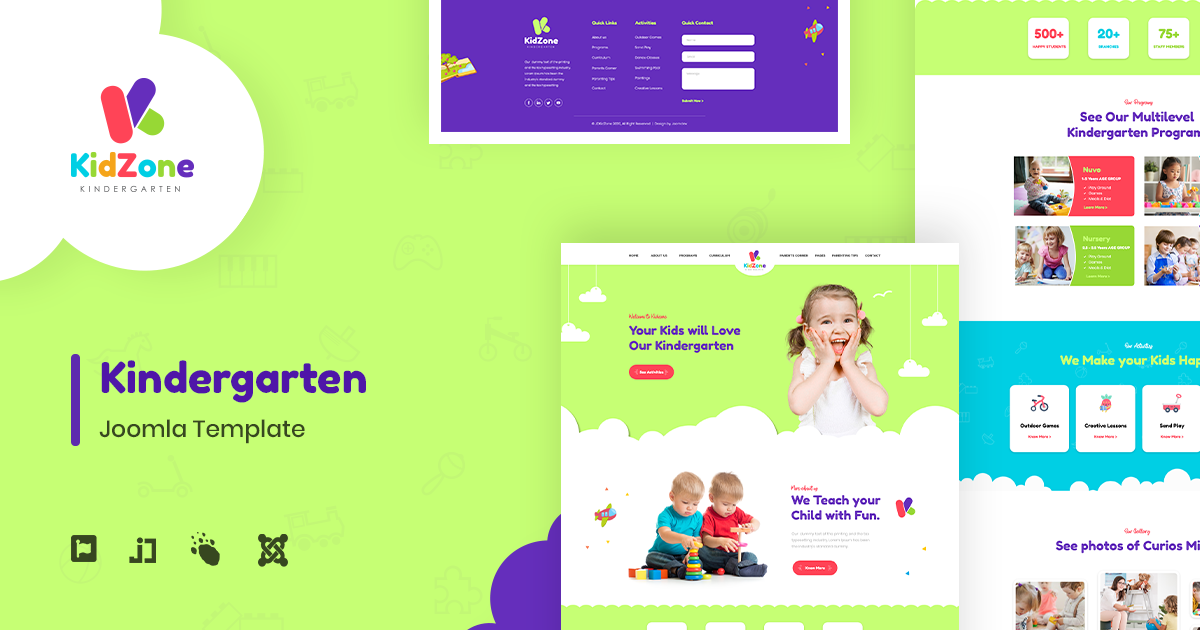 JD KidZone is the latest release from team JoomDev. The template is powered with the Astroid framework and styled with drag and drop Joomla page builder. So if you are running a playschool and want to create a new website for your school or want to reshape your existing website, this template can be beneficial for you.
Key Features of the Pre-school Joomla Template
Powered with robust Astroid Framework.
Styled with JD Builder Pro - The Drag and drop Joomla page builder.
Compatible with third-party extensions.
900+ Google Fonts.
FontAwesome Integration
Integrated Event Management System to manage school events and activities.
Fully SEO Friendly.
Optimized for Speed
Fully Responsive Layout.
Multiple header layouts
Highly Customizable.
Pre-designed additional essential pages such as
---
What makes JD KidZone Powerful & Flexible?
Backed With Astroid Framework
The Astroid Framework supports the JD KidZone Joomla template. Astroid is a powerful and flexible Joomla templating framework that allows you to manage almost all the website settings from a single control panel.
It has all the settings from basic such as preloaders, back to top to advanced such as layout builder, typography & Color management, blog & article options, Error & Coming page management, header layout management, and many more things soon.
Apart from that, it also allows you to design a mega menu as well as an off-canvas menu to give a different look to your website.
Styled With JD Builder Pro
The kindergarten Joomla template is designed with JD Builder Pro. JD Builder is a drag and drops Joomla page builder which allows you to create and edit pages with just drag and drop the elements.
If you use the JD KidZone Joomla template, you will have access to JD Builder Pro. With the help of JD Builder, it will no longer be too hard to create any page or edit the existing page of your website.
You will no longer need to call your web designer to make the changes or even setup the full website.
DJ Event's Integration
A school can have a lot of events and activities regularly. So the information should be up to date on the website. To manage the events and activities calendar, JD KidZone comes with DJ-Events integration.
With the help of DJ-Event, you can create events and make them recurring as well, create activities calendar, and much more.
So if you are missing this feature in your current website template, switch to the JD KidZone Joomla template and give a fresh look to your website.
Fast Loading Joomla Template
JD KidZone Joomla template is optimized for fast loading. I have tested the demo of the template on GtMetrix, and it is quite satisfying.
The page was loading in just 4.1 seconds, and the total size of the page is 1.52 MB, and the number of requests are 69.
But website speed is not just dependent on the template, but there are many other things as well.
I have a detailed article on how to optimize Joomla website speed. You can check out that and optimize your website for fast loading.
JD KidZone Template Plan & Pricing
The templates come with a very affordable plan & pricing. You can own this template at just $39, and you will get the updates and access to download till the next 6 months.
But if you join their membership plans, which starts from $59 will give you access to all the templates.
Now, it is your choice whether you need a single template or wants to join the club membership
---
Final Words
So, in the end, I would like to say that if you don't have a website for your play school or you want to reshape your existing website with a fresh and interactive look, JD KidZone is the best kindergarten Joomla template for you.
So download it right now.
Discount hack: If you don't know, then let me tell you that they also have a deal page where you can find discount coupons to get a discount on your purchase.