15 Ways to Improve SEO Ranking of your Joomla Site
by Naveen Kumar
on Tutorials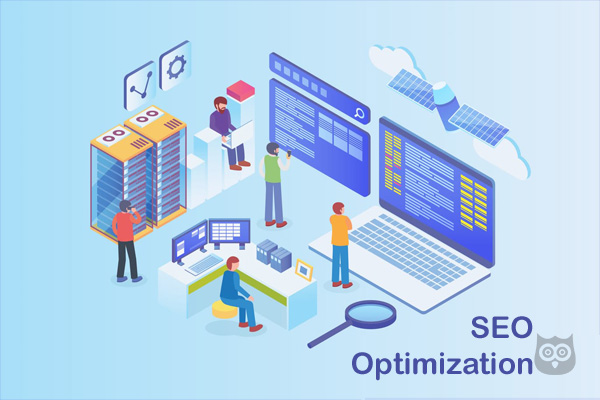 Ranking your Joomla site is not a hard job, but it requires some skills and experience.
If you are unable to rank your Joomla site, then you are luckily at the right place. We are here to help you rank your Joomla site without any hassle.
Today, we will be taking a look at 15 effective ways which you can use to improve the SEO ranking of your Joomla site. So, let us quickly get started.
15 Ways to Improve SEO Ranking of your Joomla Site
All the ways to improve the SEO ranking of your Joomla Site are described below:-
Fix Broken Links
Broken links are also known as Dead links. These are the links which no longer exist. When someone clicks on these links, he/she gets redirected to a deleted page.
Find and fix broken links on Joomla site before it starts to hurt your website or business. Click to Tweet
These Broken links create a terrible impact on your audience, and they also affect your ranking. So, it is essential to fix all the broken links that exist on your website. You will first have to find these links before replacing them with the working ones.
There are various tools which you can use to find these Broken links. Few examples of such tools are Broken link checker, Screaming Frog SEO spider. Google webmaster tool etc.
To know more about how to find and fix the broken aka dead links on your Joomla website, have a look at this detailed article about broken link fixing. 
Use Structure Data or Rich Snippet on your Website
Schema markup or Structure Data in simple words is a code. This code helps the search engine to understand the type of content that you post on your site.
Structure Data helps your website to rank higher on Google. It also allows Google to crawl your site fastly.
Your page can also be featured in the Google knowledge graph with the help of Structure data if it is optimised in a better way.
Apart from this, if you are using Schema or Structured data on your website, it displays more information like start ratings, author and other meta details except for just meta description which encourages a visitors to click on your link. 
Without Structure Data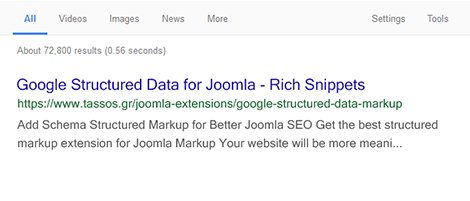 Google Search Result After Schema Plugin Implementation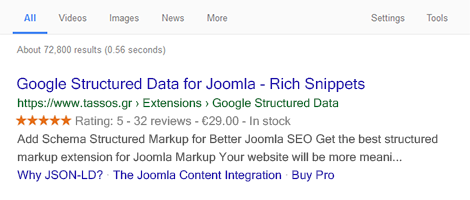 There are two methods which you can use to add structured data to your website. The first method is to insert the code manually and the second method is to use an extension- SEO Joomla Extension.
You can have a look at a detailed tutorial of adding structured data to your website here. 
Improve Page Loading Speed
If you want to rank your Joomla website on the top of Google, you need to make your site load quickly.
Do you know, what can happen if your website is loading with a one-second delay?
You can lose around 11% of your page views
You can lose 7% of your conversions.
16% decrease in customer satisfaction
You are helping your competitor to grow faster than you.
It will give a bad user experience.

And this is just a one second delay. And a few extra second delays in website loading can damage your website as well as your business.
There are various things which you will have to do to make your website load fast and flawlessly. Some of them are finding good hosting, enabling Joomla cache, optimising website images etc.
To improve the website loading speed, we have a detailed guide for you. You can learn how to speed up your Joomla website easily. 
Use CDN (Content Delivery Network)
You can also use a CDN to increase the speed of your website. A CDN helps in reducing the difference between the server and the visitor. You can have a look at Top 15 Joomla CDN services here.
Use a Good & Reputed Hosting Service
Siteground and Bluehost are some of the best Joomla hosting providers. Many others provide excellent service at reasonable prices. There are many other hosting service companies, and you can have a look at these as well. 
Focus on High Quality & Relevant Content
Content is King, and if the King is not powerful, you can lose your kingdom. 
So, to improve your Joomla SEO, you have to focus on generating more high-quality content. The content should be,
More engaging than your competitors
Should solve the user's or visitor's requirements. 
Must be unique and error free. 
Do not compromise with quality in the sake of increasing the word limit. 
Don't just write for the search engine, write to solve the user's queries and fulfil his demands. 
Moreover, the better your content, the better you rank on search engine. 
Optimize your images
Images are the easiest way to explain your topic. You'll need some pictures to illustrate your article or product. Considering it, you added some high-resolution photos of your product directly from your high-end camera! It might look pretty on the website, but it has some adverse effects too.
As these will be in big so it will take more space and more time to load on your website which will make your site slow. And slow loading speed is a bad signal to Google. So you need to reduce the sizes of your images. Here are few must follow tips to optimize the images.
Use images with proper size and resolutions.
Try to use lightweight images
Don't forget to add Titles and Alt tags on your images.  
Try to use JPEG images only. Use PNG or GIF only when required.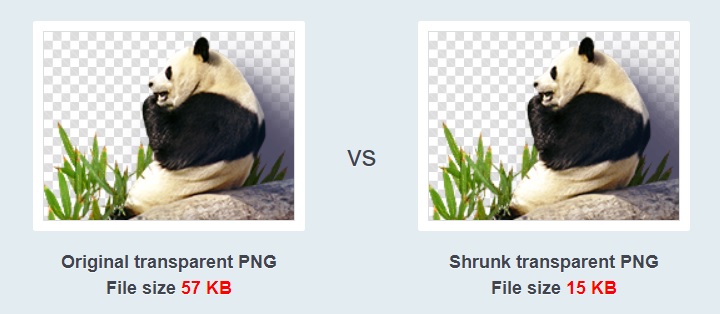 There are many tools which can help you to reduce the size of an image. I use TinyPNG to reduce the size of images. The actual output will not have any major difference in appearance, but there will be massive in size. 
Use proper Heading Tags
Headings are a crucial part of content optimization and the part of technical SEO. Without using an adequate heading within your content, you can't expect a higher rank on Google or any other search engine. 
While you start optimizing the content, use proper headings and subheadings.
Your content should be one H1 heading and then H2, H3 and other heading tags as per the requirements. Make a meaningful structure of your heading instead of using a random heading tag. 
Use Outbound links within your content
Don't worry! Outbound links are not hurting your website's SEO. But these will help you to build the authority if you are optimizing your website with high authority and relevant outbound links. 
So when you are linking an external link to your website, keep these things in your mind.
Open all the links in a new tab. If you are opening the links in the same tab, you are increasing your bounce rate. 
Mark them with Nofollow tag. 
Do not use more than 2 or 3 links in 1000 words unless you need to give the resources. 
Do not link to low-quality and spammy websites. 
You can mark Google, Facebook, etch high authority and well-known sites as dofollow. 
These are a few hacks to optimize your content with Outbound links. Let me know your views as well. 
Use Media within the content
Media in between your content plays a significant role in the audience interaction. An image or video can explain a lot of good stuff to your users. Imagine you are looking for a product and they don't have images to it?
You'll never consider such website to deals with. An Image can grab attention, and it can tell a story behind the words, it can be used to convey a message. So make sure to add media within your content.
You can't just rely on images, and you have to use videos as well as GIF to grab more attention from your visitors. Online video now makes up more than 74% of all online traffic. And modern video marketing isn't just about YouTube. 500 million people watch video on Facebook every day. Snapchatters watch 10 billion videos per day. People spend 2.6x as much time on pages with video as they do on pages without.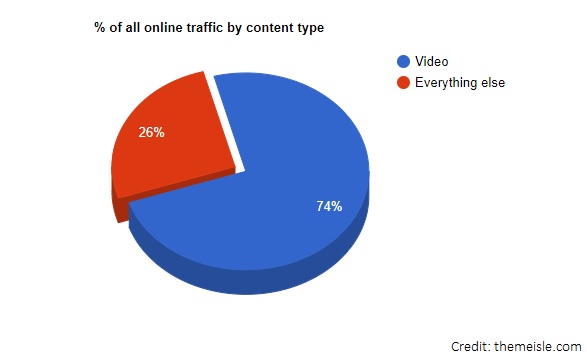 Optimize your site for mobile devices
In 2019 the number of mobile phone users is forecast to reach 4.68 billion, that's enough to consider that you are going to get a massive amount of traffic from mobile devices. I guess this reason only enough to make your website ready for mobile devices. 
Apart from this, on April 21, 2015, Google released a significant new mobile-friendly ranking algorithm that's designed to give a boost to mobile-friendly pages in Google's mobile search results. So now it is essential to make your website highly mobile friendly or responsive if you want to rank on Google or any other search engines. 
To get a detailed insight into your website's responsiveness, you can test your site with this Mobile-Friendly Test tool.
Get More Social Signals
Social Signals are a great way to improve your SEO ranking. So what social signals are? How can they help to improve your Joomla site's ranking? 
Social signals are the metrics which tell how humans are interacting with your content on social media like Facebook, Twitter, Reddit etc. How your content engage the peoples? Some examples of social signals are likes, dislikes, shares, votes, pins, views, etc.
As per an article on Moz, social signals have both a direct and indirect impact on organic search rankings.
Improve site structure and navigation
If you do not maintain the structure and navigation of your website the audience will start leaving the site, so it is very important to improve your site structure and navigation.
A well-maintained site will give a good first impression on your audience. A simple sitemap can help too. It can help the search engine to navigate through all the pages.
According to "The Art of SEO" " For nearly every site with fewer than 10,000 pages, all content should be accessible through a maximum of four clicks from the home page and/on sitemap page.  " That means you need to examine your site structure that your users don't have to go through your 10+ pages to find some content.
Optimise your Website content
Content is a superpower of a website. A writer can write good and catchy content, but it's not 100% sure that this will be SEO friendly content. So you need to make your content more SEO friendly as well as user-friendly. 
While Optimizing your Joomla site content, follow these things:
Create page titles
Optimize your page with proper heading and subheadings
Add images and videos within the content. 
Place strategic search phrases on pages.
Improve User Experience & Readability
User Experience and Readability on a website is the most important ranking factor, and it can't be ignored because it is not just related to the Search engine, it is also connected to Users as well. 
So to improve user experience and readability, follow these tips: 
Put the most important content and elements on the top of the page aka above the fold. 
Use Descriptive Subheadings
Use Visuals to Break up Text and Improve Comprehension
Don't try to irritate visitors by showing them irrelevant information. Get to the point quickly. 
Capital letters aren't necessarily harder to read, but we do read them more slowly. So avoid to use all CAPITAL LETTERS.
Typography plays an important role. Use better typography and fonts. Avoid Italics, Cursive and Decorative Fonts
Use Proper Keywords
Now, it is finally the time to talk about the Keywords which play a big role in the SEO ranking of your website. Make sure to make use of long tail keywords on your web page or blog post content. 
Long tail keywords are phrases with at least three words. It is also recommended to use LSI (Latent Semantic Indexing) keywords for good ranking. These are the keywords which are semantically related to your main keyword. And Google also prefers to have relevance in the content. 
Apart from the long tail keywords and LSI keywords, try to ask the question. People mostly search for queries. So if you place queries within your content, there are more chances to show your website. 
Use the Power of Metadata
Metadata are the details which are used by Search engine to determine the relevance of a page to the search request it is processing at any given time. So if you are using the power of metadata in the proper and optimized way, it will surely help you to get your website ranked on the top of search engine. 
I am not digging more into it here because we have a dedicated article about how to add metadata in your Joomla site.  
Summing Up
These were 15 of the most effective methods which anyone can use to make their Joomla site rank higher on Google. We have tried our best to find the most valuable techniques for you. So we hope that you found the article to be useful.
Do you have any tip? Don't forget to share in the comment section. We all love to learn from you as well.