How to add Structured Data to your Joomla site
by Naveen Kumar
on Tutorials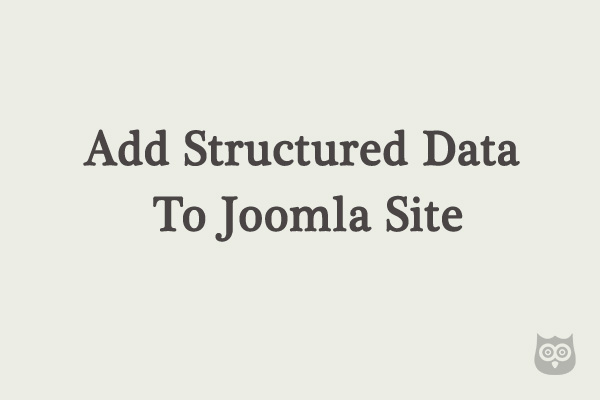 If you are a website owner, you will hear about technical SEO many times from your SEO guy. So, technical SEO refers to website and server optimizations that help search engine spiders crawl and index your site more effectively. And Adding Structured Data is one of the significant parts of technical SEO.
What is Structured Data and why it is essential?
Structured Data also known as Schema Markup is a type of code that helps Search engine identify and understand the content on your website.
Schema Markup helps you to increase your CTR & Ranking on Search Engine. Click to Tweet
For example, if you have published your contact information on a webpage, Google or any search engine will determine it as general content. It will be good for the user, but it will be harder to identify the search engine that it is contact information. But if you will include the Structured data on your website, you can tell Google that it is my contact information.
Without Structure Data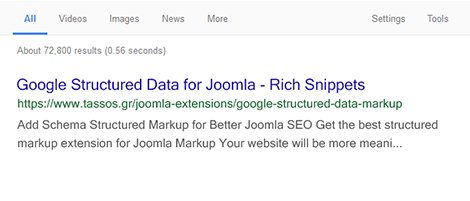 With Structure Data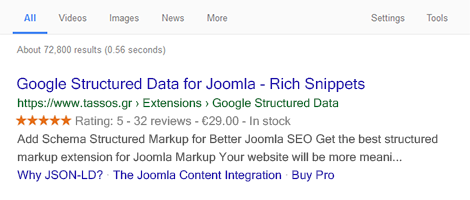 Other benefits
It helps search engine to crawl your website faster.
It helps in increasing the on-page SEO value and rank higher on Google.
If you are using Review Schema Markup, Google will show Star rating in the Search result.
It can help you to get your pages in Google Knowledge Graph which can increase your website traffic.
How to add Structured Data on Joomla Website?
There are two ways to add schema markup to your Joomla website. One is inserting code manually and the second is using an SEO Joomla extension which offers Rich snippets as well.
In the first option, you will need to have some coding skills and rich knowledge of Schema Markup. To be true, I am not that technical so I will go with the second option and will try with Structured Data Joomla extension.
Introducing Google Structured Data Joomla Extension
For my previous article about Structured Data Joomla extensions, I have researched about few Joomla schema plugins and found Google Structured Data by Tassos.gr best among all.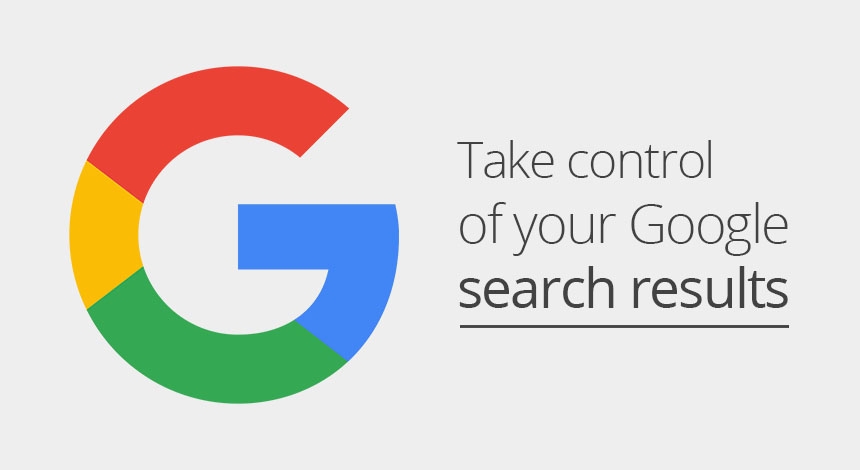 Google Structured Data plugin helps you to integrate schema markup to your Joomla websites. It can be combined with any third party extension like EasyBlog, Eshop, EventBooking, Hikashop, etc.
Content Types Supported by this Plugin
Articles
Courses
Events
Products
Recipes
Reviews
Videos
Job Posting
If you haven't download it yet, Download it now and install on your Joomla website.
Basic Site Level Configurations
Once, you have successfully, installed the component on your Joomla website, its time to configure it. The very basic setting that you need to configure in Google Structured Data component is the below. These are essential to show your brand in the knowledge graph.
Site Name Structured Data
Navigate to Components> Google Structured Data > Configuration.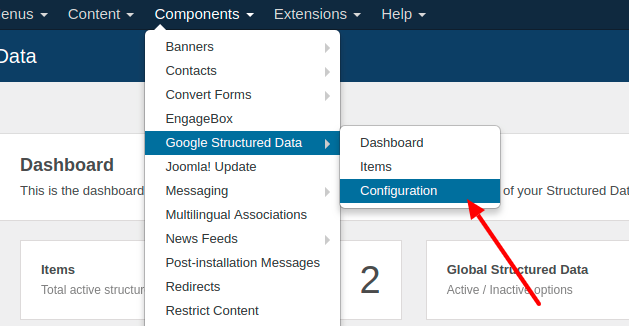 Under the Global Structured Data tab, you will find Site Name settings.
Here you can put:
Site name
Alternative Site Name
Site URL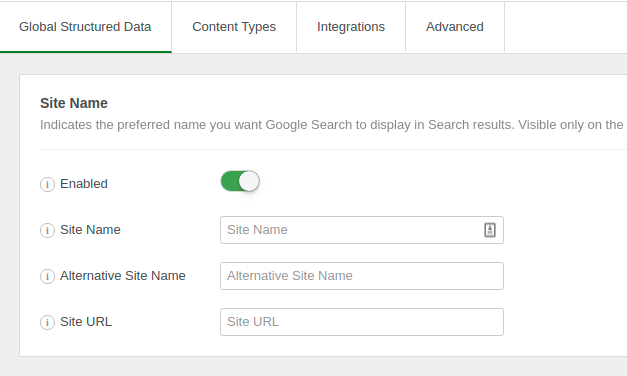 Breadcrumbs Structured Data
If you want to showcase breadcrumbs in the search, you need to enable the Breadcrumbs Structured Data. To enable it, follow the below.
Navigate to Components> Google Structured Data > Configuration. And look for Breadcrumbs under Global Structured Data Tab.

You can put the text for the Home Entry. If you leave the field empty, it will use the default site name.
Sitelinks Search Box Structured Data
Sometimes when you Google something and found that you have another search option direct from the website in search result. This is possible with Sitelinks Search box Structure data.
To enable Sitelinks Search Box, again navigate to Global Structured Data Tab under Configuration and look for Sitelinks Searchbox.
Here select the search method you want to index.
You can use Search Component which will use com_search.
You can use Smart Search Component which will use com_finder
Even you can also use Custom Search URL where you can set your custom search format.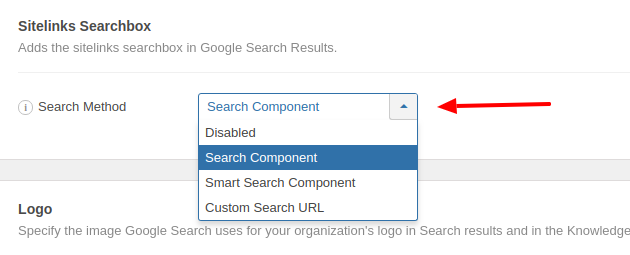 Logo Structured Data
This configuration will help Google to identify which brand logo you want to show in Search results and knowledge graph.
To enable this, look for Logo under Global Structured Data. And upload your logo image.

Local Business Listing Schema
If you are offering your services in the local area, this data is most important for your website. This will help you to showcase your local business information such as Business Type, Opening Hours, Map, Address, Phone and more in Google Search Results.
Use Local Business Listing schema to improve your local business ranking on search engine. Click to Tweet
To enable this, directly again look for Local Business Listing under Global Structured Data tab.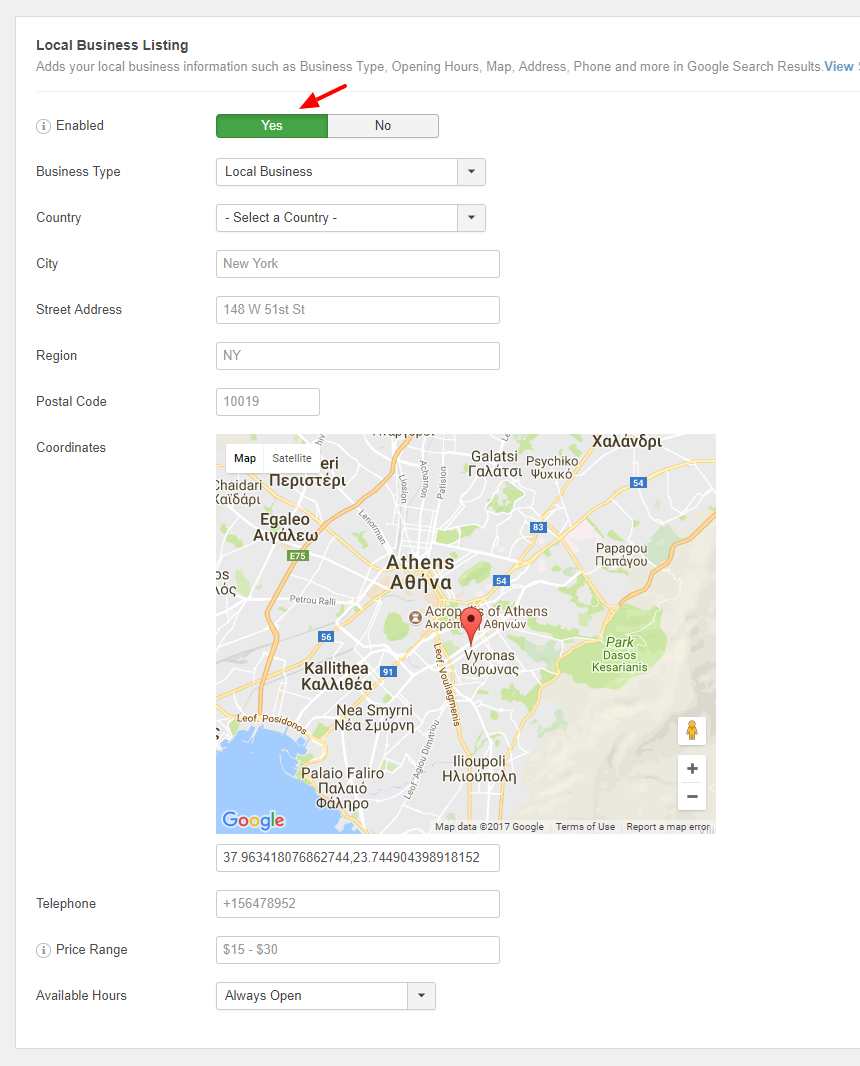 Enable the Local Listing. Once you enable it, it will ask you to fill up your business details such as Business Type, Country, City, Address, Pricing range, Opening hours, and phone number.
Add all the details and save it.
Social Profiles Schema Markup
Sometimes, when you search for a brand or related terms, you also get the social profile in the knowledge graph. This can be done with Social schema markup.
To enable this, again look for Social Profiles under Configurations.
Here, you can add all your social profiles which you want to showcase in knowledge graph and search results.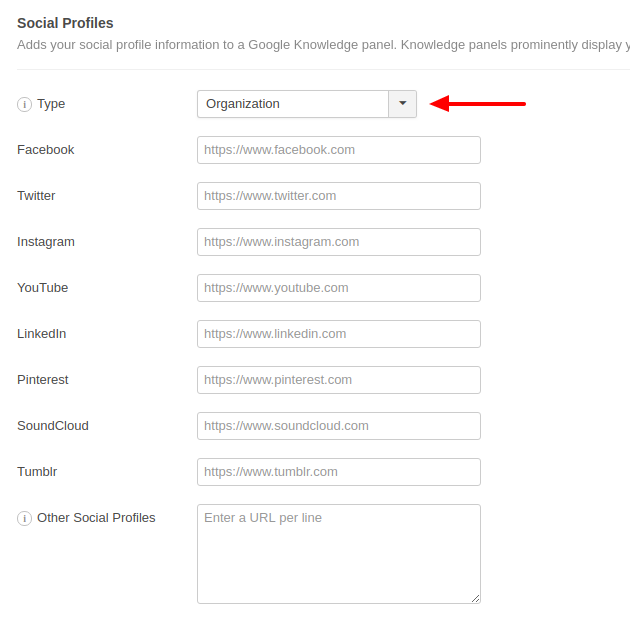 These are the basic configuration settings you should configure before moving ahead. Now, let check out how you can add Microdata in your Joomla pages.
Add Structured Data to Pages
Once you are done with basic configurations, let's move on to add Structured data content types or schema on pages. Simply follow the given steps:
1. Create New Structured Data Item
Navigate to Component > Google Structured Data > Items. Click on the New button and create a new structured data item.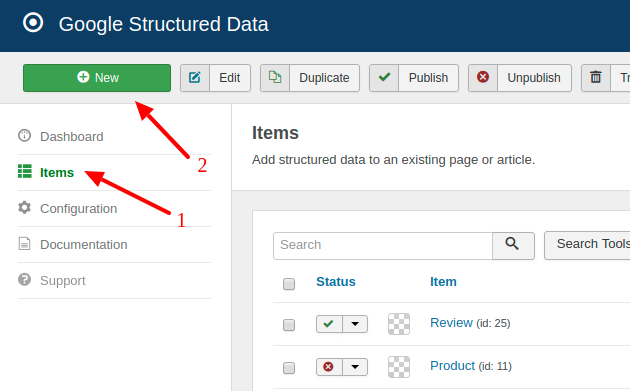 2. Select Content Type & Integration
Now, you have to choose the content type and integrate it with your Joomla component. Here you will have to fill these fields.
Name - This is used as a label in the backend only. You can give any name here.
Content Types - Select the required Content Type from drop-down for your page.
Integration - Select the component, you want to integrate with Structured Data.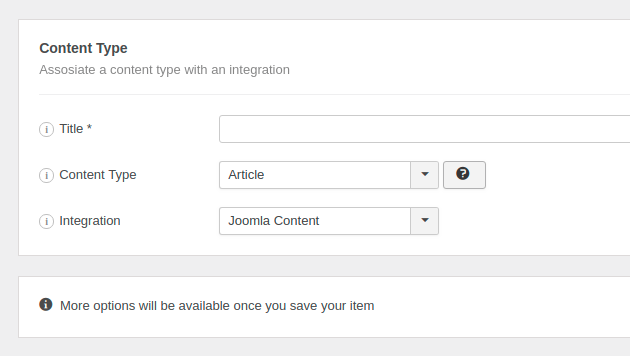 At last click on Save.
3. Map Content Type Properties
Now, it's time to map Content type properties with your content. Each Content type is a set of properties which are required to be filled to generate valid and error-free Schema markup. This extension has a very flexible and powerful mapping mechanism to help you match these properties with values of the current page such as Page Title, Description, Meta Properties, Page Custom Fields, Site Info or even custom values. So you don't need to mess up with your website again and again. Everything will be handled dynamically with a more professional way.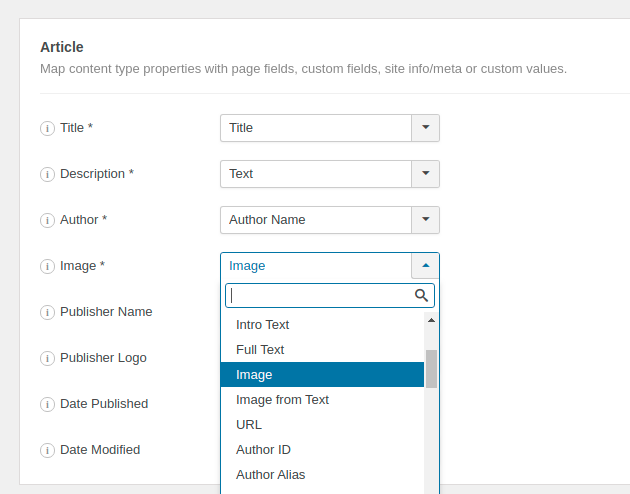 Each property has 4 different type of mapping option so you can use anyone as per your requirements.
Integration - Use this group as per your integrations. Like if you are using Joomla content integration, the title will be equal to the Joomla article title the user is currently viewing.
Page - Use this group if you want to map meta info of the page.
Site Info - Use this group if you want to map the site info like Site Name, Site URL, Site email or Site Logo.
Custom Info - Use this group if you want the property to have a fixed value.
4. Publishing Rules
This is optional. If you want to enable schema markup on each page of your website, you can ignore these settings. But if you're going to include or exclude some specific articles or categories, you can make these rules here.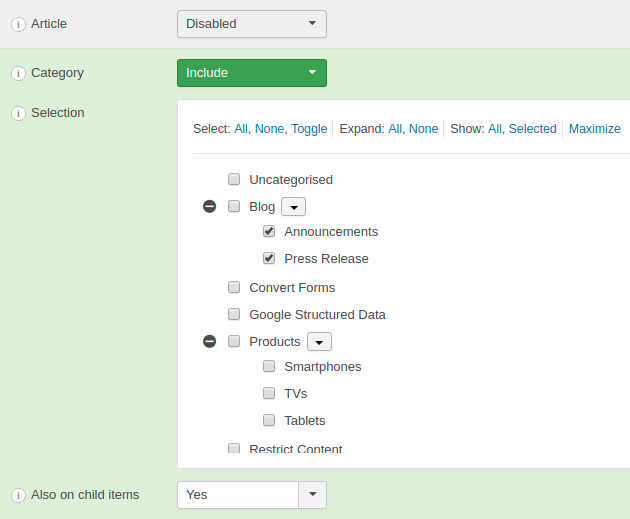 At last, save and close.
You are done with adding structured data to your Joomla website.
How to test your Structured Data on Joomla website?
Once you are done with adding Structured Data on your Joomla website you need to make sure that it is valid and error free.
There are different tools to test structured data on the Joomla website. I am not going to step by step guide here, but you can have a look at this article which is guiding you each and everything about testing your schema with different tools.
Final Words
I know, on the starting of this article, it was too complicated to understand and implement the Structured Data without writing any code. But now, I have made everything clear I guess.
So, if you are not using this practice, start doing this from today, because it is the most important thing to make your website more SEO friendly.