Affility Template Review - Best Joomla Template for Affiliate Marketing
by Naveen Kumar
on Templates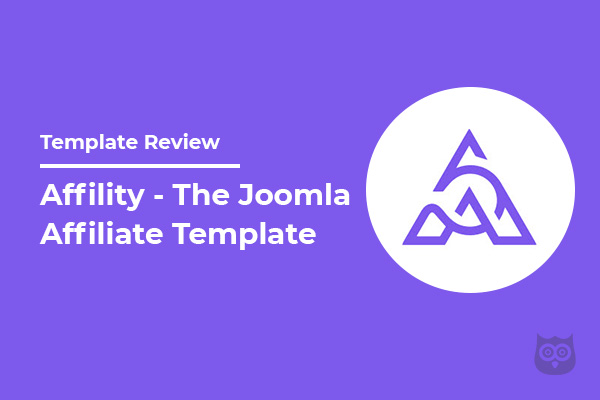 Joomla is a CMS that uses different frameworks and templates to display the content. With time there is now this huge market of Joomla templates, you name it and it's there. One such category now is a template for affiliate marketers. JoomShaper, a popular name in the Joomla Templates industry recently introduced the new Affility Joomla Template, a template especially for the affiliate marketing website makers. It now seems to be the perfect choice for affiliate marketers, online reviewers, sellers and people associated with affiliate businesses who can promote, review or sell any kind of product.
Through this article I would like to tell you all, my take on this amazing template. Being an affiliate marketer myself lets see how useful and powerful this template can be. Is it really the best in the market? Well see!
---
What makes the Affility Template the best?
Powered with a Powerful Framework
The Affiliate Joomla template is powered with the Helix Ultimate Joomla template framework. It helps you to control all the website configuration settings from a single place. Apart from this, you can create unlimited module positions, compress the CSS, HTML, and JS files and do a lot more without using any third-party extensions. All these features are available within the framework itself.
Designed With SP Page Builder Pro
SP Page Builder is a leading Joomla page builder that is offering your real time front-end editing experience. The affiliate Joomla template is designed with the help of drag and drop Joomla page builder. It allows you to edit or create any page with moving the elements. No code required. If you have basic computer knowledge and know little about how to login into Joomla, you can handle the rest.
Moreover, if you use its quickstart package, you can save $49 for SP Page Builder Pro, as the pro version is bundled within the quickstart package.
Mega-menu for smarter navigation
Perfect website navigation is not only important for better SEO but also important for better user experience. If your website navigation is smooth and easy to go, users don't have to make much effort to find out the content or desired pages on your website.
The Affility Joomla template offers you a Smart Navigation System which helps you to design interactive and fully responsive mega menus as well as off-canvas menus. You don't need to install any third party Joomla extension.
Setup Your Ecommerce Store Easily
Affility is not just an ordinary affiliate Joomla template but it comes with a beautiful eCommerce Joomla template as well.
The template comes with J2Store integration which allows you to list the products from your preferred websites and earn commission by referring users to them or you can start selling your products as well.
Your visitors will be able to search for desired products and check details on your site just like an eCommerce website. So it will take you one step closer to convert a visitor.
Dedicated Product Review Templates
When it comes to an affiliate website, product reviews are the most common thing you will see. And these should not be like a normal article. These should be stylish and should contain all the information about the article in an interactive way. It should have a proper CTA, a showcase of features, comparisons, pros, and cons, etc. 
And Affility Joomla template has all these in their Product Review pages. The template offers you two dedicated product review pages to cover the most categories of product reviews.
Offers and Deals Showcasing
Affiliate marketing is just not promoting the products only. It is also partnering with brands and hunting special deals for your audience so you can attract more users.
If you will see the live demo of this affiliate Joomla template, you will see that it has a deals page where you can display the best deals for your visitors along with other details about the deal and run a countdown timer to create FOMO.
On this page, you can display the deal discount amount, images, and deal expiry date to grab the attention of your visitors.
Showcase Ads To Maximize the Revenue
Display ads are another way to monetize your blog and earn some passive income apart from affiliate earnings. Either you can display Google Ads or do partnerships with brands to showcase their banners on your website.
This Joomla affiliate template lets you show ad units on different places on your website. You can use different banner sizes. You can customize the layout of your ads with the powerful page builder
Pricing
If you are an old JoomShaper customer then you must already have subscribed to one of their plans. But for a new buyer let me tell you, if you wish to buy the Affility template then you must subscribe to one of their plans. 
They have 3 plans to choose from if you are buying a Template or Extension, those are Personal, Business, and Developer plans, to know more about these and what suits your requirement you can check that on their website.
---
Conclusion
So finally after analyzing the Affility template all I can now say is, yes it is indeed one of the best Affiliate Joomla templates that fulfill most of the affiliate requirements. Very stylish, modern, and clean, has a lot of options for customizations, works well on all browsers, is fully responsive, and there's so much more you can do with it. You have extensions for almost everything that an affiliate website would need, be it product listing, forms, newsletter, ads etc. Affility is the template for you all the affiliate marketers out there, it's a must-try.