How to Create a Cookie Law Box on Joomla Site
by Naveen Kumar
on Tutorials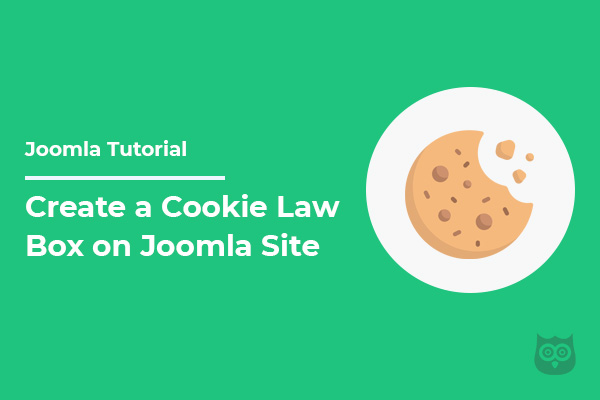 Want to make your Joomla website safe for visitors by setting up a Cookie law box, but don't know how to do that?
No more looking elsewhere, I have got you all covered. Cookie Law box is a good looking way of asking visitors their consent to accept the cookies that your site uses while browsing. This means that after accepting, both the parties comply with the EU cookie laws and that they are now safe to share their "piece" with you.
This article will now help you set up the cookie box for a Joomla website for both professionals and noob website owners and tell why it is important.
What are Cookies?
These cookies are definitely not the ones that you have just baked in your oven with choco chip filling.
Internet cookies are not as delicious as they might sound because they are like short term memory for the web stored in browsers to keep a little track of your activity. These are then sent to servers to recall information the next time you visit similar sites.
Though they aren't harmful like your choc chip cookies but can be if given in the hands of hackers. To avoid such mishappenings you should only accept cookies from sites you trust are safe & secure, and for that, we have the cookie law box that requires your consent to accept website cookies under the law.
Does Joomla Use Cookies?
Yes, be it Joomla or any other system most of them use cookies, though they can be different from one another. Some Joomla extensions either create their own cookies or use already created cookies to store information related to sessions & searches on the website.
These stored cookies contain information like what pages you visited, the details you logged in with, and others like such. The 'remember me" feature uses cookies that last longer than your session in order to save the details for a future revisit.
There are many ways in Joomla in which you can notify your visitors about the use of cookies on your website, some of them being Cookie Law box, or a terms & conditions statement or privacy policy statement or even a custom module for it.
What is Cookies Consent?
A cookie consent means that both the parties the visitor & the host are aware of the use of cookies on the website and that it is safe for the visitor to browse & save information on it with any device.
This consent is compelled by the EU cookie law, to protect online privacy and make people aware of how the information is shared, stored & used online. The visitor has a choice to accept or reject it.
Why is it Important?
It's good to ask before you offer something, similarly, it is important to ask for consent before storing cookies. Because this way you are simply gathering information from your visitors without their knowledge which in a way is a breach of online privacy and that also questions your visitor's trust. Therefore asking for permissions on the use of cookies gives you the benefit of doubt and it's ultimately up to the user to agree or disagree.
Nobody would want to share their information on an unsecured website, because of the chances of being hacked, in order to avoid that, use of cookies should completely be the user's choice and not the website host.
How To Display a Cookie Law Box on a Joomla Site?
Now comes the main part, that is how would you integrate the cookie box on your Joomla website?
This article will explain the use of the EngageBox in your Joomla, which you can easily download from HERE.
What is EngageBox
As the name suggests, you can create different attractive popups to engage the attention of your potential visitors and turn them into your permanent subscribers. It is a multi-purpose box that aims at achieving one of the best targets with its advanced targeting feature that even adapts with real-time for some amazing conversions.
Using the EngageBox you can create different types of popups in different shapes and sizes, that are mobile-friendly, easily customizable, and even have smart triggers(maybe smartest also!). It even has lots of pre-designed popup styles that might help if you are suffering from a creative block!
How to Create the Cookie Law Box?
Now with the help of the EngageBox, we will learn how to create the cookie law box.
Follow these steps and will be good to go:-
Creating A Content Box
Go to Component >> EngageBox >> New Blank popup/ Choose a pre-designed popup.
Enter the Box Title in the given space.
And select the Box Type option on the right as Freetext.
Add your Content in the editor or write the HTML by switching the text editor.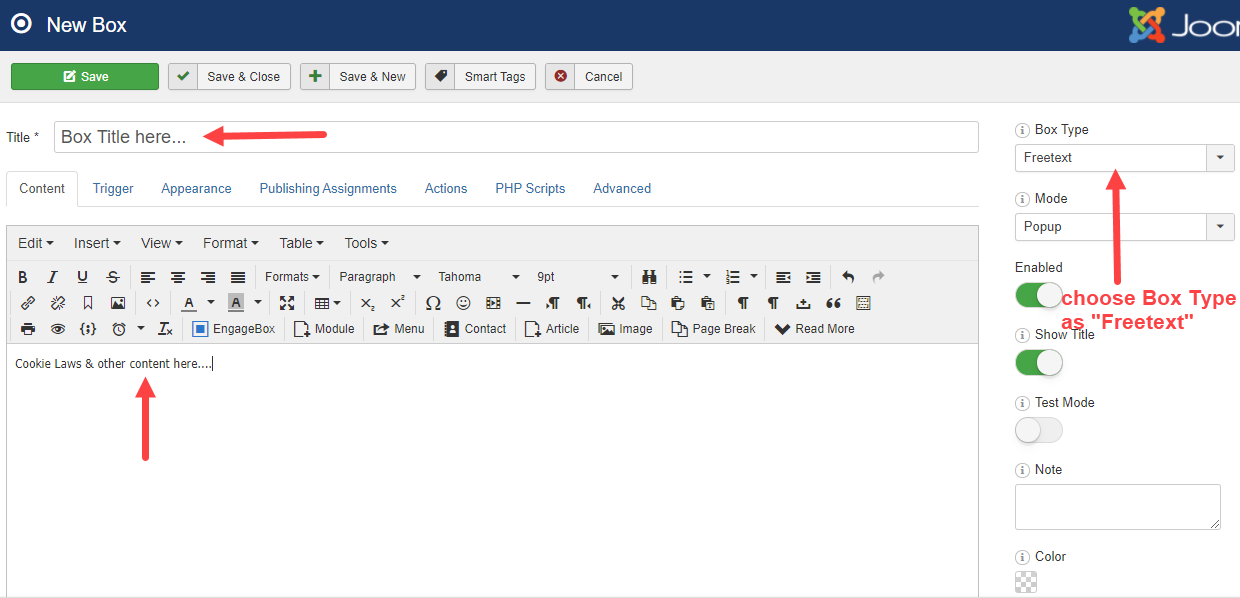 Triggering The Cookie Box
After adding the content, now choose your popup trigger options under the Trigger tab.
Set the trigger position & choose the trigger point as On Page Load.
Set the entry & exit popup animations from the Animation options.
Set the cookie duration under the Cookie option.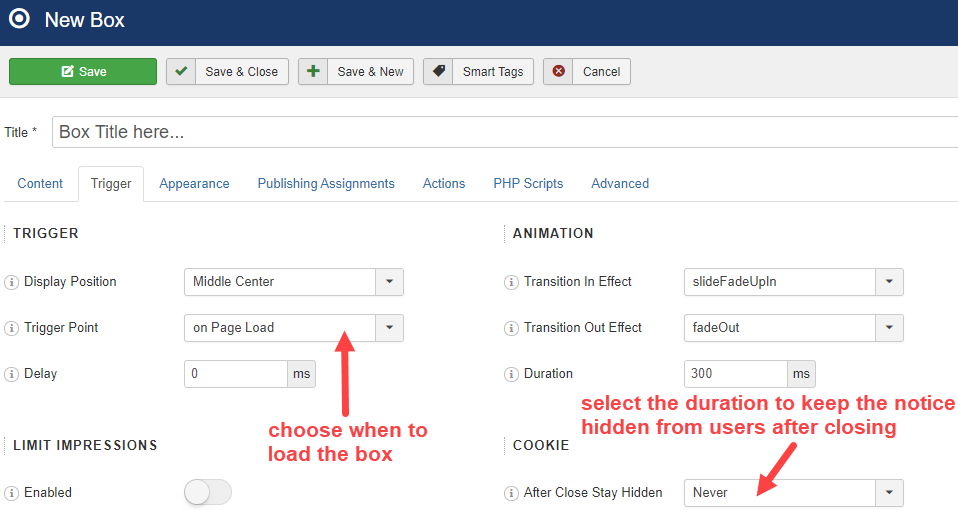 Styling the Box
Style the appearance of your box under the Appearance tab.
Style & adjust the box size, background color, border & spacing.
You can even choose the close button type as an icon or image and style accordingly.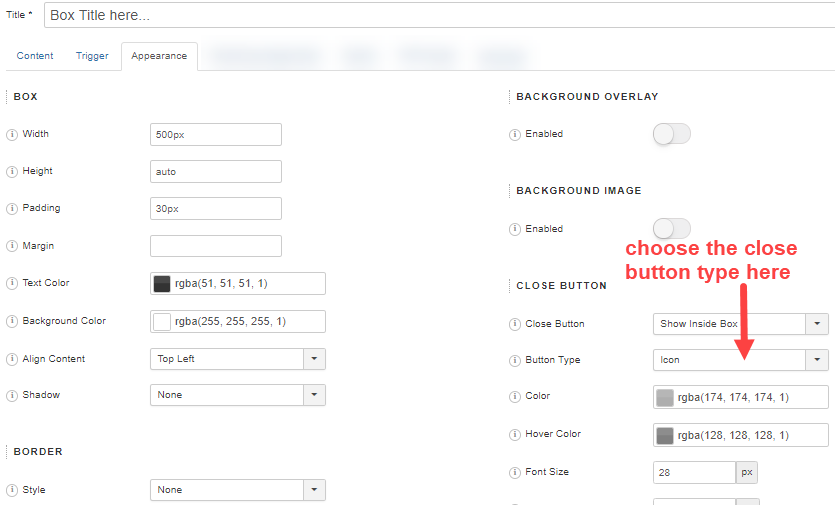 This is how you can create a cookie law box for your Joomla site using EngageBox.
Apart from this, you can use GDPR Joomla Extension as well to make your Joomla site compatible with the latest EU Law on data protection and user privacy.