How to Create GDPR Compliant Forms with Convert Forms
by Naveen Kumar
on Tutorials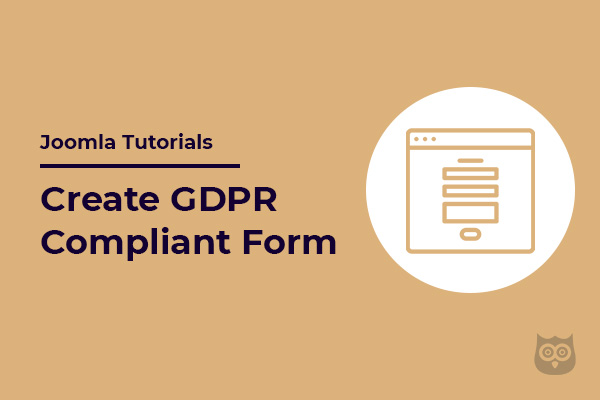 After the introduction of GDPR, it is mandatory for every site owner to take users' consent before capturing their personal data. 
You can not store Cookies, store users ' personally identifiable information such as name, email, phone number, etc without their consent. And without capturing the personal data it is next to impossible to run an online business.
So as per the EU Cookie Law and General Data Protection Regulation, you need to take the consent of users before you store their information in your database. 
Through this article, I will walk you through how you can create a GDPR compliant form using the very popular Convert Forms extension.
Why Do You Need to Make Your Form GDPR Compliant?
In simplest terms, GDPR tells you to take consent from the user before storing their information. If the data is being collected and stored the user should be aware of it and it should happen only after his/her approval. Users also have the power of viewing their stored information and can even request to remove it.
So if you are having forms where you ask for a name or email address or any other personal information the GDPR is impacted. Therefore it is important for you to ask for permission before collecting such data. And to do so you need to create a GDPR compliant form.
How to Create a GDPR Complaint Joomla Form?
There are 2 popular extensions using which you can create such forms in Joomla. The steps for creation are as follows...
Using Convert Forms
Convert Forms is an extension by Tassos Marinos, a passionate Joomla Extensions Developer who has created this one of a kind Form Builder in Joomla. That helps you in collecting any information from your website's visitors, the most being of it are the forms, super easy to use regardless of your technical abilities. 
Using Convert Forms you can create almost any kind of form in Joomla with ease. Now to how to create a GDPR Form is explained below:
Go to the Convert Forms Dashboard
Go to Components > Convert Forms > Dashboard > New Form.
Add "Terms of Service" field
Once you start creating your form or edit a new one, go to the Add Fields tab and select the Terms of Service field. As you add this field it is important that you keep it as required, this way you are asking for the user's consent before submitting the form. Hopefully, the Convert Forms keeps this field mandatory by default.
Edit the "Terms of Service" field
Once added you can now edit its text for user consent. Even include links to a more detailed page like the Privacy Policy page, of your website where the user gets to know how their privacy is handled on your website.
Save these changes and you are done!
Using JD Simple Contact Form
Another very interesting extension you can use for creating such forms is the JD Simple Contact Form by Joomdev. It's a free Joomla form module that you can easily publish anywhere on your website just like any other Joomla module. It's compatible with Bootstrap 4, supports Ajax and reCAPTCHA submissions, add unlimited form fields, includes both custom and premade email templates, and many more other features.
Now to create a GDPR compliant form using this extension is as follows:
Go and create a JD Simple Contact Form module
Go to Extensions > Modules > Create a new JD Simple Contact Form type module.
Add the Checkbox field
After creating the module, go to the Form Layout tab and then add the fields you want in your form. Along with other fields add a field of type Checkbox. Again make sure to keep this field as required such that the user can give its approval for their data collection via the form.
Make the other changes as required and save it!
These are 2 ways of how you can create a GDPR Complaint Joomla Form with some very easy steps. The conclusion is that adding a required checkbox field on your form, asking the user for their consent on data collection, and giving a detailed explanation about how your website manages the user's privacy makes your website trustworthy under the EU norms of data protection. So make sure you ask before you take and not indulge in any illegal means and hamper your reputation. Use these extensions to create your own GDPR Form and let me know how helpful these were in the comments below.