Jollyany Joomla Template Review - 16+ Joomla Templates in 1 Package
by Naveen Kumar
on Opinion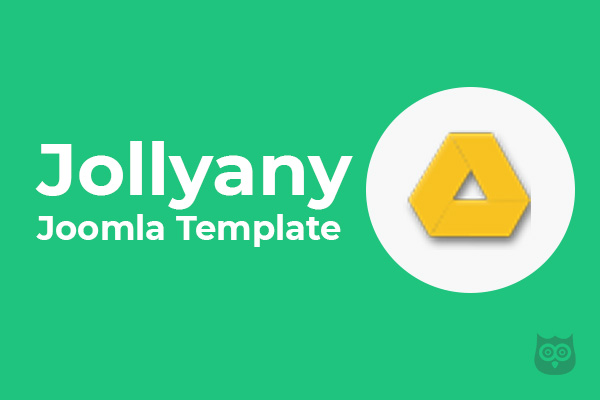 If you are looking for a multipurpose Joomla template that can be used for any kind of website, then to be accurate, it is tough to find the best one.
However, when it comes to multipurpose templates for Joomla, we do not have a wide range of options. But still, there are templates like Jollyany that steps aside from the crowd and offers you out of the box features.
In case if you have never heard of this template, let me just share a review and features of this template. So you can learn about the template and how useful it could be for your business website.
Let's just head into the topic without wasting much of the time:
What is Jollyany Template?
Jollyany is one of the best multi-purpose Joomla templates that comes with a clean and modern yet responsive design. The Joomla template is full of options. Hence it can be used for a variety of website needs.
The template can be used for blogs, events, businesses, companies, personal websites, and so on. Also, it comes with some of the great layouts, and it is straightforward to customize. So you can give your business website a unique look.
Along with that, the template is fully responsive so that it will look perfect on every device. Plus, you will get features like 8 different header styles, unlimited color schemes, SP Page Builder, custom portfolio templates, and so on.
Plus, it comes with video and detailed documentation. As a result, it will not be a hard job for you to customize the website. However, you will still need to have some basic knowledge about Joomla and configurations to personalize your website.
Moreover, this Joomla template is also compatible with the latest version Joomla, and a robust Astroid Framework backs it. Also, it comes with lots of offerings like:
16 Prebuilt-demo in multi niche
Drag'n Drop SP Page Builder
20 new templates per year
Unlimited website usage
Anyway, to help you know about the template in a better way. Let me just talk about the top features:
---
Get it now! Check out its Live Demo
Top Jollyany Features:
One of the best parts of the Jollyany template is that it is full of features that make it extremely easy for us to add every element to our website that we wish to. However, to help you understand in a better way, let me just talk about the features of this template one by one:
16 Multi-Purpose Templates
With Jollyany, you will be getting 16 niche-specific templates that can be imported on a single click. These templates are created for various website needs. As a result, you can simply import any of your favorite templates and start with customization.
It includes templates for events, wedding websites, fashion and photography websites, startup, lawyer templates, company websites, and so on.
Also, getting started with these pre-built templates is pretty straightforward. All you have to do is import them and start customizing them with a page builder extension.
8 Header Layouts
Jollyany template offers your 8 header layouts to give your website a unique look. You can switch between these headers at any time without making any efforts. Everything is possible with just a single click.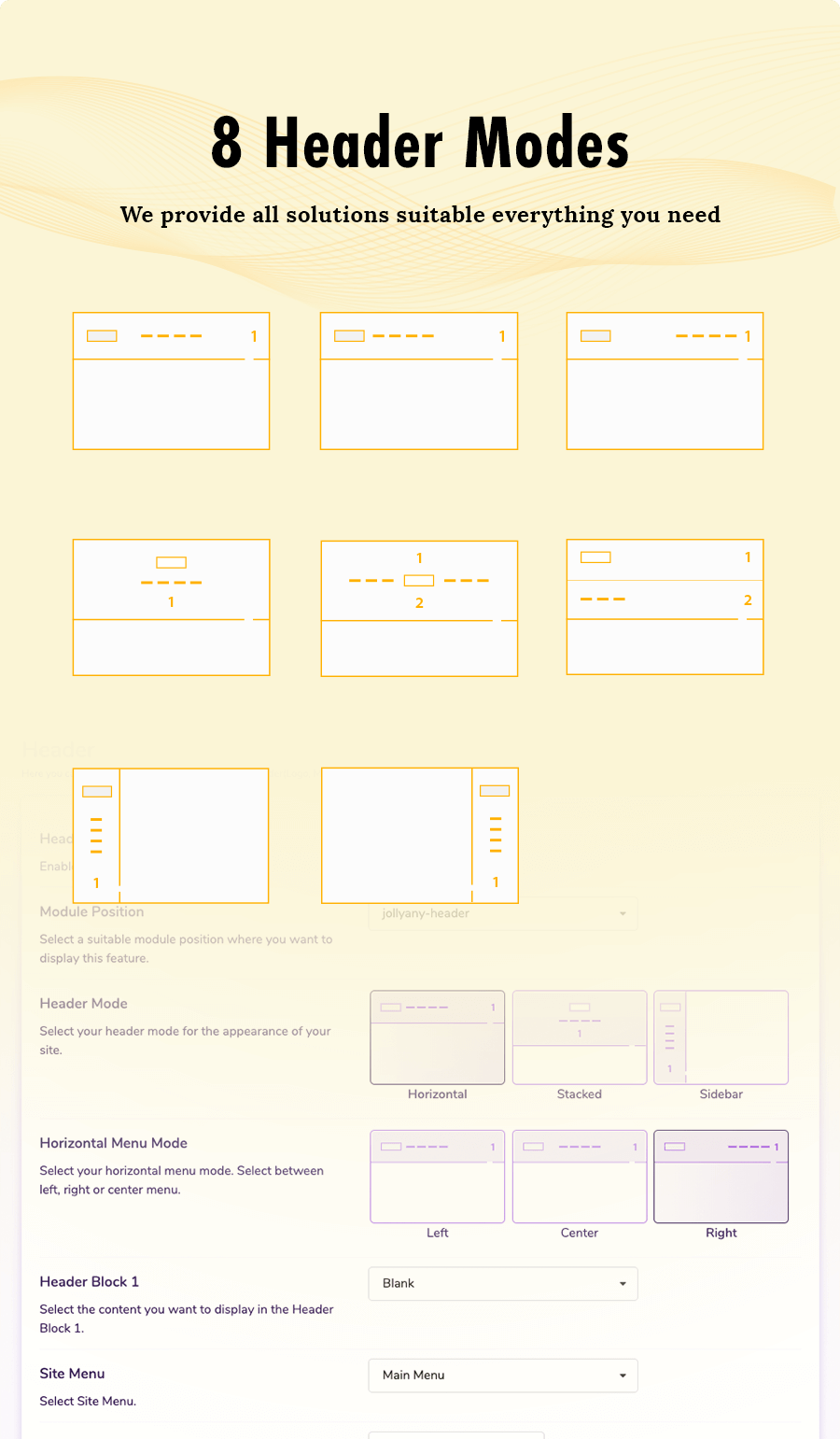 Fast and Flexible Importing Tools
With this template, you are also getting fast and flexible importing tools. For example, it comes with a one-click demo importer. So you will easily install demo content on your website and start customizing before you put actual content.
You can also install required extensions with just one click. Like you can install extensions like sliders, contact forms, and e-commerce.
Lots of free extensions
One of the best parts of the Jollyany template is that it comes with lots of free yet premium plugins. For example, you are getting the SB Page builder, which costs you about $49. And using this extension, you will be able to customize your website with a drag and drop tool. There is also the TZ portfolio pro, an open-source advanced portfolio extension that costs you $49.
In addition to that, you will get plugins like Hikashop, so you can easily create an eCommerce website. There are EasyBlog and Easy Social extensions for creating sleek articles quickly and connect and collaborate with networking platforms easily.
There is also the EasyDiscuss plugin, which will help you to start a Joomla based forum for your website instantly. As well as there are quite a lot of other extensions are included too. For example, you will be getting Acymailing, unite Slider, SP cookie consent, and so on.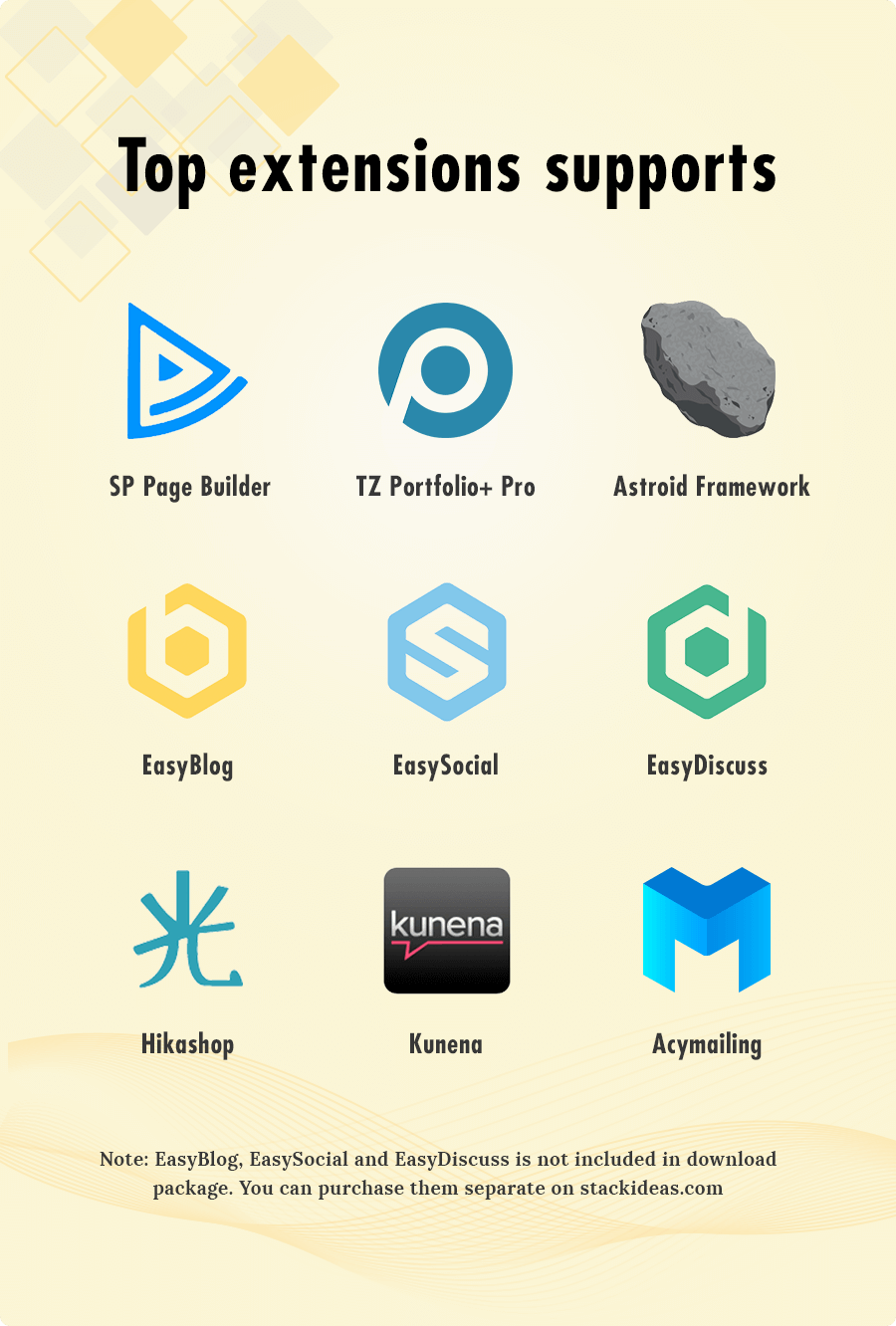 Highly Customizable
The template is fully customizable. You can control each and every part of your website directly from the backend. If you are not a Joomla expert, still you will be able to customize your website.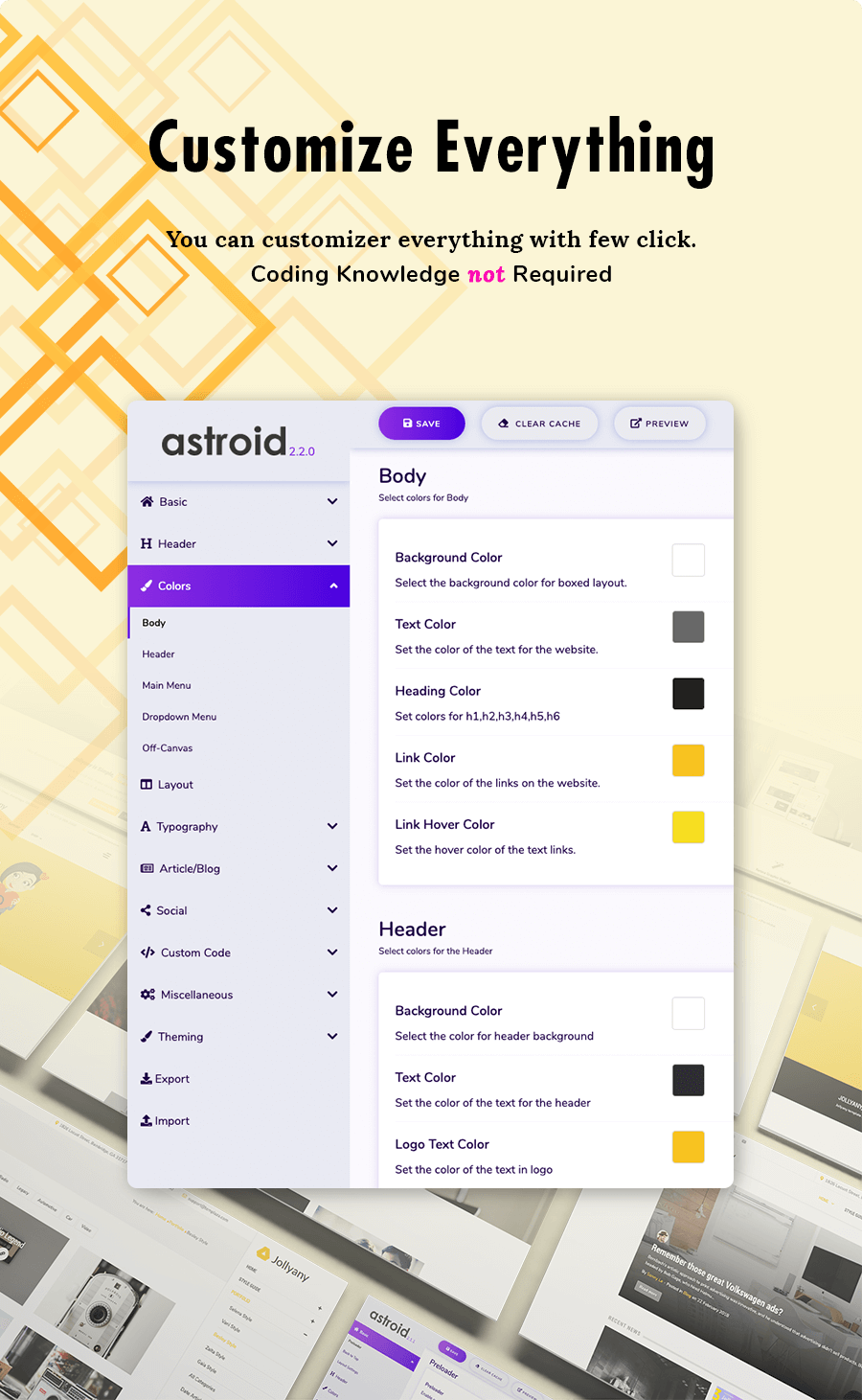 Top Benefits of Jollyany Template:
Lifetime Usage:
The best part of the Jollyany template is that it allows you to use the template for a lifetime. This means you don't have to pay any future price once you purchase the template. Plus, you can use the template on as many websites as you want.
6 Months Support:
In case if you face any issues while getting started with this template, it offers you six months of free support. Also, their customer support team is 24/7 online.
Lifetime Update:
Be assured that once you purchase this template, you are going to get lifetime updates. You can download/update future updates without paying anything.
How much does Jollyany Template Costs?
Jollyany template is available as a free yet premium solution. At the same time, the free version allows you to get done with basic stuff. There is a paid version of the template also exists. You can get the Premium Jollyany template for $59, and it comes with 6 months of support as well as it includes a bunch of premium extensions, which will help you to build your website pretty quickly.
---
Get it now! Check out its Live Demo
Conclusion:
So that was a quick review of the Jollyany template. The template comes with lots of features like Multiple Header Layouts, 6 Article Types, article badges, 32 Unique Home Layouts, Along with that, it offers you boxed and wide layout support.
Plus, the template is also pretty affordable, considering the fact that it can be used for multiple websites, and you will get lifetime updates. So go ahead and check the template out and see how it is working for you. Also, if there is anything you wish to ask, then make sure to comment below.