Envato Elements Review 2021: Is it worth buying?
by Naveen Kumar
on Opinion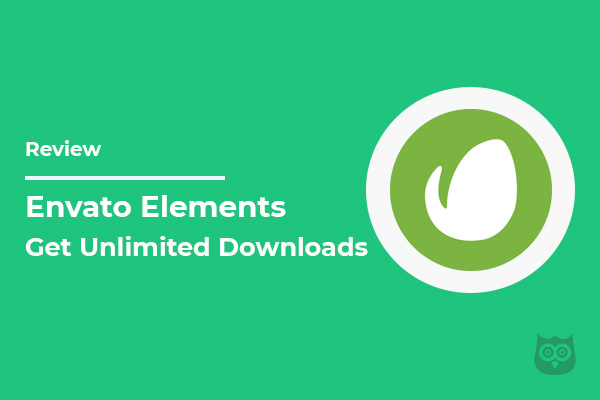 1Do you keep looking for websites or applications where you can find stock media like photos, templates, music, videos, graphic templates, sound effects, vector illustrations, and more?
What if I say you will get all these and many more in one place?
Hard to believe, right?
Or do you feel it will be costly? This is getting interesting here.
Introducing Envato Elements - The unlimited, all-in-one creative subscription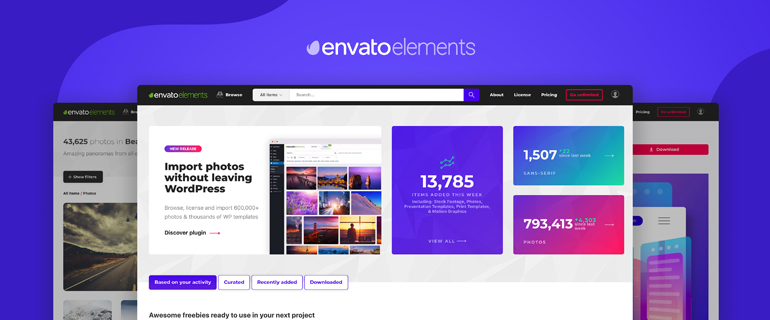 Envato Elements is a great alternative to finding images, videos, After Effects templates, copyrighted music, and sound effects, graphics, graphic templates, fonts, WordPress and CMS templates, and plugins.
Envato Elements is a service that aims to provide creators and manufacturers with a constantly growing library of digital resources for their projects. If you want to access large and growing videos, audio files, images, graphics, illustrations, fonts, HTML templates, WordPress themes and plugins, and other content, you can search for Envato Elements.
In addition, Envato Elements subscribers can now access 1,200 video courses and e-books through EnvatoTuts +. With this feature, you can not only access about 1 million digital resources but also have effective educational content. In this Envato Elements review, we will learn what this service offers, how it works, and how much it will cost to help you choose the right option for your needs.
To keep things simple, Envato Elements offers only two price plans - monthly and annual - both of which support unlimited downloads. This Envato Elements approach is great because you can experiment with different files before making a final decision on which one to use for your project.
---
Who should use Envato Elements?
It doesn't matter if you are a blogger, Youtuber, website designer, developer, graphic designer, or a music producer, Envato Elements have everything that you need. It can be beneficial for everyone from a student to a designer or developers. There is something for every one of us in the Envato Elements directory.
Website Owners that want different types of WordPress themes, Joomla templates, or any other website templates and plugins.
Bloggers who need high-quality pictures for their articles.
Web designers who need WordPress themes, HTML templates, and other resources for web pages. T-shirts and other merchandise manufacturers looking for graphics and templates for their designs.
Graphic designers and other artists who want more font, brush, motion, and layered styles.
Entrepreneurs who love ready-made stationery, business cards, and website templates.
Sound producers are looking for sound effects for their compositions.
Video editors who are looking for traditional video files and video templates for their content.
As you can see, everyone who creates visual content and currently creates audio content is targeting Envato Elements. Envato Elements can help you if you are having trouble finding the right image for your blog post, or if you want to speed up your design work, starting with the template or using actions and prefixes for your favorite software.
Since Joomla templates are also available as part of the service, anyone who owns a Joomla website or works with this popular platform should consider signing up with Envato Element.
---
What does a user get from Envato Elements?
As we discussed above that Envato Elements have everything you need. So now we will discuss in detail what it is offering to its users.
WordPress themes such as blogs, portfolios, business, entrepreneurship, and multi-purpose themes (1300+ themes).
WordPress plugins (600+), including email marketing, forms, media players, and social media plugins.
Photos (634,637+), including high-quality photos of royalty-free landscapes, food, people, and technology reserves.
Graphics (16,157+) pictures, backgrounds, vectors, symbols, and things.
Graphic templates including product prototypes, UX and UI sets, and infographics (29,694+). Additions including movements and pre-sets, brushes, and layer styles (1250+).
Fonts including sans serif, sans serif, and decorative fonts (3,718+).
Presentation templates including PowerPoint and Keynote templates (7,506+).
Web templates (1,786+) including email, administrator, web page, and login page templates.
CMS templates including Joomla, Shopify, Drupal, Magento, Ghost, and Tumblr templates (842+).
3D rendering with various objects (18,257+).
Videos such as archive material and action graphics (98,085+).
Video templates (7,031+) include broadcast packages, product advertisements, and titles.
Music (11,187+) is a musical and royalty-free personality.
Sound effects (77,893+), including animal, wild, nature, and funny sounds.
Apart from these, Envato elements also started providing the Elementor template as well. So if you are an Elementor user and looking for any template kit, you can get these as well from the Envato Elements.
Not only the digital assets, but you can upskill yourself with different kinds of tuts and courses. You can have access to EnvatoTuts+ where you can find Video tutorials and PDFs to learn and master your skills.
So now, as we are committed to the Joomla users. So we will see what Envato elements have for the Joomla users. So is it worthy to buy Envato membership for a Joomla user?
---
What Does Envato Elements Have for Joomla Users?
If you will, then Envato doesn't have that much dedicatedly for Joomla users as compared to WordPress. But still, it has around 100 Joomla templates available for download for free. These templates are ranging from business niches to eCommerce websites.
So let's just have a look at some of the best Joomla templates.
Minima Joomla Template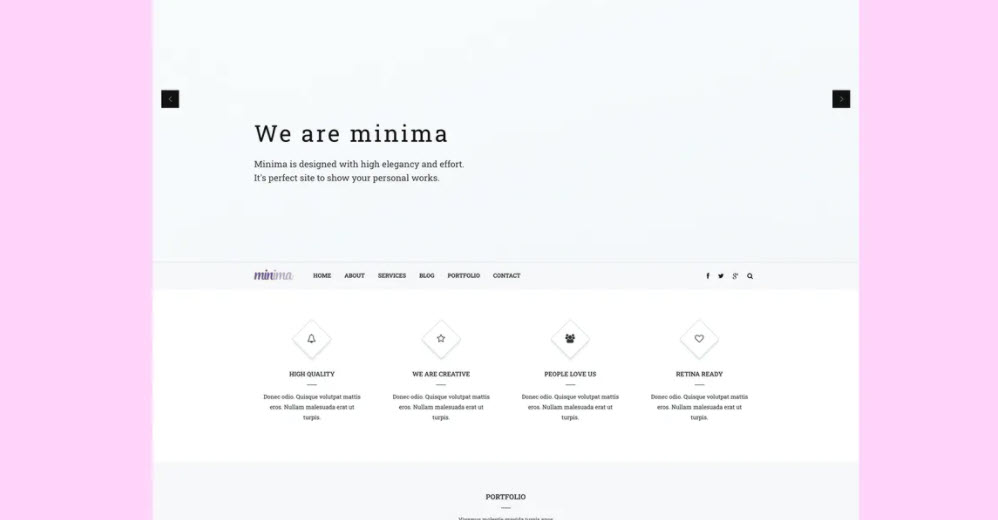 At the very least, it is a corporate creative website and user-friendly Joomla template that wants to showcase its work on a clean portfolio page. The template is designed using the SP Page Builder with many new optional T3V3 frameworks.
Kindergarten Joomla template
The kindergarten Joomla template is specially designed for the pre-school and daycare website. So if you are looking for the template for your school website, this is the best one you can have.
Nish II Creative Joomla template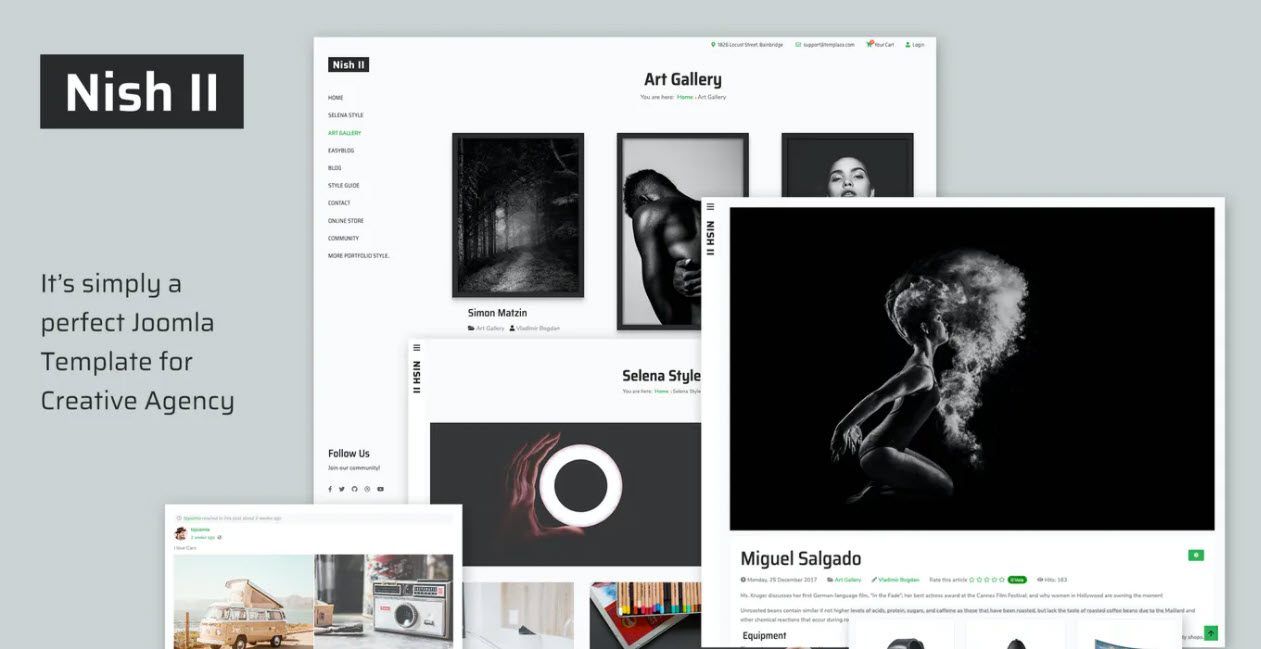 Nish II is a creative and modern Joomla template for portfolio, blog, mini-shop, and social network. The template supports TZ Portfolio, EasyBlog, EasySocial, and Hikashop to help to build a fully functional website.
The template is powered with Astroid Framework which makes it more flexible and powerful. Its centralized control panel lets you manage your website directly from one place.
Pencil — Personal Portfolio Joomla Template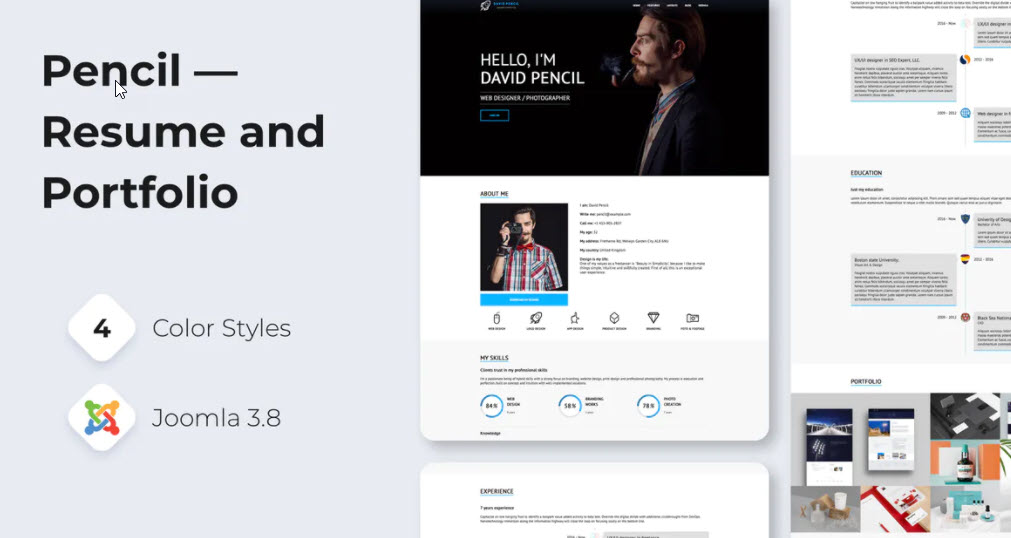 The pencil is a clean and highly responsive personal Joomla portfolio template. So if you want to create a mobile-friendly portfolio website for your personal branding, this template is best suitable for you.
It comes in different color schemes and also includes a working contact form which allows you to gather leads from your website easily.
Musika - Music Festival & Band Joomla Template
Musika is a clean, modern but user friendly Joomla 3.x template which is typically created for music bands and music sites with elegant and functional home versions, 2 blog styles, various pages such as Team, Video, Album and Tour pages, which are suitable for a site of a music band, detailed about us and contact page.
This music and band Joomla template is powered with Astroid Framework and styled with drag and drop Joomla page builder.
Bozz — Corporate and Business Responsive Template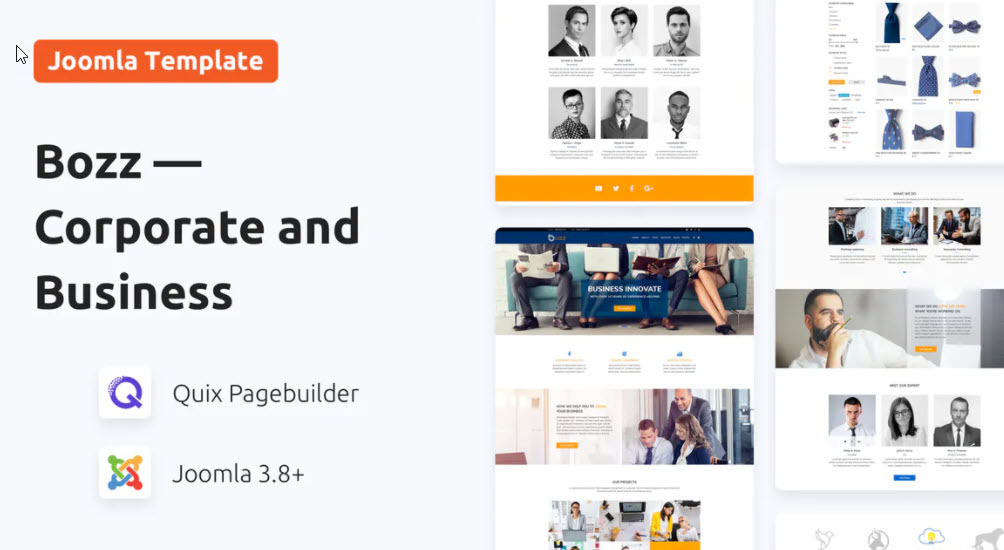 Bozz is a multipurpose Joomla template that is designed with Quix Joomla page builder. The templates come with Ecommerce component integration so it is easy to set up an online shop for your business.
The template is powered with the Warp 7 Joomla template framework and the frontend is powered with UIKit.
Konstrukt - Construction Joomla Template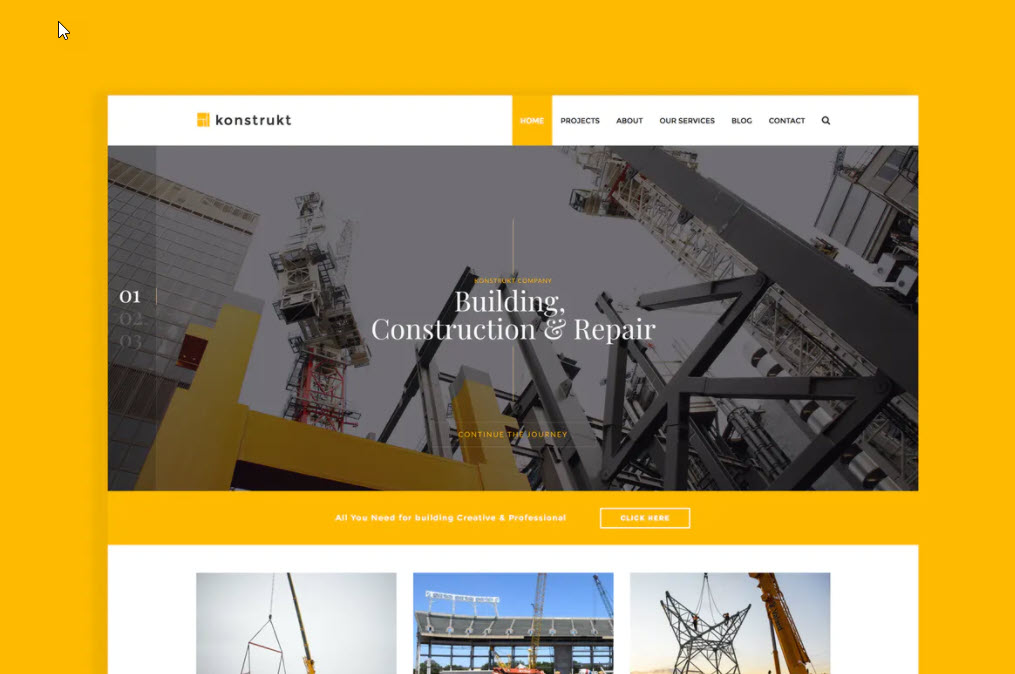 Konstrukt is clean construction & business Joomla Template and retina ready. It is great, professional, and easy to use the template. You can use it for business, construction, renovation, electricity, isolation, etc.
The template is fully mobile friendly and supports K2 for blogging.
Sports Joomla Template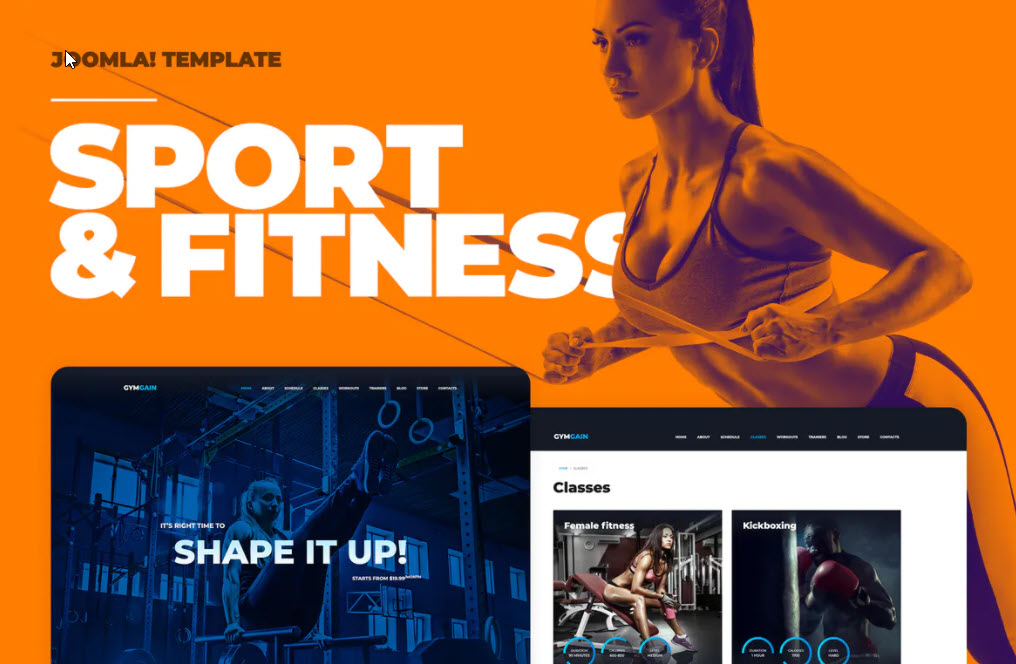 This Sports Joomla Template carefully crafted for personal fitness coaching, health, lifestyle & wellness. Have a Gym, Sports Club, or Fitness Center, or are you a personal trainer? Feel free to create your website with this finished template. The template design has beautiful typography and an elegant layout structure.
The Joomla template comes with J2store integration which makes it easy to design an eCommerce website as well.
Aaika - Responsive Multipurpose Joomla Template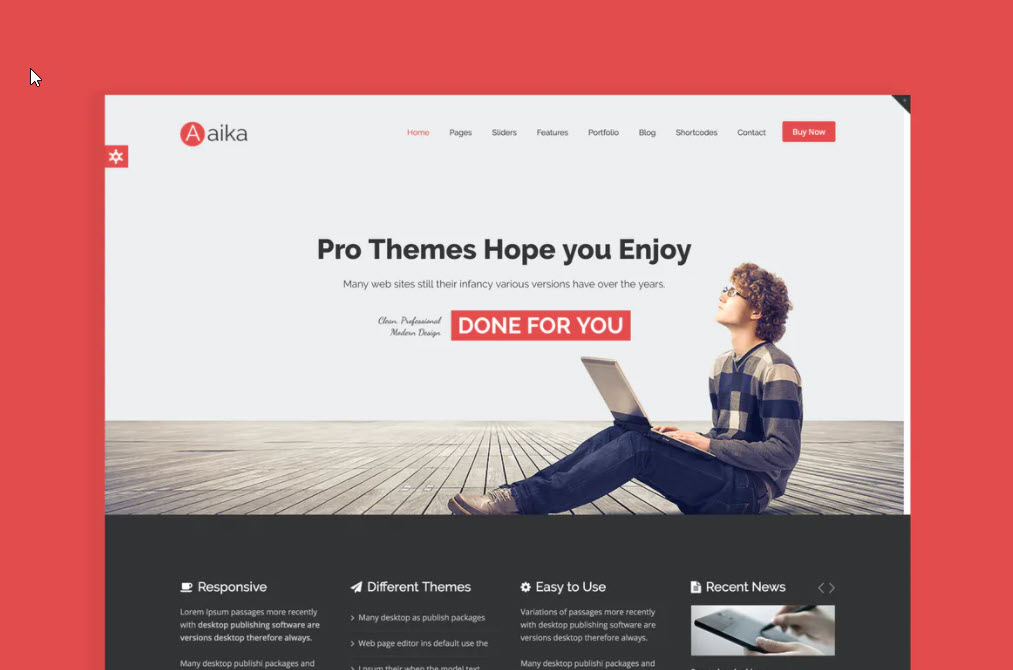 Aaika is a multipurpose Joomla template best suitable for small and medium business websites, agencies, creative, fashion, photo studios, freelancers, portfolio websites.
The template is fully compatible with the latest Joomla version and supports K2 for the blog. The template comes with 18+ home page designs, 10+ header layouts, 5 footer layouts, and multiple theme colors.
Syrius - SEO Digital Agency Creative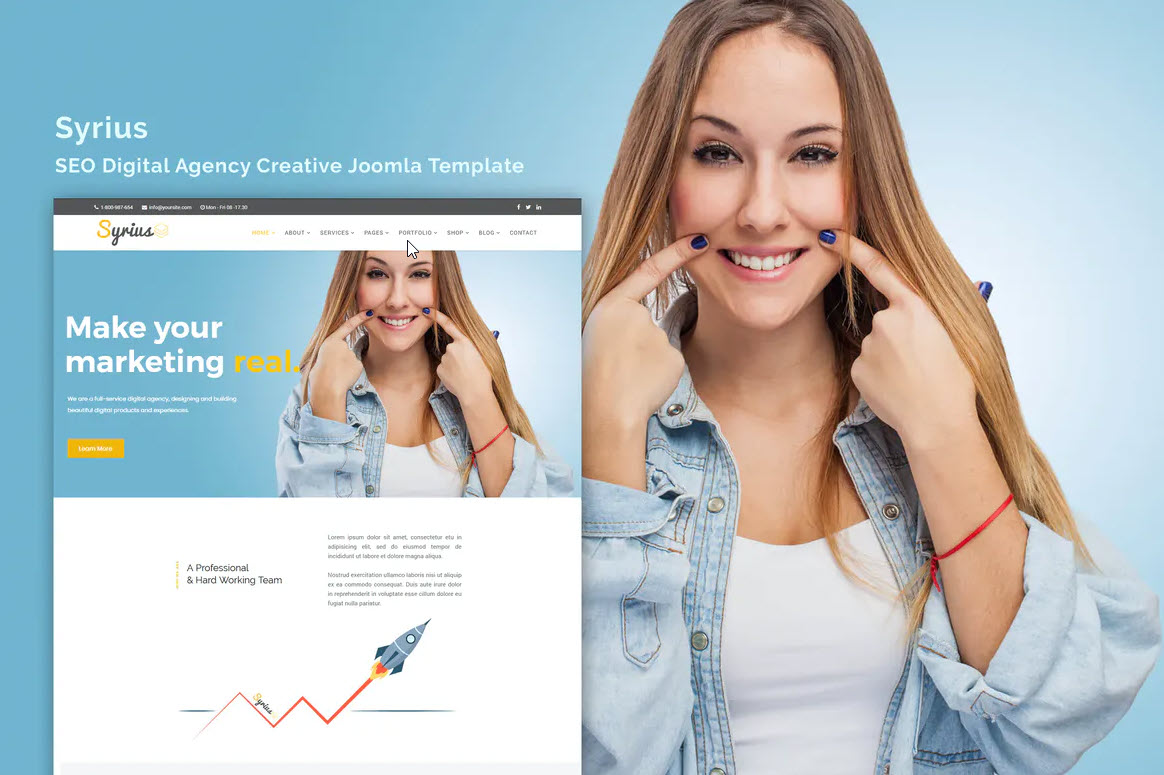 Syrius is a digital marketing agency Joomla template. So if you are running a digital agency and want to create or reshape your agency website, this template is best suitable for you.
The template is based on the Helix framework and designed with SP Page Builder 3.
Syrius is fully compatible with J2store so you can have your shop fast, secure, and simple. Try it and tell us what you think about it :).
Pros and Cons of Envato Elements
Everything has its own set of pros and cons. So, does Envato Elements. So where the Envato Elements rise and where it falls a little short? Let us check it out!
Pros of Envato Elements
A vast library of digital assets
You come, and you take the assets you need, there are always new things adding up. There are stocks of themes, audio, video, graphic designs, and much more stuff to check out.
One license and all products are yours
Yeah, you heard it right, just get one subscription and use anything you want. No stress of any credit limit, just free exploration of digital assets.
Value for Money
With so many products available for you to explore and experiment, the subscription of Envato Elements is not expensive. You can call this deal a bargain.
Cons of Envato Elements
A mixed bag of quality
Finding a good quality graphic design or anything else is not that easy among so many available options. It is just adding up average items and selling them to the budget digital asset buyers. Nothing more than that, honestly.
Expensive for a beginner
If you begin your career, then the subscription of Envato Elements might be costly for you. People will debate that there are so many assets, but one simple question is you going to use that much? Those will always be there around the corner, full of dust, isn't it?
No Direct Support
Envato Elements does not provide direct item support. All items on Envato Elements are created by independent designers. Due to this and the nature of our unlimited subscription, they cannot provide direct technical support or advice on the use of items.
With discussions around the pros and cons, we can still say that the deal Envato Elements offer is highly tempting. Let us discuss it more in this article to get better clarity.
---
How much do Envato Elements cost?
Envato elements come with very affordable monthly membership plans. So it is not required to only get a yearly subscription. You can have a monthly subscription and you can cancel it any time.
| Creative Subscription | For Students |
| --- | --- |
| From $14/m | From $11.50/m |
| Access to millions of creative digital assets and stock photos. | Ace your assignments (and freelance work) with the ultimate, all-in-one creative subscription. |
| Cancel any time | Upskill with courses and tutorials |
| Subscribe & Download | Subscribe & Download |
Final Verdict: Is Envato Elements worth the subscription in 2020?
Yes, it is certainly worthy enough to buy an Envato Element subscription even in 2020. The reasons are-
Buy one subscription and get a huge variety of digital assets.
A huge bargain, considering the digital products present in Envato Elements.
No need to look at various places for different digital assets,
One subscription and stay stress-free for a year.
---
So, buying Envato Elements subscription is never going to be a decision you will regret. The only problem is that, although Envato Elements boasts about its quantity of digital assets, it does not keep a quality check. If quality check is implemented in Envato Elements, then this marketplace will be the absolute best marketplace.