Best Booking & Reservations Joomla Extensions of 2021
by Naveen Kumar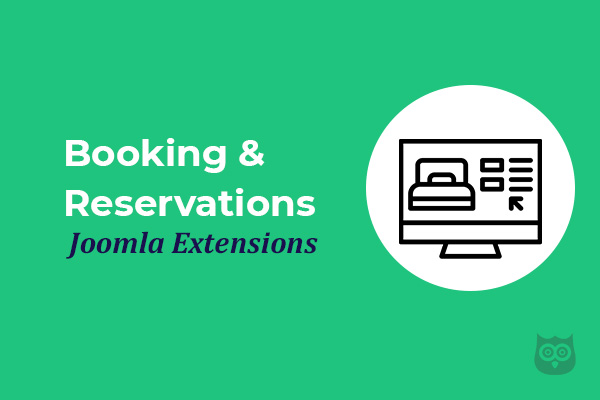 Online booking has become one of the essential features for many websites out there. For example, you may have a spa, and you want people to take an appointment. As a result, you will need an online booking system.
Even creating an online booking site is not hard. All you need is a CMS, and I am pretty sure you have already chosen Joomla for the job. But Joomla would not help you alone, and you will also need one of the best booking & reservation Joomla Extensions.
Create a hotel booking website with Booking & Reservations Joomla Extensions Click to Tweet
And in this article, I am going to mention a couple of best booking & reservations Joomla extensions. So here we go:
Best Booking & Reservations Joomla Extensions of 2020
Jomres
Jomres is one of the most powerful and secure Booking Joomla extensions that you can use. It comes with all the features that you may need, like secure frontend property management, powerful developer tools, webhook functionalities, and so on. In short, there is a feature for everyone.
Also, with this one, you will not just be able to create a single property site, but it also helps you to create a complete portal.
The best part of this extension is that it is open-source and responsive. Also, it supports multi-vendor, multi-language, multi properly online booking. Plus, you can use the extension for various jobs.
Solidres
Solidres is one of the famous hotel booking extensions for Joomla that you can try out. You can install the extension on as many sites as you wish. Also, the good part is that Solidres follows Joomla coding standard. As a result developing templates for Solidres is a pretty easy task.
Along with that, it comes with a bunch of features too. Like it supports booking per night or per day. You can choose from 3 reservation layouts. It supports private rooms as well as shared rooms and so on. Also, you can download the extension free of cost.
Vik Booking
Vik Booking is an independent booking engine for Joomla. And it is designed for a single property accommodation business. Also, this is the only Joomla Hotel Booking extension to be certified by TripAdvisor.
As far as the features are concerned, you will get to see a complete room management system, and it comes with a robust pricing system too. You can also set different prices per season of the year, and you will get option management for rooms services like breakfast, extra beds, tourist taxes, and so on. 
OS Services Booking
If you are looking for something that helps you with appointments management or online services scheduling, then OS Services Booking is the best option you have.
Also, the best part is that it comes with unlimited categories, venues, services, and employees as well as it is pretty easy to manage order lists, types, and everything else. It even supports coupon discounts, groups discount, and offers you emails and SMS templates management.
Plus, you will get to see flexible report types and powerful configurations. Also, on the frontend, you are getting a smart layout with javascript and ajax integration. Plus, it is pretty easy to make services and to book requests.
Also read: 
Rentalot Plus
Rentalot Plus is one of the best booking Joomla extensions for holiday properties. And it offers you full control over your website. As a result, you can control the design, the words, the pictures, prices, and everything.
It runs on your Joomla website only. And it is an open-source program. As a result, you can download the software free of cost, and you do not have to pay any commission fees.
As far as the features are concerned, you will get options for online availability and inquiries, online booking with payment via a choice of gateways, Multi-currency with any number of currencies, and so on.
EasyAppointment
Up next, I have the EasyAppointment. If you have a medical institution or you are an advisor, consultant, or beauty salons types of business, then EasyAppointment is the best option you have. You can download this Joomla extension free of cost. Also, getting started with this extension is pretty straightforward.
Your clients will get to see a calendar with all the available hours for reservation. And after choosing the hour, your client will have to go through two extra steps to book the slot.
Each service provider can also manage their calendars, availability, reservations, and so on under their management area.
AppointmentBookingPro
For my next pick, you can have a look at the AppointmentBookingPro. This one is the best booking Joomla extension for Small businesses. With the help of this extension, you will be able to define any number/size of timeslots. Also, your clients can see when the resource is available. So they can book an appointment.
Moreover, you can set time slots by day of the week based or date based. Also, it is pretty easy to set up your availability.
However, the only drawback of the extension is that the extension has been retired. And it will not get any new futures in the coming days.
JomHoliday
If you are looking for something sophisticated but simple to use, then JomHoliday got your back. This one comes with three plans that cater to different booking system needs. Also, it will not take a moment for you to get started with the extension.
With this one, you can easily create your travel booking portal. As far as the features are concerned with this, you will get advanced search and filter capabilities. As a result, searching for listings is much faster. Also, you can use it to create a complete booking system and create accommodation options. You can also develop plans for tour guides and so on.
Koparent
Koparent is a full booking and reservation system suitable for all kinds of renting business. No matter if you are offering real estate, vehicles, or any other kind of service, this extension will be an excellent option for you. Also, the extension allows your client to make reservations based on day, hour, minute, and it is also supported by different calendar and date-time layouts.
With this one, you will also get features like automatic booking and reservation management procedures. You can also display a full and detailed description of your product/service / real estate. Also, you can search for listings by various parameters. Also, you can choose, customize, add, or remove additional services you offer for each Listing Type. As well as it packs a bunch of other features too.
Also check out:
Vik Restaurants
Next, there is the Vik Restaurants. This is one of the perfect extensions for a complete reservation system for your Joomla website. The extension can be used for any kind of restaurant. Also, it is structured into two sections, which are the restaurant and take away.
As far as the features are concerned with this one, you will be getting take-away Menus Management with Products Variations, Take-Away toppings on your food to pick additional ingredients. Also, you will be able to publish your interactive menus with Sections and Products.
JHotelReservation
In the end, I have the JHotelReservation. With the help of this extension, you will be able to enable online booking and automate the reservation process. Also, it is pretty easy to use professional hotel reservation software. And you can use it for hotels, motels, B&Bs, resorts, apartments, campsites and others.
Talking about the key features, it comes with 5 easy configurable reservation steps, from dates to final confirmation. Also, you will get to experience flexibility in managing reservations. Furthermore, you can also manage rooms, taxes, email templates, points of interest, and so on.
Final Words:
So those were some of the best booking and reservations Joomla extensions of 2020. Each of the extensions has its pros and cons and set of features and purposes. So go ahead and check them out individually and see which one you like the most. Also, if you have any more questions to ask, then comment below.